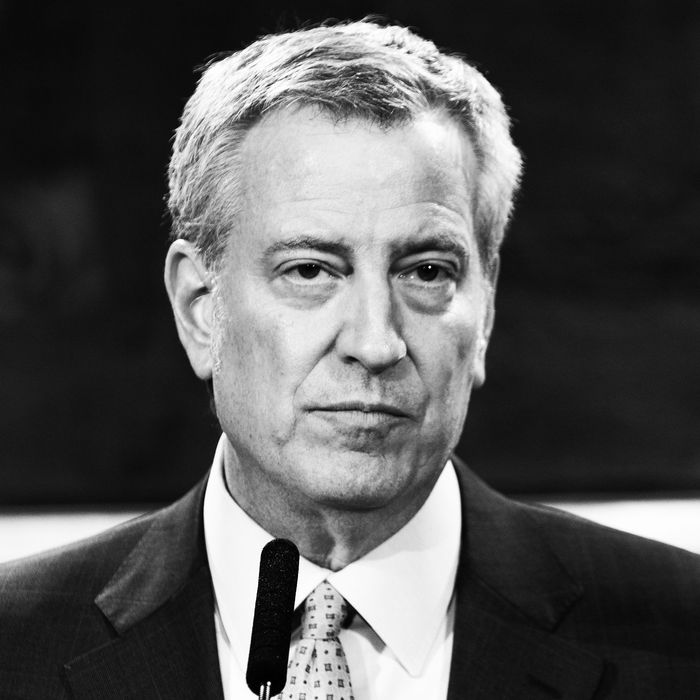 Bill DeBlasio, gym rat.
Photo: Pacific Press/Pacific Press/LightRocket via Ge
Please note the story you're reading was published more than a day ago. COVID-19 news and recommendations change fast: Read the latest here to stay up-to-date. We've lifted our paywall on all essential news and updates about the coronavirus.
As health experts and government officials urge New Yorkers to practice social distancing and self-isolation in order to protect their fellow residents and slow the rapid spread of the dangerous coronavirus, one prominent New Yorker said "Fuggedaboutit!" to these professional recommendations and made the 12-mile voyage to his beloved gym anyway. Yes, Mayor Bill de Blasio was back at the Park Slope Y.
"Mayor de Blasio is indeed here at the Park Slope YMCA this morning," tweeted CNN's Andrew Kaczynski. He added, "Among comments from New Yorkers walking by who saw his security detail. 'Is the mayor really working out.' 'He shouldn't be here.' 'What an idiot.'"
For years, Mayor de Blasio's daily 12-mile ride from Gracie Mansion to the Brooklyn gym has raised eyebrows among New Yorkers, who are quick to point out that the supposed champion of environmental causes could significantly decrease his personal carbon footprint by working out at any one of the many, many gyms uptown, not to mention save hours of commute time.
In a statement to News 4 New York reporter Melissa Russo on Monday, the mayor's press secretary Freddi Goldstein said that the YMCA has been a "huge part" of Mayor de Blasio's life, and he "wanted to visit a place that keeps him grounded one last time."
"That doesn't change the fact that he is working around the clock to ensure the safety of New Yorkers," Goldstein went on. "After today, gyms will close and he will no longer be visiting the YMCA for the foreseeable future." Indeed, as New York governor Andrew Cuomo announced on Twitter, all gyms in the state will be closed, effective at 8 p.m. on Monday.
Farewell — for now, at least — to the mayor's daily gym pilgrimage. Somewhere in heaven, Charlotte the groundhog is laughing and saying, "Good riddance."