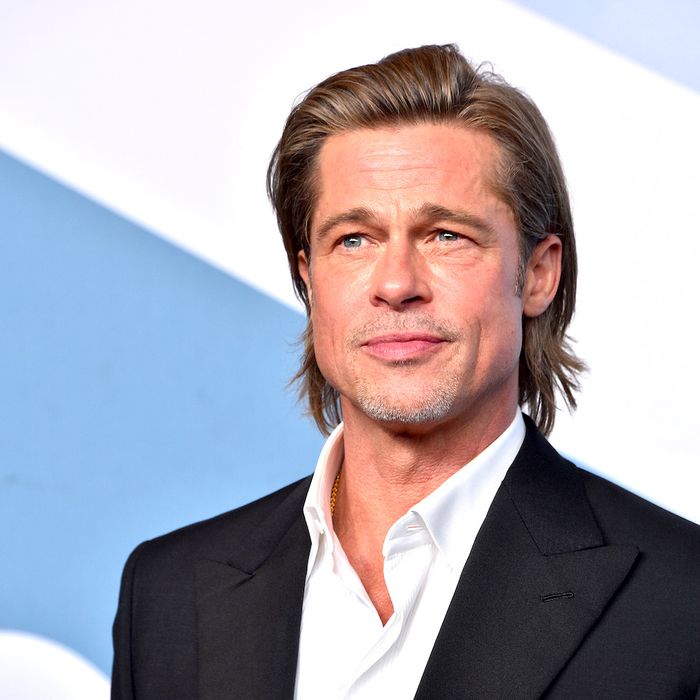 Brad Pitt, Alia Shawkat's boomer friend.
Photo: Gregg DeGuire/Getty Images for Turner
The antipathy between boomers and the younger generations who mock them has been well-documented. Boomers really don't appreciate it when the youths of today paint them as woefully out-of-touch, particularly not when said youths are selfish entitled millennials. Given all the conflict, it is heartening, I suppose, to see a young person and a middle-aged person attempt to bridge the great divide — to see a boomer really try to understand, even appreciate, the things that kids these days are into. Brad Pitt, 56 and therefore a technical boomer, gave it a shot over the weekend, allowing his hip millennial friend, Search Party's Alia Shawkat, to bring him to a Thundercat concert. And you know what? Based on grainy photos published by TMZ, it looks like he had a nice time.
TMZ — which, as you can see, originally pegged Shawkat as a "mystery woman" — reports that the pair were seen at The Wiltern in Los Angeles, watching Thundercat from the VIP section. These two enjoy taking in local cultural offerings, having been previously spotted at art galleries, and other concerts, which initially set the romantic rumor mill spinning. The relationship is purely platonic, though: Shawkat, 30, appears to be Pitt's cool millennial art pal.
Of course, I can only speculate as to who invited whom to Thundercat's show, but given that only one half of this duo has recently staged a theatric endurance test in which she reenacts a breakup scene with 100 different men over 24 hours, and starred in a Beck music video, I have my theories. Regardless, though, I am simply glad to see this intergenerational friendship blossom.