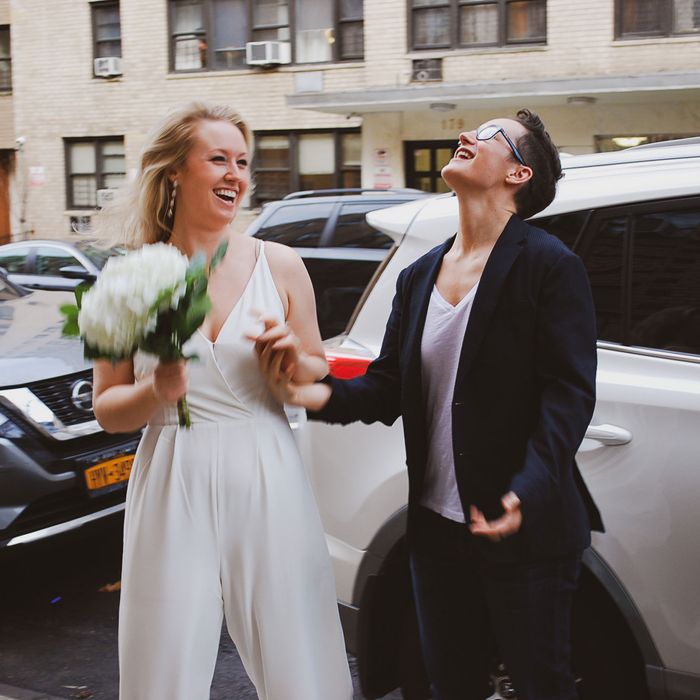 Reilly Jennings and Amanda Wheeler threw a last-minute outdoor wedding after COVID-19 threw a wrench in their plans.
Photo: Katie Kaufman-Gibbons
Worried the coronavirus pandemic would dash their fall wedding plans and, more pressingly, potentially impact their health insurance, Reilly Jennings and Amanda Wheeler decided to get married last week. When City Hall closed the Marriage Bureau midday on Friday, it seemed the couple of four years would have to wait indefinitely to wed, until a friend provided a creative solution: What if her husband married them that evening? 
The brides wore sneakers and walked ten blocks from their home in Washington Heights to the venue, a Bennett Avenue sidewalk. A handful of guests stood several feet away from each other, while a few more watched from the open sunroof of their car. The officiant read a Love in the Time of Cholera passage from his apartment window four floors above while his wife leaned out of another taking photos. The whole event happened in just three minutes. This is how you pull off an impromptu wedding amid a global pandemic:
Reilly Jennings (bride): We were planning on getting married in October, but when this all started getting real we figured that it could potentially impact our wedding, and we also knew it might impact Amanda's job. She's a trainer at a small boutique gym in Manhattan. I was like, "Babe, I think we should get married. I don't know if you're gonna have a job or insurance."
Joselyn Mujica (friend): We all met about two years ago through the gym where Wheels [Wheeler] works. Reilly also worked there at the time.
Jennings: Shit hit the fan on Thursday. The gym laid off all of Amanda's co-workers, except for her. She's teaching online fitness classes from our living room right now for 300 people. We went down to the Marriage Bureau on Thursday afternoon and got the marriage license. They make you wait 24 hours, so we planned on going back Friday to get married.
Mujica: I was scheduled to work out with Wheels on Friday, and she texted Thursday afternoon to say, "Can we move the workout? We are going to get married tomorrow at City Hall. Can you be there?" I was like, "Obviously! Yes! We will take a lot of precautions, and I will absolutely be there."
Matthew Allen Wilson (officiant): Reilly and Hot Wheels — Reilly and Amanda — and I go way back. We worked together for about five years, and we've stayed close. We literally live ten blocks away from each other. Two days before, on Thursday, they said they were going to City Hall. They asked, "How do you want to see it? Do you want to stream it? Do you want us to record it?" We were like, "Record it, because the internet could be bad." I was just looking forward to seeing that.
Erika Henningsen (friend): Reilly and I went to high school together. We were in choir together. She texted me the day before to see if I could come to the courthouse. I called her and said I didn't know if we should go, mainly because we would have had to take public transportation to get there. When I told her that, she was like, "Oh, of course. Don't worry at all."
Jennings: When I asked Katie to be a witness, she asked me what I was going to wear. I said I didn't know.
Katie Kaufman-Gibbons (friend): I brought her this jumpsuit that a designer friend of mine made for me as a gift for my rehearsal dinner when I got married.
Jennings: When I put it on, it fit perfectly. Which is weird because we've never shared clothes before.
Kaufman-Gibbons: We had something new, something blue — all the things. I was on a work call, and we were going to leave for the courthouse right after the call Friday. Then the Marriage Bureau closed. Reilly was just devastated.
Mujica: They live ten blocks south of me. The plan was to meet at their place at 12:15 p.m. I was halfway there when I got the text from Reilly. I just stopped in my tracks and called them. They were fully dressed.
Jennings: When the mayor made the announcement closing the Marriage Bureau, I panicked. I definitely drank a couple of glasses of wine that afternoon.
Henningsen: Selfishly and guiltily, when she said the bureau was closed, I thought, Oh, thank God. Because I didn't want them to go at all. I was nervous about the two of them getting sick and, also, I wanted to be there. I just thought they'd postpone it.
Wilson: I first heard they were getting married about 90 minutes before the ceremony. We've all tried to stay in touch, particularly this past week, over this really silly app called Marco Polo. It's kind of like Snapchat meets an old answering machine meets YouTube reaction videos.
Jennings: That's when Matt's wife responded.
Wilson: I wasn't looking at Marco Polo Friday morning because I've been working remotely. My wife, Stephanie, was on the app when they said that City Hall has closed. She was like, "Hey, everyone, you know, Matt's an officiant." Steph put the bug in their ear.
Jennings: I texted Matt at 4 p.m. and was like, "Hey, so are you ordained by the City Clerk? Will you marry us in the next 24 hours? Or, better yet, in the next 90 minutes?"
Jennings: We knew that he wasn't going to be able to be there in person because he and his wife are self-quarantining, but they live just down the street.
Wilson: I've been inside for a week now. I was an emergency medical technician in college. I've also worked as a medical clown, working with immunosuppressed populations. I've performed in isolation garb, as a matter of fact, so I'm familiar with viral-disease transmission. I take this super-seriously.
Kaufman-Gibbons: We thought, What if we literally did it as a drive-by? He can stick his head out the window.
Wilson: I'm ordained through the Universal Life Church. This was my fifth wedding in five years. My first out of a fourth-story window, though.
Henningsen: I live in Harlem. My boyfriend and I got in the car and we drove up to them. We raced up to be there.
Amanda Wheeler (bride): I was teaching a class, a bodyweight-boot-camp-style thing that people can do in their homes with household objects like plants and wine bottles and laundry-detergent bottles. I got done at 5:30 p.m., took a shower, and we were off.
Wilson: As soon as they texted us to let us know they were on their way, Steph and I got into position. I lit a couple candles that I still have from when I proposed to my wife. I lit some sage and started playing music. As they were coming down the street, we were waving bubbles. We have an event entertainment company, so we have closets full of props and costumes and bubbles. We made sure to wave the bubble wands because the last thing you want to do is blow bubbles during a pandemic, because then each little bubble is a bomb of potential virus.
Wheeler: When we got there, I could hear music playing and there were bubbles. Then other people started blowing bubbles out their windows, too. Who even has bubbles?
Wheeler: There was no time to think. I just wore a jacket I had in my closet. I didn't anticipate anybody ever seeing what I was wearing.
Wilson: My first question to Reilly was, "Do you all have any readings or words or things that you want shared?" She told me some songs, so I had a little Bluetooth speaker playing those. Then I just started racking my brain for, I don't know, texts and references that would resonate. Love in the Time of Cholera fit the bill.
Kaufman-Gibbons: He read this passage and then told us all what it was from, and everyone was like, "Oh, that's very perfect and fitting."
Henningsen: We double-parked. We put the sunroof down and started playing whatever that Bruno Mars song is about getting married. The Glee version popped up, and I was like, "We can't do this … I don't know what they want as a wedding song, but I know it's not this."
Mujica: Matt was hanging out the window, ready to go.
Wheeler: The actual ceremony was like three minutes from start to finish. Probably like 15 from when we literally walked under the window, did the thing, and then took some pictures.
Jennings: Katie's not a professional photographer. Recently, she's been hopping along on gigs with another good friend that was actually going to take our wedding photos. It was perfect that she just happened to have a camera to take photos of us on the street.
Kaufman-Gibbons: Matt is a performer and has a very loud, booming voice. Everyone in the neighborhood was immediately alerted to what was happening and started peeking their heads out the window and filming and cheering. It was just magical.
Henningsen: I don't know if it's because we were so loud and cheery, but slowly people's windows started opening.
Kaufman-Gibbons: I think like this was the New York City version of all the people in Italy singing from their balconies.
Henningsen: It was a gorgeous day. It was 80 degrees in New York in March, which was wild.
Mujica: We were trying to take a lot of precautions. We had hand sanitizer. Reilly and Amanda were not social distancing from each other, but the rest of us were trying to stay away.
Kaufman-Gibbons: Everyone was sobbing and also trying to keep a distance. We FaceTimed Reilly's parents.
Wilson: After everything wrapped, we played one more song: "Real Good Thing," by Marc Broussard.
Henningsen: Luckily, we had a bottle of Champagne in the fridge we were planning to give them when we were considering going to the courthouse, so we were able to use that for a toast. We stayed in the car, but we did pop the bottle and hand it off to them.
Stephanie Wilson: We coordinated it so that I would run downstairs and get the marriage license to bring up to Matt. We have a double-door situation in our apartment. Reilly came in through the first set of doors, placed it on the floor. Then I came into the middle section and grabbed the documents. I ran upstairs to Matt who, with gloves, signed the documents. Then I ran them back downstairs, put them in the middle, and congratulated them from afar.
Henningsen: It felt a little weird to watch them get married and then not be able to go dance the night away with them, but the general feeling among everybody was the very fact that it happened at all was special. The lack of the open bar wasn't really important that day.
Wheeler: A couple of our friends sent us Domino's gift cards because there's a Domino's right outside our window. We had Domino's the night we got engaged. Another couple friends sent us Champagne, so we had some pizza and Champagne when we got home.
Henningsen: I talked to Reilly this morning about whether they are going to do another ceremony. I said, "I don't know if anything is going to top that."