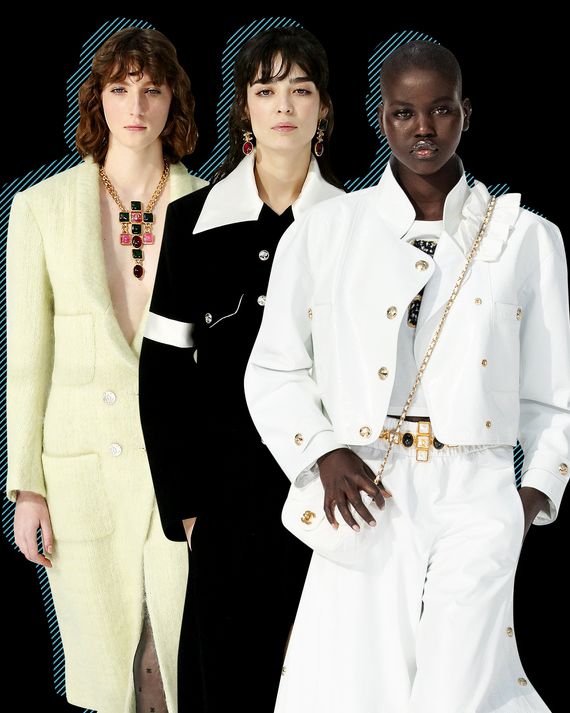 The symbolism at Chanel today couldn't have been clearer than if Coco herself had come skipping down the steps in the Grand Palais: Lagerfeld is dead. A woman is in charge.
Don't get me wrong. Virginie Viard revered Karl Lagerfeld. We all did. But in her second ready-to-wear collection for the house, Viard shed some of his conventions and, in so doing, let in some fresh air. Gone was the mega-set. Remember the snowbound chalet of a year ago? Well, the snow blew over to Thom Browne's fairy-tale set this season. Viard went with a plain silver runway and white lacquered risers. Lagerfeld tended to give the clothes a safe, uniform line throughout and use details for fun and edginess. Viard actually varied the silhouette a lot, as if thinking of a range of women, ages, and lifestyles.

It takes nerve in Paris these days to show women with natural makeup and their hair, if long, simply brushed off the face and held with a bow-adorned clip. Think of all the tight chignons, the frizzed hairpieces at Junya Watanabe and Rick Owens, the glam makeup at Dries Van Noten, and the spooky nuns at Balenciaga, who looked like they were prepping for The Handmaid's Tale. Viard's first two models came out smiling and chatting, as if they had better things to do than walk in a fashion show.
If Viard's first ready-to-wear collection seemed a bit constrained, this one erased that impression. Not only did she break out of a certain Chanel formula — there was nary a boucle suit until maybe look No. 27 — but she also provided a zillion entry points for would-be customers. In other words, she knows that Chanel is a huge brand; why not try to talk to more women with styles others than suits, witty prints, and little black dresses? There were micro-shorts with cropped lace or cotton tops for a young woman, followed by a boucle coatdress and a scalloped white suit for someone older or maybe with more conservative tastes.
Viard kept shuffling the characters and with them the styles. Here, an intarsia-knit top with a Byzantine cross on front, which recalls a famous Lacroix jacket shown on a 1989 Vogue cover, worn with a pair of black leather pants that could be left unbuttoned up the sides, gym style. Here, a gorgeously austere black wool coat with two black satin panels to wear to impress someone. And Viard showed every look with the same style of stacked-heel jockey boots, making the glamour seem relaxed. Coco Chanel was all about freedom. That means different things in a different context. For Chanel, it was largely about the body. For Viard, it may have been about challenging fashion conventions and, also, how the industry has perceived the label for years.
As it happens, several women designers were curiously in sync in the last days of the Paris fall collections. Both Sarah Burton of Alexander McQueen and Stella McCartney used terms like "strong-willed" and "grounded" to describe their collections, and Burton moved away from embellishment and corset-type lacing. Instead, she relied on graphic patterns, inspired by Welsh quilts and traditional blanket checks. That resulted in some superb pantsuits and a coatdress in glen plaid with a broken zigzag of black and dresses in bias-cut blanket checks mixed with a black leather bodice.
But a graphic simplicity was also the story at Givenchy, where Clare Waight Keller opened with a series of coats and pantsuits in solid tones — cherry red, tobacco, dove gray — that were all about strong lines. Her coats, with slightly rounded shoulders and a single, handcrafted pin to close them, were among the best in Paris. Like Burton, she collaged fabrics — for dresses that resembled scarf prints. McCartney did something similar with archival Erté prints. All three designers laced red through their collections with glamorous (in the case of Givenchy) or romantic results.
Though a stereotype, it's nonetheless true that male designers tend to design for a female ideal — sexy, a tower of fetishized power. Women designers, on the other hand, just like to get on with it.