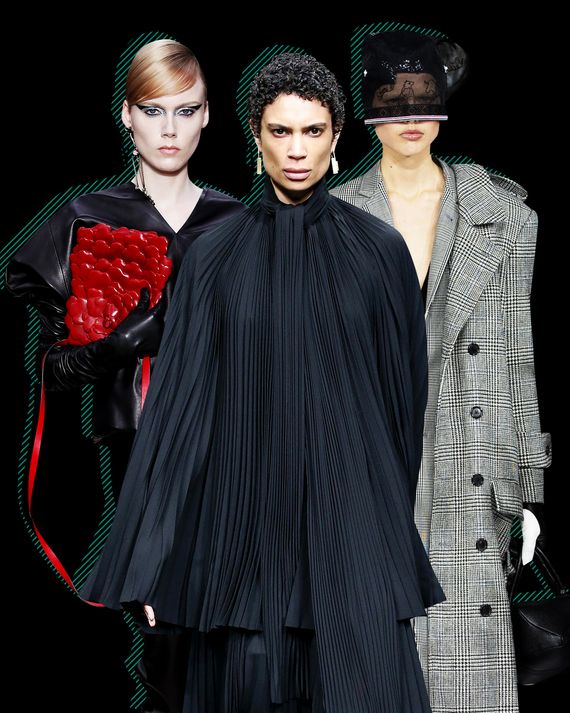 From left: Valentino, Balenciaga, and Thom Browne.
Photo: Getty Images
Sunday, church day in the Christian world, and the flood waters were rising at Balenciaga. Or so I thought. Priests were performing their magic. But were these men of cloth or, for that matter, men? More than once at the Balenciaga show, what seemed fake was actually real, and vice versa. For example, I thought that the immense black void in the center of the space — we were seated stadium style on a soundstage — was at least a full story deep and that when the models came out, we would be staring down at them. Indeed, as the light effects began on the ceiling (storm clouds, swarms of birds), I believed that the empty row of seats in front of me was not a proper row but, rather, a ledge. I could die, I thought.
A moment or so later, when it was clear the black void was in fact a shallow pool of water and the first models were splashing through it in their black suits and priestly frocks, the woman next to me said, with alarm, "Do you think the water is rising?" Her imagination was telling her that it was.
Clearly, we are inundated with news of disasters and extreme weather. You can't turn on TV without seeing images of floods in Europe. That was the most obvious way to "see" Demna Gvasalia's cinematic set for Balenciaga — as a backdrop for the effects of climate change. But what about the priests and nuns? The biblical magic of walking on water? His were not true nun's clothes, but fashion editors were once called nuns because they wore so much black. And some of Cristobal Balenciaga's earliest designs were austere black velvet dresses for Spanish aristocrats to wear to mass.
"We live in a world of so many questions," Gvasalia said in an interview after the show, when he was back in his home and out of his Wellies. "What is true or not true?" Just as pertinent: What is possible?
Gvasalia has systematically reinvented Balenciaga in ways that few die-hards could have imagined a few years ago. He gets stronger and stronger. He is an example, along with Marc Jacobs and a few others in fashion, of someone who thinks big. Not only did he re-create the banal imagery of a Parliament assembly room last season, but he also evoked the creeping uniformity of bureaucrats and others in authority, a style that we tend to take for granted. Other designers can strike an emotional chord. Gvasalia digs under your skin. At the same time, he is abundantly aware that he has to sell products. On Sunday, mixed in with the black suits and fetishized priest robes were Balenciaga-branded motocross leathers, football jerseys, and denim.
Gvasalia recalled seeing priests in robes as a boy and wondering why he was forbidden from wearing dresses. He is hardly the first designer to subvert religious costume. And it has now become pro forma in fashion to largely ignore gender norms and put everyone in skirts (or pants). On Sunday, in a superb show based on another biblical story — that of Noah's ark — Thom Brown sent out models in pairs in identical suits and coats that were as witty as they were well crafted. Since each face was veiled in black net, and since the tailoring was masculine, in an animal-cracker blend of masculine fabrics and details, you couldn't always tell the gender of a model. And of course it didn't matter.
But with Balenciaga, to focus on the priests or the nuns or the climate disaster is to possibly miss the best part: how Gvasalia continues to give a modern vernacular to the brand's historic forms. About halfway into the show, a model came out in a Prince of Wales pantsuit buttoned to the neck and compressed around the body, with the hips a bit rounded. Gvasalia says he was initially looking at Victorian feminine fashion, with its extreme contours achieved by corsetry. "Of course, we can't use a corset in 2020," he said.
So he used neoprene bonded with jersey. The stretchy result — which he says "is not human-looking when it's on the hanger" — preserves both the shape of the body and the formal properties of a suit.
It's this questioning, in service to fashion, that makes Gvasalia's work so compelling. (He shows his first haute couture collection for Balenciaga in July.) The rest is big-budget hocus-pocus.
Despite the foul weather in Paris and rising worries over the coronavirus news (some editors returned home early), the shows have generally been strong. Pierpaolo Piccioli delivered a terrific Valentino collection. In the past, I have hardly known what to say about his ready-to-wear. It either resembles a Rome dream, all feminine and tanned legs, or the contents of a girl's bedroom, a Vesuvius of pinks and frills.
This time, though, he sent out a stream of black tailoring, with thick-soled jodhpur boots and minimal embellishment. There were handsome straight-line coats and impeccably cut wool dresses or two-piece numbers, including an outfit in soft black leather with slightly puffed sleeves and a slim, mid-calf skirt. Piccioli also showed great-looking slouchy wool trousers, in gray or black, with nipped jackets, and an elegant (but not fussy) take on brass-buttoned military jackets. He had some lovely evening dresses, notably in solid dark green or red sequins, but the news was the day clothes. They finally had heft.