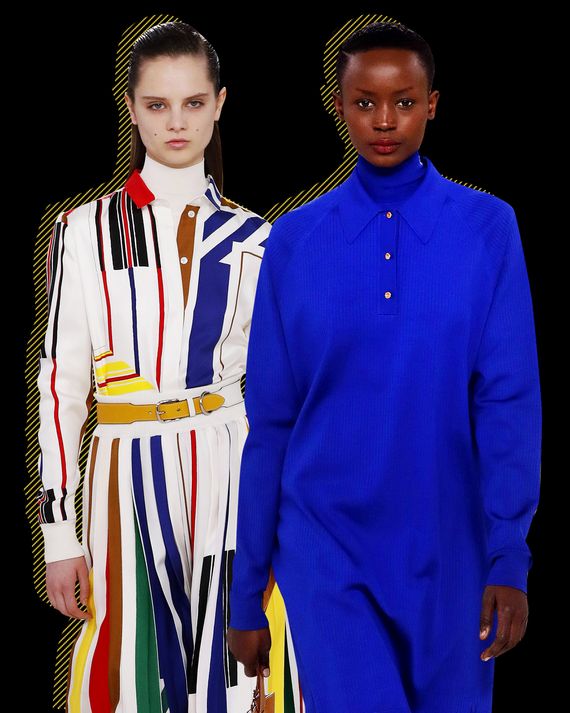 "I'm not fascinated by the bourgeoisie," said Nadège Vanhee-Cybulski before the Hermès show last night, her 11th ready-to-wear season as women's designer of the 183-year-old saddle-maker. "To me, 'bourgeois' was always associated with a sort of frustrated woman. I also don't think people today are preoccupied with all this sense of ownership. They're much more concerned with how the world can sustain itself."
Bundled in a gray coat, her red hair shining in the bright lights of the backstage, Vanhee-Cybulski was explaining details of her collection when I asked about the bourgeoisie. Surprisingly, it's been a theme of the Paris shows for several seasons. Journalists also seem to perpetuate the idea — or the stereotype? — by plugging in "bourgeois" for almost anything that's classic and elegant.
Vanhee-Cybulski, who is soft-spoken, thought for moment and said, "Maybe it's reassuring. Maybe it's a crutch. We don't have a lot of great designers at the moment."
Already this week, designers have referenced 1930s Spanish and 1960s Italian dressmakers; they've also mentioned grandmothers, Blondie, and up-cycling. Vanhee-Cybulski, unlike them, has to stay within very strict design guardrails. She has to incorporate Hermès' equestrian story — ideally, without horse bits and bridles — and she has to express in the products one of the firm's core values: beauty married with function.
Vanhee-Cybulski admitted it's a challenge to constantly find inspiration in the classics, but after seeing her incredibly assured and tempting clothes, I could only think: Other designers would do better if they had her guardrails.
First of all, Vanhee-Cybulski's intention with the equestrian theme was to actually strip it away — that is, imply horsey elements rather than overly state them. Color-block sweaters could be read as abstraction of jockey silks. Polo shirts, in a superfine knit, were elongated into slim dresses and worn over skirts pleated with thin strips of an Hermès silk scarf print and knitwear. Yet, remarkably, when you see the online images of the collection as a whole, all those primary colors, together with black and touches of light blue and tan, read against the dominate tone of white — well, they read like an abstract grid painting. Ellsworth Kelly was an inspiration.
So Vanhee-Cybulski subverted the horsey element and at the same time she didn't give the bit to Kelly.
She widened her frame in another way: "It's really a collection about outdoors." That gave her a context for canvas parkas, cotton overalls, and a beautiful draped-front coat in black cashmere with a brown leather at the neck. Pullovers came with two slits in the neckline — for inserting a necklace or a scarf.  ("I was, like, let's do a 'scarf for dummies,' which is me," the designer joked.)
But Vanhee-Cybulski also interpreted the "outdoors" through traditional fabrics, like corduroy for a chic brown pantsuit and tartan for a trim kilt that combined black leather and a panel of striped wool. The stripe was, in fact, the blown-up, abstracted pattern of a Scottish tartan. So now the kilt looks "Hermès" and modern rather than traditional.
As for the sturdy corduroy, she set the wales for the jacket on the horizontal rather than the standard vertical. "It catches more light, and also you don't recognize it as corduroy," she said.
The standard modifier for such design is "considered." You can also call it "great," but at least the term now has meaning.
At Comme des Garçons, Rei Kawakubo continued to show her massive, abstract pieces. In a statement, she said, "Is it not impossible to make something completely and utterly new, since we are all living in this world?" The collection, called "Neo Future," mostly reflected on her history, though the vivid blasts of color, as well as the amount of pleating (for a synthetic chiffon) looked new and arresting. (It was all translated for the designer's commercial line.)
And Junya Watanabe tucked into the style and music of Blondie. The black harnesses — some exploding with handbags, evoking the famous editorial look of the stylist Carlyne Cerf — and the faux-leather jackets and sliced-up prom dresses were cool. But strip that away, and there wasn't much left besides some wool coats and leggings.