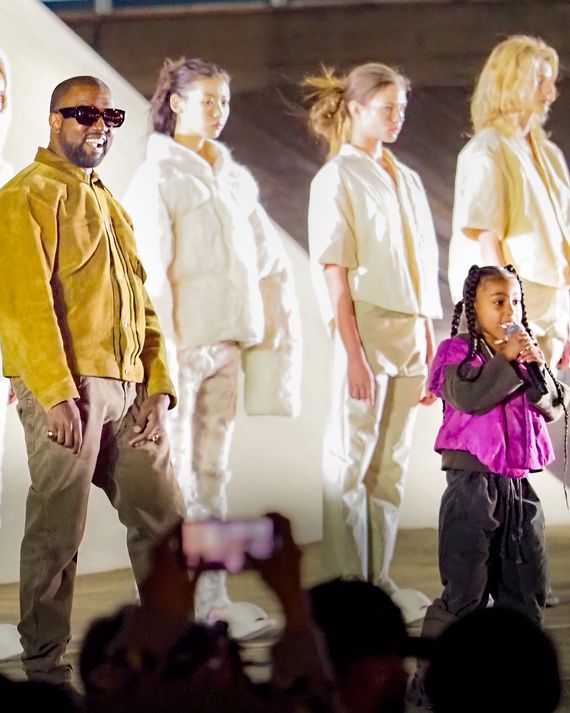 Photo: Arnold Jerocki/GC Images
In 2011, Kanye West made his runway debut in Paris with a collection of amateurish clothes that expressed, almost painfully, more yearning to be a designer than actual qualifications. Afterward, as Eric Wilson reported in the New York Times, West seemed stung by the criticism and lacking in self-awareness. The article quoted top editors ("Ask someone else," said Anna Wintour) and concluded, "Mr. West will undoubtedly get another chance, and everyone will show up."
He did, and we did, last night — including Wintour, who in the interim has embraced West and his wife, Kim Kardashian West, putting them on the cover of Vogue in 2014. Recently, Architectural Digest featured the Wests' minimalist home in California, a project that combined the work of some of the most respected architects and designers in the world: Axel Vervoordt, Claudio Silvestrin, Vincent Van Duysen, and the Belgium landscape firm Wirtz International.
The surprise Yeezy outdoor show, in front of the illuminated dome of the building Oscar Niemeyer designed for the French Communist Party, had been planned for about a week. He could have shown it in New York, since the clothes have been ready, but West insisted on Paris. It's safe to say that the capital of fashion offers a unique validation.
The show was supposed to feature a choir, but because of the damp, cold weather here in Paris, which would affect their voices, West made the rather genius decision to dispatch some of his crew to car-rental places to test out their horns. The cars, about 30 in all, were parked around the Niemeyer building. At the start of the show, their horns were set off at different intervals to evoke the sounds of being in a city. Six-year-old North West also performed a rap number.
Before the show, her father met with about two dozen editors and writers inside the dome for a closer look at the clothes. The models wore outfits styled by Christine Centenara, with gold rings and brutalist ornaments on chains from the Paris jeweler Colombe d'Humieres. They were positioned standing stock-still throughout the space, not in the Vanessa Beecroft formations of the past but in that spirit. It has been three years since the last Yeezy show. He is now up to Season 8.
In many ways, the looks were vintage West: the insistently dry earth tones (sage, tan, sand, stone gray); the shapes that seem inspired by an unlikely blend of hospital scrubs, yoga tops, and hazmat gear. Yet, given the messiness and almost numbing repetitiveness of many of his previous efforts, this small collection was at least sharply focused. The cropped puffer jackets and vests, with their irregular, bloblike channeling; a stiff hooded top in what felt like waxed cotton; a puffy jacket and wide-leg pants seemingly made of compressed clumps of natural wool: These were interesting. Most looks were shown with modified, quilted moon boots or thick-soled, wide-band white slides.
And then there was the difference in West himself. The man who in 2011 had boasted and ranted to anyone in his vicinity now seemed more at ease, more mature. Maybe it's marriage, children, his Sunday Service, the operas he's been writing, or his various architectural projects (including a Wyoming ranch).
This is not to say that his explanations are easier to track. For example, he told reporters the collection had been "designed for people in the service industry, like the nannies and the housekeepers and the chefs," adding, "Everyone in my house is tired of wearing all black."
That remark later caused people to hoot. But West also said: "My daughter is, like, 'Look at all the people who are at our house.' She doesn't just name me and my wife. She names everyone who works with us. I just think people haven't taken time to think about and design for these people."
Translation: The Wests probably employ a lot of people. Maybe they think of them as family.
West has a design studio in Calabasas. He has freedom and good instincts, not to mention a network of creative associates. The lingering question, since the beginning, is whether he can harness all of that to Yeezy and make it go. That would be the ultimate validation, if in fact he wants it.
Here's an edited version of the preview session:
So you're going to have the clothes in Wyoming?
Yeah, the waterproof stuff [smiles]. But we have 700 sheep on my ranch, so we're trying out different ways of felting the wool. It's the beginning of a new language, because before [Yeezy] was based on military. The idea now is to be in service — like Sunday Service. Service clothing.
So will the prices be pretty affordable?
We didn't price them yet, but I believe so.
It's quite protective-looking. And sculptural, like the puffers.
Yes. If you take that rubberized piece there, there's only one line on the hood. It keeps reworking and reworking to make that shape … I've always been obsessed with hazmat and that whole kind of vibe. This is just the beginning of a new language.
Is Vervoordt's interior design inspiring?
Ah, yeah. That's my kindred soul. And, a lot of time, when my washes feel very rough and it feels very unfinished, I just think of Axel. We're very wabi-sabi and Zen. Just the new stuff we've been working on with [James] Turrell and Claudio Silvestrin, it's super — I wouldn't call it minimalist, just more essential spaces.
Is the wool from the sheep on your ranch?
It will be. This is all experimental. We're just looking at different ways of doing things. I mean, 90 percent of the collection is in muslin. It's just in its original [form]. We're looking into creating sueded effects.
Are you happy to be back in Paris with fashion?
Well, that's a big question! I stopped doing merch four months ago, and started working on the opera. Because I wasn't pushing myself enough and we were doing a million dollars a night in merch. And I remember when I started doing fashion. Everyone just said, 'Do a T-shirt. The Row started off with a T-shirt' — because they had to do a celebrity comparison — and we fought to not do T-shirts. And then I looked up and I was only doing T-shirts! So we just stopped and started focusing on changing and making new shapes. Each one of the pieces here, some of them, are really at infant stages. They're all new inventions, new approaches to apparel … It's just getting back on the horse, designing, presenting ideas. Because we've presented so many things that have influenced palettes, the shapes of shoes. The shape of the 350, which became the most iconic shoe in, like, the past 15 years, basically.
Will you produce this collection?
Yes, we will.
Why did you bring Sunday Service to Paris?
To spread the Holy Spirit. That's my job as a Christian.
Does it relate to the collection?
Yes. I think about the way I use the clothes and think about the way I present the models, now that I'm married and have two daughters, now that I'm saved — it's a whole different mentality.
Is there a movie that inspires you?
Yes, the movie called Our Real Life.