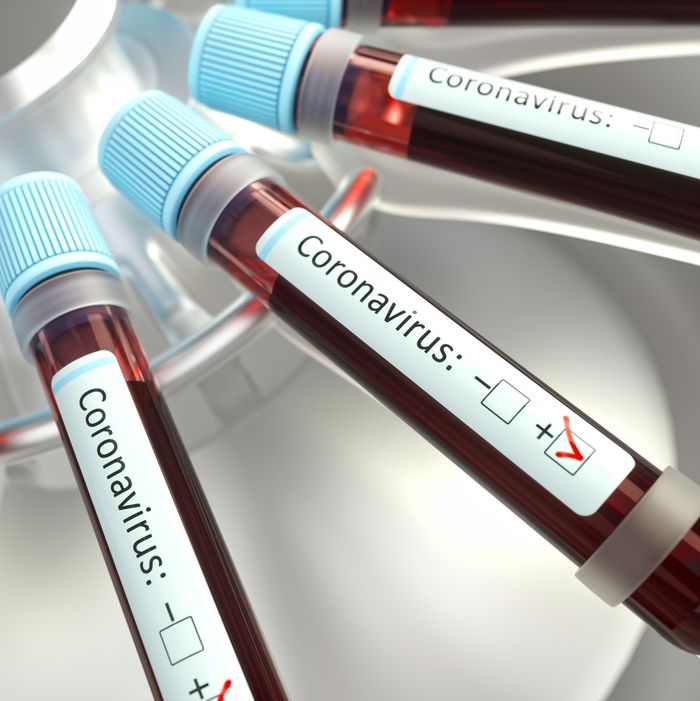 Other countries are aggressively testing for coronavirus — why can't we?
Photo: KTSDESIGN/SCIENCE PHOTO LIBRARY/Getty Images/Science Photo Library
Please note the story you're reading was published more than a day ago. COVID-19 news and recommendations change fast: Read the latest here to stay up-to-date. We've lifted our paywall on all essential news and updates about the coronavirus.
As the coronavirus case count climbs in the United States, and as several people who have no known links to other outbreaks have started to chart symptoms, the need for a reliable, mass-produced diagnostic test has become pressing. Other countries have certainly been testing prospective patients: In South Korea, health officials have reportedly been testing about 10,000 people for coronavirus per day. Meanwhile, in this country, the Centers for Disease Control and Prevention are testing … only some people who present with possible signs of coronavirus, according to a troubling New York Times report. On Monday, the agency wiped its data on testing from the internet, but apparently, it also shipped defective tests to health departments nationwide, inadvertently sowing chaos far and wide.
"The incompetence has really exceeded what anyone would expect with the CDC," Dr. Michael Mina, an epidemiologist at Harvard University, told the Times. "This is not a difficult problem to solve in the world of viruses."
Flaws in the test kits.
The issues here appear, unfortunately, to be manifold: To start, the U.S. reportedly insisted on coming up with its own test when COVID-19 first started to spread, even though the World Health Organization had already approved a German-made test for global distribution. When the CDC did eventually roll out its own three-part diagnostic system in February, the kits reportedly returned inconclusive results, due to what the Times deemed a "manufacturing defect." Promised replacements failed to materialize, leaving just the CDC's Atlanta labs to process results.
An eventual two-step kit seemed plagued by similar problems, and experts told the Times that the criteria for getting tested in the first place were prohibitively narrow: In order to be screened, the patient must have made a trip to China or come into direct contact with someone confirmed to have coronavirus. Public-health officials now suspect that, in Washington State for example, the highly contagious virus may have been spreading undetected for weeks among people who check neither of the aforementioned boxes.
People with symptoms say they've been denied tests.
The CDC has since expanded its criteria somewhat, and last week, the Food and Drug Administration authorized labs and hospitals to start screening people using their own validated tests. Still, widespread confusion is king, according to the Times.
"It seems like we can't get tested," Queens resident Jennifer Knight told the paper. After Knight returned from a group trip to Milan, which had an outbreak of the virus in late February, she says she developed a sore throat and migraines, while her partner has a fever and a severe cough, both symptoms of coronavirus. And yet, every health-care provider they've called has told the couple they don't do testing, so the pair quarantined themselves inside their apartment.
A Rhode Island professor, Onésimo T. Almeida, had a bit more luck: He started coughing, sneezing, and sustained a weeklong fever after returning from a conference in Portugal. Initially, the state health department said he didn't meet the criteria for screening, according to the Times, but then called him back and told him to drive to a hospital for testing — which reportedly took place in the parking lot, through his car window.
In Seattle — where coronavirus has been spreading rapidly — Vanity Fair reports that a woman with all the COVID-19 symptoms was ultimately told she didn't meet screening criteria, but not before being given the runaround by a series of medical professionals. First, this woman allegedly called Washington's coronavirus hotline, which may have been torpedoed by a high call volume; after waiting for 40 minutes, she deferred to the CDC's instructions and called two primary care doctors — one of whom knew nothing about testing locations and discouraged her from trying to find out more, while the other told her to call the ER. The ER, in turn, referred her to a hospital, which didn't have any tests available but sent her back to the hotline, where an operator allegedly told her to try back if she developed pneumonia or bronchitis.
So! As you can see, it's all going very smoothly. Meanwhile, Washington State reported more deaths Tuesday, bringing the national total up to nine. As for the country's case count, it's likely much higher than what's been officially reported. Comforting.