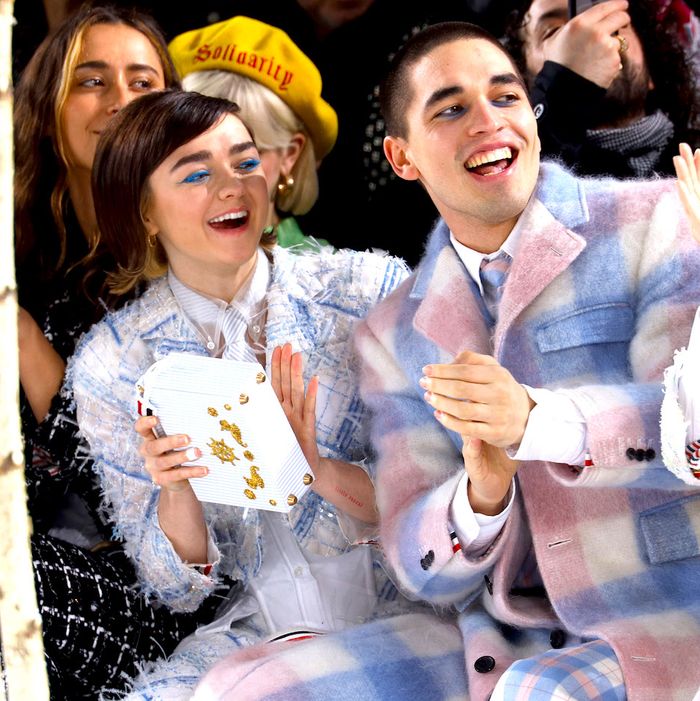 Maisie Williams and Reuben Selby.
Photo: Pierre Suu/Getty Images
You would not be remiss for believing that color-coordinating among celebrity couples peaked in 2001, the year Britney Spears and Justin Timberlake wore head-to-toe denim to the American Music Awards. Their sartorial choices left us with an image that, once seen, cannot be erased from memory. But in the nearly two decades since, celebs — or, some celebs; I cannot speak for all of them — have gotten subtler in their matchy impulses, with immensely pleasing results.
Although the sheer volume of global calamity often makes it feel otherwise, 2020 is young and yet, it has already emerged as prime time for famous fashion people in love. We're living in a real golden era for coordinating couples' outfits, and the evidence is everywhere. Let us review the year in matching 'fits so far.
Maisie Williams and Reuben Selby
The Game of Thrones actor and her boyfriend celebrated Paris Fashion Week by hitting the shows in carefully calibrated, expertly coordinated outfits, and had the most fun doing it. They showed up at Thom Browne's Paris show in fuzzy pastel tweeds, even going so far as to synch their makeup. (They did this at Thom Browne in September, too.) Nothing paired too perfectly, which enhances the overall effect: Colors and patterns that nod to one another while still maintaining individuality, a real masterclass in matching from two seasoned experts.
Zendaya and Jacob Elordi
The Euphoria actors and Celebrated Talls were seen at a flea market on Sunday, both wearing: the same shade of jeans, black tops, blue caps, and bulky cameras. Really the only aesthetic differences were that Zendaya had cooler glasses, and Elordi had a dad 'stache.
Prince Harry and Meghan Markle
The Duke and Duchess of Cambridge made their last U.K. appearance as senior royals this week, marking the occasion in bold jewel tones. First, the couple made their way through their own personal rain room in bright blue; then, at the Mountbatten Festival of Music, Meghan wore a very good red cape dress in the exact shade of Harry's Royal Marines officer's mess jacket. At Commonwealth Day, it initially looked like they'd broken their streak — with Harry in a blue suit and Meghan in bright green — until Harry's suit jacket blew up to reveal a lining in the same color as Meghan's dress.
Orlando Bloom and his puppy
To be clear, Orlando Bloom is not dating his dog; he's dating his fiancée, Katy Perry. However! It was the dog, and not Perry, with whom Bloom coordinated at Milan Fashion week: Bloom wore a camel-colored suit, while the puppy, Mighty, wore its camel-colored fur. Frankly, incredible.
Gabrielle Union, Dwayne Wade, and Zaya Wade
Behold, a bold example of family matching: At the Better Brothers Los Angeles 2020 Truth Awards, Gabrielle Union, her husband Dwayne Wade, and their daughter Zaya Wade — who identifies as transgender — walked the red carpet in color-coordinated suits that evoked the genderqueer flag. It was Zaya's first red carpet, and the family had the Richfresh suits custom-made for the occasion.
Gigi Hadid and Zayn Malik
Historically speaking, on-again-off-again couple Gigi Hadid and Zayn Malik have seemed to gravitate toward linked-up looks. (Recall: Malik's robotic arms at the 2016 Met Gala.) When the pair was spotted looking very much on-again in mid-January, they were both wearing the same shade of mint green — Hadid in the form of a full suit, and Malik, an embroidered jacket. Coincidence? I have no real idea but I want to say … not.