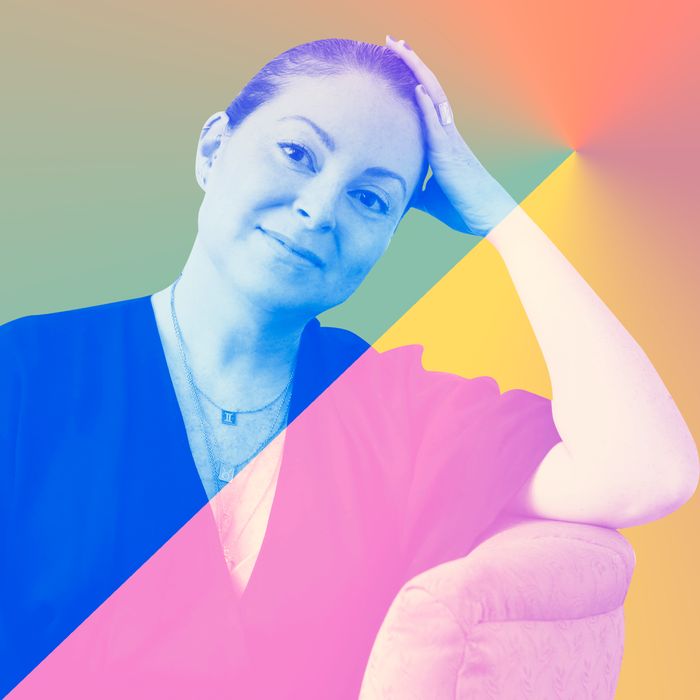 Photo: Courtesy of Joanna Vargas
When she was 22, Joanna Vargas moved to New York with hopes of becoming a photographer. Her hands had other ideas.
Vargas is now best known as the facialist to whom Elisabeth Moss, Mindy Kaling, Constance Wu, and Greta Gerwig entrust their complexions. But at the time, she got a job as the assistant to the assistant of a photographer. "I worked on editorial shoots and some portrait shoots," she recalls. "When I realized I couldn't do it any more, I went to beauty school. I planned on becoming a makeup artist, but, while I was there, I fell in love with facials."
She worked at an organic day spa, then a dermatologist's practice, getting feels for which environment felt most right. Eventually she came to the realization that she favored pairing natural and organic products with high-tech equipment, such as LED light therapy. With that knowledge in hand, she and her husband found a cozy lair in midtown Manhattan and opened Joanna Vargas Skin Care in 2006.
Word got around about the soft-spoken smartie whose Super Nova and Triple Crown facials worked wonders, and soon her schedule was filled with fashion and beauty editors and celebrities.
In 2016, no longer able to ignore the pleas from Hollywood, Vargas opened her second location in the Sunset Tower Hotel. Two years later, having outgrown two prior spots within that same New York building, she moved again — this time, to an entire floor that houses 13 treatment rooms plus four for her full-body LED RevitaLight Beds. And in the midst of this expansion period, an eponymous skin-care line debuted.
Given her juggling talents, it's no surprise she also found time to write a book, Glow From Within, which came out in February. Currently, she's launched text and Skype platforms for clients and customers for continued access during this time of social distancing.
"This is a time for people to reach out to each other," says Vargas. "Also, it's been really lovely to connect with all the other estheticians I'm friends with world-wide and share what we are doing for clients, as well as to stay in business."
Vargas spoke with the Cut about her no-frills hand sanitizer, the musical instrument she turns to for comfort, and her non-negotiable opinion about men's cologne.
What's your definition of beauty?
Confidence, health, and being honorable to yourself.
What do you think when you hear the term "clean beauty"?
I worry that people are perpetuating a lot of misconceptions about product safety. But ultimately I look to source organic ingredients wherever I can while providing people with the best formulas for their skin. 
Where, if anywhere, in your beauty (or life) routine are you not quite that "clean," "green," or "sustainable"?
In my beauty life I don't use any "clean" or "green" makeup brands. I'm super old school and just love my Dior.
What is the opposite of "beautiful"?
Picking apart your flaws when you look at yourself in the mirror. It is something that we all tend to do at one point or another, but I like to encourage people to think positively about themselves.
What is your morning skin care routine?
I dry brush before I get into the shower. I cleanse with my Cloud Bar, apply my Daily Serum, Rejuvenating Serum, Daily Hydrating Cream and Revitalizing Eye Cream. And I apply sunscreen every day.
What's the last beauty product you use every night?
My Supernova Serum.
What aspect of your beauty routine tends to be neglected?
Exfoliation. I'm just like everyone else. Sometimes I feel like I just don't have time.
What, if anything, is usually on your lips?
Sara Happ lip balm, but I'm absolutely obsessed with Bobbi Brown Parisian Red lipstick.
What shade, if any, is usually on your toes and/or hands?
Lately I'm into a great buff for both fingers and toes. But if you asked anyone who knows me, my color is and has always been a black from Chanel. I just can't stay away from it.
What makeup item would you never skip?
Kevyn Aucoin eyebrow pencil.
Mascara of choice:
Eyeko.
Hand wash of choice:
Mrs. Meyer's Clean Day.
Hand lotion that's getting you through the constant hand washing: Eucerin Advanced Repair Cream.
Hairbrush of choice:
Mason Pearson.
Facial cleanser of choice:
My Vitamin C Face Wash.
Fragrance of choice:
Strangelove Dead of Night
Bath or shower?
Bath, with Pursoma Digital Detox Bath.
Most relied on hair product or tool?
Harklinikken shampoo and conditioner are everything!
What discontinued product do you mourn?
Fallene Solar Protection SPF 58. It was the only sunscreen that I could wear at the beach and not get melasma.  
Hand sanitizer of choice:
Alcohol. It's the estheticians choice. 
What beauty product still needs to be invented?
The perfect body serum. 
What was your first beauty product obsession?
My grandma bought me Tinkerbell Bubble Bath and Powder when I was five. The packaging was incredible and I felt like such a grown-up using them.
Daily carry-all of choice:
Dior Book Tote in Oblique Navy.
Who makes your frames?
Tom Ford.
How do you like your bed?
About five years ago we bought a Sleep Number bed (it allows you to adjust firmness independent of your sleep partner) and honestly it was a game changer. My husband and I like very different types of sleep conditions and this saved us! And Brooklinen bedsheets are the best because they stay cool, which I need to sleep well.
What do you splurge on?
Shoes. I can never have too many.
What do you scrimp on?
We make all of our own shakes and juices at home. They come out just the way you like it and it's much less expensive.
What is your classic uniform?
I love wearing silk pajama outfits. They're simple and fit in any situation. 
What shoe are you usually wearing?
Saint Laurent platforms or Nike sneakers. 
Current favorite fashion item in your closet:
My Nanushka vegan leather pants. 
What do you own too many of?
I have way too many T-shirts, for sure. But I'm obsessed with concert and band T-shirts.
What color is your usual fashion pop of color?
My red lip.
Preferred spa treatment to get:
A great deep tissue massage.
What word in "beauty" is overused in your opinion?
Exclusive.
Any hidden or secret talent or skill you possess?
I play the piano. I love music and it keeps my hands healthy.
What would the name of your autobiography be?
I Started at the Bottom, Now I'm Here. 
Who would you like to star as you in the film adaptation?
Julia Roberts.
Favorite smell?
Honeysuckle. It reminds me so much of growing up!
Least favorite smell?
Any version of men's cologne. 
What do you think Pantone's color of 2020 should have been?
I'm not a huge fan of color. I would pick navy because it's the only other dominant color in my wardrobe besides black and I think it looks good with my hair.
What do you most often disagree with others about?
Musical taste. I am very particular about what I like and don't like.
What must you adjust or fix when you see it done incorrectly?
Every time I walk through my salon I am adjusting the art. I can't stand looking at my beautiful photos crooked. 
Comfort food:
My grandmother's tacos. She isn't around anymore to make them but I have her recipe. Heaven.
Vice snack:
Macadamia nuts.
What food would you never eat?
I pretty much try everything once, but I would never try haggis again.
What do you foresee as the top beauty trends for 2020?
I think more and more people are going to realize that science has to back up any trend we see. More technologies will influence what clients do to their skin and hopefully we will get away from choosing how we manage our own beauty rituals based on Instagram posts or brands who make false claims.
What product in your brand's product domain is misunderstood and should be a best seller?
My Twilight Mask. It's an epidermal growth factor mask that I think is the most healing thing I've put on the face. It's made from 40 different plant and vegetable stem cells making it the most potent ingredient combination in my line. I think EGF has had a lot of very misleading and irresponsible marketing over the last few years. It's highly effective and very exciting to me.
What product in your brand's product domain is currently your favorite (understanding that this could change all the time)?
My Rejuvenating Serum will always be my favorite. I love the smell — it reminds me of the honeysuckle bushes that were across the street from my house growing up. And the simple combination of my favorite oils creates this perfect blend of soothing, invigorating and hydrating oils to make you look glowy all day. I couldn't live without it.
What activity do you engage in when this new stress becomes too much? I go for extremely long bike rides with my 14-year-old son. It makes me forget everything for a while and we have really been enjoying each other's company. Also board games with the whole family!
Which website are you most often on during this time?
YouTube. My 7-year-old daughter is an artist and loves to draw with me while we watch amazing instructional videos.
What beauty treatments should we give ourselves now that we've got all this extra time?
I think spending more time on face massages while you do an at-home facial is always worth it. It makes you feel better and it's also a time to pause and honor yourself. I tell people to practice thinking about something good you did, instead of focusing on flaws.
Conversely, now that we're in this isolated state, what in your own grooming routine are you less … on top of?
Well, my roots are unmentionable. I haven't really done any makeup lately. And I don't wear anything except workout clothes it seems. I'm going with it.
When this is all over, what are the first three to five things you'll do or places you'll go?
I'm going to go to office and hug everyone who works for me. I will go to the gym and see my trainer Jason Lee at Iconoclast Fitness and all the guys there for hugs, laughter and, of course, fitness. I will do facials on every single client I've missed during this time, even if it means 12-hour days. And I will fly to L.A. and do the same!