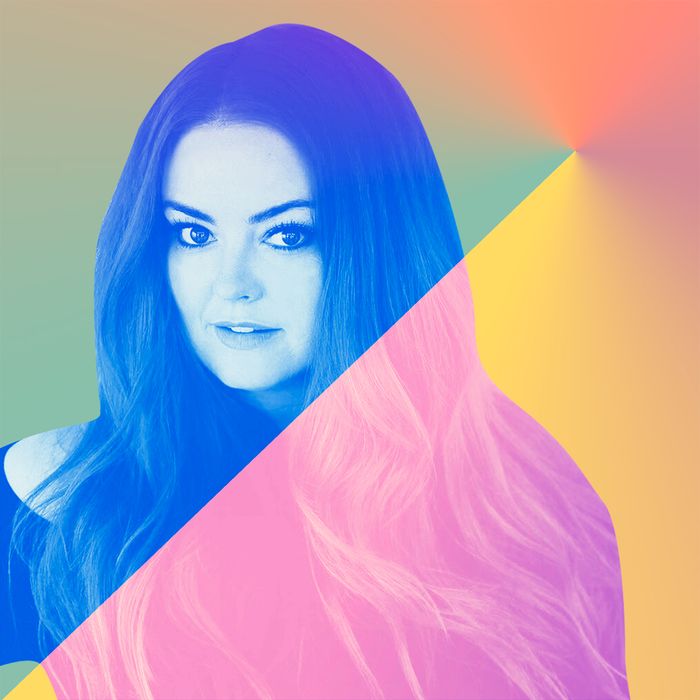 Photo: Courtesy of Kristin Ess Hair
When asked what beauty product still needs to be invented, Kristin Ess replies, "That hair styling machine from The Jetsons" — the one that could create any hairstyle in less than a second." Then again, at the rate this celebrity hairstylist is currently moving, she will likely figure out a way to create something that comes very close.
Ess discovered her knack with hair when she was quite young. She'd style everyone for picture day or prom, years before she was close to prom age herself. The precocious 15-year-old followed her dreams and moved from her hometown of Bakersfield, CA, to Los Angeles where she stayed with family friends and hit the salon pavement. Since she was too young to have a hairstyling license, she begged her way in to an apprenticeship at a salon in Century City while also juggling classes at her new high school.
"I graduated from both high school and my apprenticeship around the same time," she says. "Then I became an official hairstylist at 17."
Several years later, she was working at a salon in Santa Monica when Amber Valletta walked in. She loved how Ess styled her hair and hired her to style it for the Vanity Fair Oscar Party. A few years after that, Lauren Conrad sat in Ess's chair at the Warren-Tricomi salon during the filming of "The Hills." Conrad became a regular, and when Ess turned her lob into a bob, hashtagging #cleartheshoulders on her Instagram post, everything changed.
The very grounded hairstylist used her newfound fame only in positive ways, like building The Beauty Department, a website with instructional how-to videos on using her favorite products. But some of those products were quite expensive. Target took notice and called. Together, they filled the white space with problem-solving products, chicly packaged but affordably priced. It launched in 2017 to instant praise.
This year, she's expanded her brand with several new additions, including the six-piece Curl Hair Care collection, new Deep Clean Clarifying Shampoo, and five more shades of her Signature Hair Gloss. There are also four new ceramic tools and the delicately chic French Pin Set of three loops created in different metals. And we assume that Jetson's gadget must be somewhere in the pipeline.
Below, Ess answers the Cut's rapid-fire questions about the grammatical error that drives her nuts, the importance of dog adoption, and why she always wears black.
What's your definition of beauty? My definition of beauty is whatever makes you feel good. Sounds kinda simple, but it's true.
What is the opposite of "beautiful"? For me the opposite of beautiful might be hatred. When I think of something beautiful, I don't necessarily think about something physical.
What do you think when you hear the term "clean beauty"? I think a lot about greenwashing and how buzzy that word is right now, and I question what clean beauty really means and how brands are using that phrase. We have to start somewhere to make progress, but we need to regulate clean beauty as well.
Pls fill in the blank as it pertains to something connected to your beauty or wellness routine: I think about  _______ a lot. Sustainability
What is your morning skin-care routine? LOL, I don't have one. I work on my face at night only, then I wipe my face with a warm wet towel in the morning before I put on my makeup.
What's the last beauty product you use every night? Dr. Dennis Gross Alpha Beta Peels for Sensitive Skin (almost every day), followed by Augustinus Bader The Rich Cream.
What aspect of your beauty routine tends to be neglected? Drinking water.
What, if anything, is usually on your lips? Macabeet by Cocokind.
What shade, if any, is usually on your toes and/or hands? They're usually bare, but if I'm going to do a color, I pretty much only wear Essie Wicked.
What makeup item would you never skip? Bobbi Brown BB Cream SPF 35.
What hair item would you never skip? Leave-in conditioner.
Facial cleanser of choice: Acure Micellar Water.
Hairbrush of choice: Kristin Ess Style Assist Medium Detangling Hair Brush.
Bath or shower? Bath. I love taking a long bath and mixing various bath concoctions. But when I shower, I love Necessaire Body Wash in Fragrance Free, but I also mix my KEH Micellar Shampoo + Sugar Scrub to create my own version of a foaming body scrub. The combination is perfection.
What beauty product makes no sense to you? Anti-aging hair care.
What is your favorite synonym for "hair"? Crown.
What was your first beauty/grooming product obsession? There are two; one was a product and one was a tool. The product was called Freeze It, which, looking back now, was probably horrible for me as a child, but whatever. It was my favorite thing when I had tidal-wave mall bangs. And my favorite tool was this Conair roller set called Hot Sticks. They were these pink and purple rollers that made your hair so curly and it stayed all day. I was probably 10 or so when I got my first set of those and used them all through high school. I also used them to do all my friends' hair for formals + proms.
Daily purse of choice: Celine Crossbody Trotteur in black.
How do you like your bed? Cloud-like.
How do you like your living room? Cozy + moody.
What do you splurge on? Mostly things for my dogs and home decor.
What do you scrimp on? I've always scrimped on clothing. Since I was 16 I've worked in a salon and just ruined everything with hair color, so I've never been big on buying expensive clothes. Recently I've purchased more investment pieces, but that's new for me.
What is your classic uniform? My clothing is all black at all times. I really don't own much of anything else — maybe two green things and a cheetah-print sweater. Some favorite pieces are a Mara Hoffman Libby top, Mara Hoffman Luna dress, Rachel Parcell wrap coat, Cushnie Lina Blouson Bodysuit and high-waisted flared pant. Lots of tops from Reformation. My shoes range from heels to Rothy's to Converse.
Current favorite fashion item in your closet: I'm really into this dress that I got from a local brand in Minneapolis called Hackwith Design. They make versatile linen/flow-y things that feel really good and fit perfectly. I love that they're sustainable, waste-free and most things are made to order.
What do you own too many of? Fragrances.
Who gives you your  facials?I see Shani Darden a few times a year.
If you were a makeup shade, what shade would that be? Translucent.
Any hidden or secret talent or skill you possess? I'm a great golfer. Discovered that randomly.
What is your personal definition of misery? Not being able to help in some kind of tragedy.
What is your personal definition of glee? I'm a Cancer, so being at home with all my dogs laying with me and watching a great show or movie.
What song is usually in your head? Leather + Lace by Stevie Nicks + Don Henley
What would the name of your autobiography be? Faked It Til I Maked It
Who would you like to star as you in the film adaptation? Don't flatter myself, I know, but I feel like Adele would be a great option. I know she's not an actress per se, but she seems like the right personality type. Plus she cackles like me.
Favorite smell? Anything on a citrus tree — I love the flowers, the leaves, busting the fruit open, just the whole entire tree, I guess.
Least favorite smell? Vetiver. It gives me an instant migraine.
What do you think Pantone's color of 2020 should have been? It should have been ceylon yellow or neon yellow, maybe some kind of marigold. We haven't had a yellow in ages.
What do you most often disagree with others about? Buying dogs from a breeder.
What must you adjust or fix when you see it done incorrectly? There/they're/their. You're/your.
What calms you down? CBD. My favorite CBD product is Lord Jones Gummies.
What instantly stresses you? Clutter and being away from home.
Comfort food: Churros.
Most impressive dish you make: I do a mean vegan Korean BBQ set up.
What food would you never eat? Black licorice.
What do you foresee as the top beauty trends for 2020? The mullet is definitely coming back. It won't be for everyone, but it's happening. It tries to show up every ten years or so and a new generation decides if it will be embraced or not. It feels like it's been denied for the last two rounds or so but this new generation of 20-to-30-somethings don't seem to be scared of it.
What product of yours is misunderstood and should be a best seller? My Hair Water for sure. It's so versatile and can be used for so many things. I don't think that I ever thought it was going to be an overnight success because it's something people really need to learn about and try all the different ways to use it. It's a hair refresher if you want to re-blow out some sections, it's a hair perfume, it's good for refreshing curls, adding moisture back in to re-air dry or restyle. It has a super fine mist. Maybe it's less misunderstood, but more underexposed.
What product of yours is currently your favorite (understanding that this could change all the time)? Dry Shampoo Powder. It's my current favorite because as a non-aerosol you can travel with it. The formula is made to match the feeling of my original Dry Shampoo which is a velvety soft finish. It doesn't have any grit  so it's really easy for people to blend.
If you won the Power Ball tomorrow, what are the first five things you would do? (after, of course, donating the majority of it to your top charities …) I'd build my rescue ranch and swoop up as many senior dogs and underdogs as I can. Then I'd invest in some key people who got me to where I am now, and help them find their own "Kristin Ess Hair" so to speak. Lastly, I would take pottery, welding, and woodworking classes.