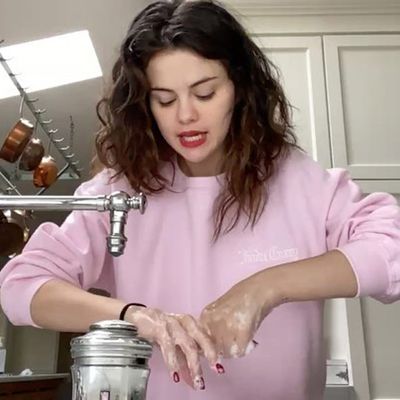 Selena Gomez demonstrates how she washes her hands.
Photo: Courtesy of @selenagomez/Instagram
It seems like just yesterday we were watching tutorials on how to touch a variety of things like makeup, makeup brushes, and fingers to our faces. That was pre-pandemic, and though a lot has changed, some things have not. Don't worry, famous people are still talking into cameras and showing us how to do stuff; right now, that stuff just happens to be how to wash your hands.
Isn't there just one standard, government-approved way to wash your hands?, you may be asking yourself as the now-haunting "Happy Birthday" song echos in your head for the millionth time. Well, no, because the World Health Organization has its own set of guidelines. It extends the CDC's recommended handwashing time of 20 seconds to a full 40 to 60 seconds, and involves 11 steps, which, like a lengthy skin-care routine, is just begging to be a tutorial.
Thanks to the WHO's viral #SafeHands Challenge, which aims to increase awareness around handwashing to prevent the spread of the coronavirus, we're getting a bunch of tutorials. Famous people are demonstrating handwashing with their own personal flair, and nominating other famous people to do the same, thus creating a brand-new internet black hole for all of us to fall into. A few standouts have already begun to emerge.
For those missing makeup tutorials, look to Rare Beauty founder Selena Gomez, whose handwashing tutorial comes with lived-in waves, a matching red lip and mani, and an intriguing sink.
If you want to feel like you're hanging out with a real-life, relatable person, check out Olivia Wilde's tutorial. It includes three pumps of soap, some small talk, and Wilde completely forgetting to remove her rings before going ham on the handwashing, which is not recommended, but hey, we all make mistakes. You'll get it next time!
If you're feeling a bit stir-crazy, check out Margaret Qualley's energetic handwashing tutorial, which was filmed and directed by Cara Delevingne. It involves some dancing, some stretching, some clapping, and washing your entire forearms to break up the monotony.
And for skin-care nerds who want a side of science with their beauty, check out Alton Brown's handwashing tutorial, which comes highly recommended by Justin Long in the comments of Olivia Wilde's handwashing tutorial. Brown's tutorial comes with a chalkboard, a fun, Mr. Burns hand-rubbing technique, and bar of Neutrogena soap.
It doesn't exist yet, but I'm fairly certain Cardi B's handwashing tutorial will make this list. The rapper was nominated by Gomez over the weekend. We eagerly await the tutorial's arrival.