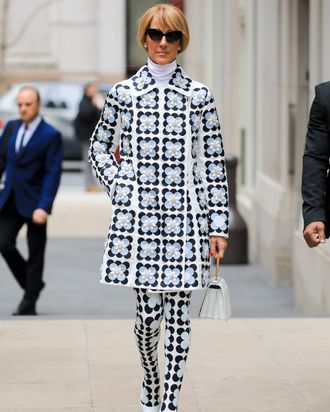 Photo: Alessio Botticelli/GC Images
Look at Céline Dion in this outfit and tell me that she doesn't look like she's about to tell Sean Connery that he has ten minutes to save the ambassador and the Aston Martin is waiting around the corner. But alas, she is not retroactively starring in an early James Bond movie. She's just living her life — she wore this particular outfit yesterday in New York before heading to Long Island to perform as part of her Courage tour. The outfit is, naturally, fresh off the runway from 8 Moncler Richard Quinn.
First there's the faux-bob that almost looks like it's tucked into her turtleneck à la Phoebe Philo and the pointy, almost costumey glasses. Then there's the swingy jacket with a blue-and-black floral print and extra appliqués on the flowers. The accessory that pushes it all way over the top, the pièce de résistance, if you will, are the matching floral tights. They don't have the appliqué, but still: They're matching printed floral tights. Top it off with a ladylike top-handle bag and white heels and it's very Twiggy, very '60s. Someone get Richard Avedon on the phone.
Dion is no stranger to a headline-making look. She's worn a bathing suit with a blazer at couture week, a bowl cut on the cover of Harper's Bazaar, and leather overalls with aplomb. Does any celebrity have as much fun with fashion? Very few, if any.