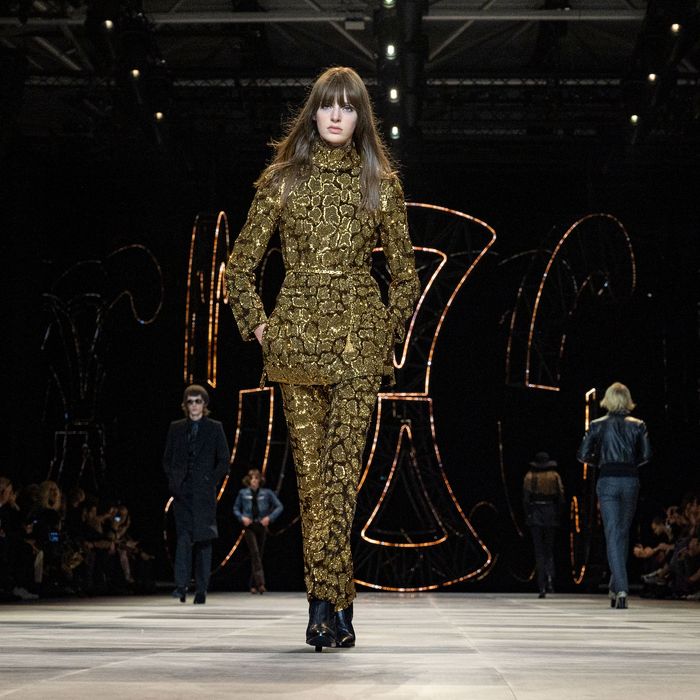 Celine fall 2020 show during Paris Fashion Week.
Photo: Pietro D`Aprano/Getty Images
One thing we can all agree on about fashion designer Hedi Slimane is that he is meticulous. Instead of offering a huge new concept each season, he'll propose a new pant hem or precisely tailored jacket shape (the constant, of course, being that his runway silhouette is always skinny.) This attention to detail, as opposed to spectacle, carries over into everything Slimane does, whether it's picking the art for his stores around the world, the furniture in his office, or the music for his shows.
The French-American musician Sofia Bolt discovered just how nit-picky Slimane was when she was asked to collaborate with Celine on the fall 2020 soundtrack. We spoke to her right after the show on Friday night.
How did this collaboration come about? 
Three weeks ago, I was doing a free garage house show in L.A. with my friends. [A member of the Celine team] was randomly there and loved the song. I think they make playlists for Hedi. So we had 10 days to make a two-minute and thirty-second song into one that was 22 minutes.
No!
Yeah. I cannot stand this song anymore. [Laughs.] There was a lot of back and forth. They're so serious and really know what they want, which is impressive. There was a nine-hour time difference, so I would wake up to like, 12 notes, and they all made sense, which was frustrating, but also nice.
Were these notes coming directly from Hedi?
Yeah, from Hedi but through [the Celine team].
What were some of Hedi's notes?
They were super-precise, like, 'There's a little guitar sound at 19 minutes and 12 seconds that is a little too loud.' In moments of frustration, you're like, Oh my god! It's 22 minutes! Who cares? But when I was sitting there [at the show], I was like, Yeah. It really makes sense that it had to be perfect. It taught me a lot as an artist. I get it. I get why he is where he is now; it's about hard work and precision and patience. Patience is definitely not my virtue.
Have you ever been to a fashion show before?
Nope. First fashion show, ever.
What'd you think? 
The song is very personal, so it was emotional. I was also really proud. I was in the second row, and I could see all these French celebrities I admired growing up bobbing their head to my song.
What is the song about?
It's so straightforward and literal: "Get out my head." It's about breaking up with someone and wanting that person to get out of your head — out of your dreams, out of everything — and leave you alone.
How does your song relate to the collection? 
I moved from Paris to L.A. three years ago, and I know that Hedi moved from L.A. to Paris recently. So there's that connection. Also the raw, gritty, rock vibes. His show was for both men and women, which was really cool, and I think my voice also has that androgynous vibe. I also basically grew up on the street where the show was. Everything came together in a weird way.
Did you ever meet Hedi?
Nope.
He's very mysterious. Are there any pieces from the collection that you'd want to wear yourself?
There was this insane gold suit with sequins. I was really blown away [by that]. He's the designer that speaks to me most in fashion today.
Well, I can't wait to walk down the street listening to your song and pretend I'm a Celine model. 
Yeah!