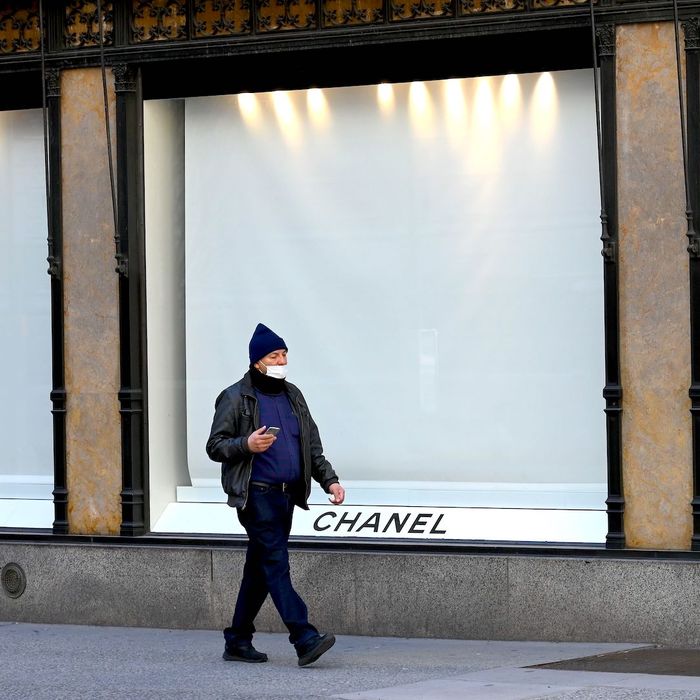 Chanel will begin making masks as soon as French health authorities green-light its prototypes.
Photo: ANGELA WEISS/AFP via Getty Images
In recent weeks, as the coronavirus pandemic strains medical resources in countries around the world, a number of big-name brands have pivoted production from clothing, cosmetics, and perfume to personal protective equipment. The latest company to contribute its services: Chanel, which announced Sunday that employees at its workshops would begin making masks and gowns as soon as French health authorities green-lit the label's prototypes.
"Today we are mobilizing our workforce and our partners … to produce protective masks and blouses," read a statement from Chanel, according to Reuters.
As of March 29, France had confirmed at least 40,174 coronavirus cases and 2,606 deaths, according to the New York Times. Health Minister Olivier Veran says the country has been going through 40 million face masks per week. The country has reportedly ordered 1 billion masks, and the luxury conglomerate LVMH — which has also been making hand sanitizer at three of its French cosmetics factories — recently made a bulk purchase to donate to the health service, too. Still, Veran said Sunday, France currently has three weeks' worth of supplies.
Meanwhile, Chanel has also given 1.2 million euros to an emergency fund for the public hospital system, and promised its employees eight weeks of salary, according to WWD.
A number of designers and labels — Christian Siriano and Prada, for example — have begun making facial covers for donation, ideally freeing up N95 respirators for people who need them most. Other designers have turned to gown production, while brands like LVMH, Estée Lauder, Coty Inc., and more have rerouted resources to manufacture hand sanitizer. It's not immediately clear how many masks Chanel anticipates making, but in the face of global PPE shortages, every contribution counts.