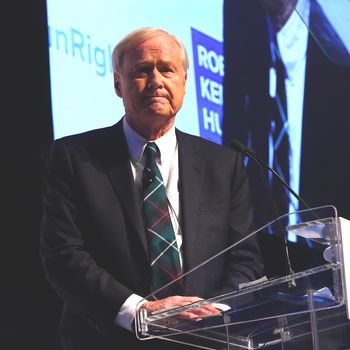 Chris Matthews.
Photo: Astrid Stawiarz/2015 Getty Images
On Monday night, Hardball host Chris Matthews announced his immediate retirement from MSNBC. The decision comes after a series of recent controversies pegged to his coverage of the 2020 election.
"After a conversation with MSNBC, I decided tonight would be my last Hardball, so let me tell you why: The younger generations out there are ready to take the reins," Matthews, 74, said in his opening monologue. "We see them in politics, the media, and fighting for their causes. They are improving the workplace, we're talking here about better standards than we grew up with, fair standards. A lot of it has to do with how we talk to each other, compliments on a woman's appearance that some men, including me, might have incorrectly thought were OK were never OK. Not then and certainly not today. And for making such comments in the past, I'm sorry."
Matthews has been accused of making all manner of off-color comments, gender-related and otherwise. For example, Matthews recently confused Jaime Harrison, a Democratic Senate candidate from South Carolina, with Republican Senator Tim Scott, both of whom are black. He also has a long history of making sexualized remarks to and about the women who've appeared on his show, and in 1999, was accused of sexual harassment by a former assistant producer at MSNBC. (The case was settled, and Matthews reportedly "received a formal reprimand.")
Below, we've rounded up some of Chris Matthews' biggest controversies.
"You believe he's lying?"
Speaking with Massachusetts Senator Elizabeth Warren after the Democratic primary debate last Tuesday, Matthews brought up a lawsuit filed against Michael Bloomberg in the late 90s. The former employee who sued Bloomberg said the billionaire — when she told him she was pregnant — advised her to "kill it." Onstage, Warren referenced the allegation, which Bloomberg has denied; Matthews pressed Warren — who has spoken about being fired from her teaching job in 1970, after her bosses learned she was pregnant — about it in their post-debate interview. "You believe he's lying?" he asked, audibly incredulous. A tense exchange followed, which seemed to suggest that Matthews mistrusted both women:
Warren: "I believe the woman …"




Matthews: "You believe he's lying."




Warren: "… Which means he's not telling the truth."




Matthews: "Why would he lie? Just to protect himself?"




Warren: "Yeah. Why would she lie?"




Matthews: "I just want to make sure you're clear about this: You're confident about your accusation."
Comparing Bernie Sanders' Nevada caucus win to the Nazis' takeover of France.
On February 24, after Vermont Senator and presidential candidate Bernie Sanders won the Nevada caucuses, Matthews offered a bizarre World War II comparison that seemed to cast the Democratic socialist as a Nazi.
"The general calls up Churchill and says, 'It's over,'" Matthews said on-air, referencing Germany's takeover of France in 1940. "Churchill says: 'How can it be? You got the greatest army in Europe. How can it be over?' He said, 'It's over.'"
Naturally the analogy did not sit well with Sanders aides, one of whom pointed out that Sanders is Jewish, and his "family was wiped out by the Nazis" during the Holocaust. Matthews subsequently apologized on camera, "for comparing anything from that tragic era in which so many suffered, especially the Jewish people, to an electoral result of which you were the well-deserved winner."
"How did you … not have hatred toward white people generally?"
Back in June, when California Senator Kamala Harris was still a contender for the Democratic nomination, she sat down with Matthews after a particularly memorable debate. Earlier in the night, Harris confronted Joe Biden about his history of working with segregationists and opposition of busing to integrate public school systems. She spoke from personal experience, recalling white parents who wouldn't let their kids play with her and her own education.
Clarifying that he doesn't "like the word race," Matthews asked Harris: "How did you come out of that and not have hatred towards white people generally?" Harris, looking both disappointed and bewildered at the question, explained that she felt no need to make broad, sweeping assumptions about groups of people based on "one experience."
"Why haven't I fallen in love with you yet?"
After the Warren exchange, GQ political columnist Laura Bassett recalled a particularly creepy interaction she allegedly had with Matthews. "Why haven't I fallen in love with you yet?" she says he asked her in 2016, as she sat in a makeup chair, getting ready to go on his show and speak with him about the sexual assault allegations that surfaced against Donald Trump.
"Keep putting makeup on her, I'll fall in love with her," Bassett says he then directed the makeup artist, before complimenting Bassett's dress and asking her if she planned to go out that night. "Make sure you wipe this off her face after the show," he then instructed the artist, according to Bassett. "We don't make her up so some guy at a bar can look at her like this."
"I'm not allowed to say this, but I'll say it — you're beautiful and you're smart."
Speaking to conservative television host Laura Ingraham on Hardball in 2007, Matthews reportedly started this way: "I'm not allowed to say this, but I'll say it — you're beautiful and you're smart. And you've got a huge radio audience." To close, he followed up thus: "I get in trouble for this, but you're great looking, obviously. You're one of the gods' gifts to men in this country."
"You're a knockout."
Also in 2007, Matthews reportedly made inappropriate comments to CNBC's Erin Burnett when she appeared on his show, describing her as "beautiful" and "a knockout" during their segment on financial news.
"It's all right getting bad news from you," he reportedly closed their interview, while also encouraging her to lean in closer to him. "Just kidding!" he reportedly said when she, confused, started to do it. "You look great! Anyway, thanks, Erin, it's great to — look at that look. You're great."
"She doesn't pass the Chris Matthews test."
Speaking to now-Fox News host Tucker Carlson, Mike Barnicle, and Rita Cosby — at the time, an MSNBC host and reporter — on Hardball in 2006, Matthews reportedly polled the group about Ann Coulter's appearance. "Do you find her physically attractive, Tucker?" he asked, before turning to Barnicle: "Mike, do you want to weigh in here as an older fellow. Do you find her to be a physically attractive woman?" He then asked Rita, before answering his own question: "She doesn't pass the Chris Matthews test," he concluded.
And then there's Hillary Clinton.
In 2018, the Cut exclusively obtained footage in which Matthews appeared to joke about drugging Hillary Clinton. Matthews interviewed Clinton in 2016, when she was the Democratic candidate for president; after asking for water, he said: "Where's that Bill Cosby pill I brought with me?" Cosby, of course, is currently serving a prison sentence for his alleged practice of slipping narcotics into unsuspecting women's drinks, and then assaulting them.
Although Matthews apologized for the Cosby pill comment, it was far from the first dig he'd taken at her. A handful of adjectives Matthews has reportedly used to describe Clinton: "witchy," "anti-male," "uppity," "she-devil," "Madame Defarge," "Nurse Ratched." He has attributed Clinton's political career to the fact that "her husband messed around." In 2005, he wondered aloud whether or not the military would "take the orders" from President Hillary Clinton, a woman. In 2008, he pinched her cheek on the tail end of an interview; in 2006, he mused about her prospective viability as a presidential candidate, asking, "Is she hemmed in by the fact that she's a woman and can't admit a mistake," continuing: "or else the Republicans will say, 'Oh, that's a woman's prerogative to change her mind,' or 'another fickle woman'? Is her gender a problem in her ability to change her mind?"
For Matthews, Clinton's gender does appear to be a sticking point. In the 2016 interview where he made the Cosby quip, Matthews asked Clinton about the importance of women in military combat roles. "I am a huge supporter of women being able to break whatever glass ceilings are holding them back …" she responded, before Matthews interrupted her: "If they can physically handle it."