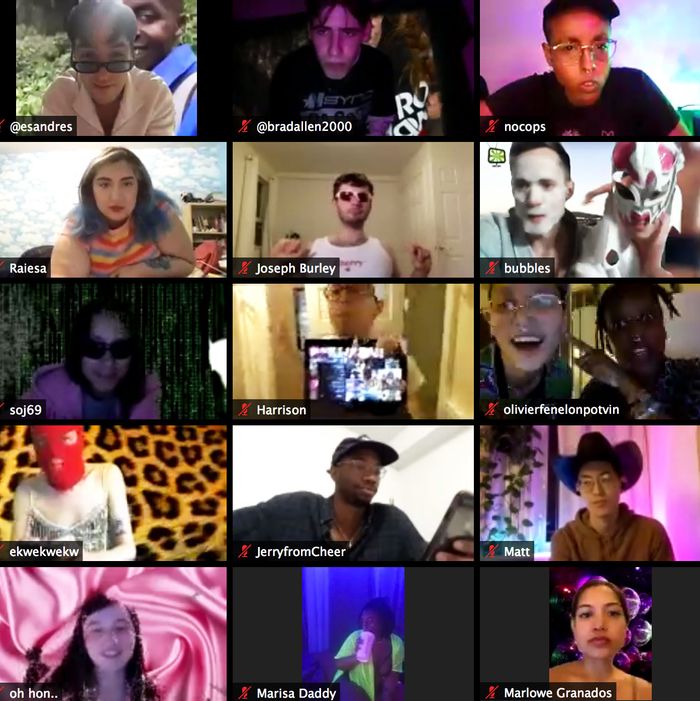 Photo: Courtesy of Club Quarantine
On Saturday night at 10:08 p.m., there are exactly 490 people at the club, drinking booze, flirting subtly and not so subtly, and twerking and twerking and twerking. Someone asks, "Is there an after-party?" Another demands, "Play 'Wonderwall.'" Someone lights a bowl. Someone freshens their lip gloss. Someone else drops their pants. And someone else … changes their digital background.
The hottest new club [adopting Bill Hader–as–Stefon voice] is Club Quarantine: an underground queer nightclub hosted every night of the new socially distanced reality from 9 p.m. to midnight on the videoconferencing app Zoom. (On Saturdays, the club opens at 6 p.m. to accommodate its European partygoers.)
On an average night, Club Q, as it is called in shorthand, is attended by 300-400 young queer folks streaming in pairs or by themselves, in childhood bedrooms and dorm rooms and city apartments across the world, from Vancouver Island to Vermont, Vienna to Atlanta, and Brussels to Brooklyn and Brazil. It's even attracted a celebrity guest or two, including Charli XCX, who hosted a set for 1,000 fans one night last week, and the supermodel Kiko Mizuhara and actress Hunter Schafer. Even Robyn Instagrammed about the club one night.
Club Q was started by four 20-something, uncomfortably attractive club-kid scenesters based in Toronto: Mingus, a digital creator; Casey MQ, a musician and resident DJ at Club Q; Brad, a comedian and producer; and Andrés, a recording artist. Like many of us on recent lonely nights, the four were video-chatting one night on Instagram, drinking and listening to music, before realizing they could add more screens on Zoom. (They currently pay $160/month to accommodate 1,000 people on the app.) Someone drunkenly grabbed the Instagram handle @clubquarantine, and a few days later Charli was entertaining hundreds of gays. "The next day we woke up to a fully functional and realized internet party," said Mingus. The club's Instagram page now has nearly 30,000 followers, and the founders say more surprises like Charli are in the works.
And now, the daily planning and nightly hosting of Club Q has become a full-time job for the four, distracting them from the bleakness of the times. Luckily, these four have been waiting for a moment like this for a while; they just didn't know it would come during a global pandemic. "I've been trying to break through the internet for forever," said Andrés. "I never imagined it'd be like this. It's been an absolute roller coaster."
For the founding four, this ability to spread their own work and the creations of their friends is the most important part of Club Q. "We really like to make sure we are uplifting local underground artists that we love and are super excited about," said Casey. Added Andrés, "We have so much from our own community to pick from. We have an abundance of talent, from Toronto alone. From our own personal network." Now, with the party happening seven nights a week, they can also begin to pick musicians and DJs from other local scenes, bringing new music to hundreds of listeners every night.
Outside of the music, the kids have adapted well to the digital age, flirting and hooking up just like in a real club — except instead of running outside and calling an Uber (or doing something regrettable in the bathroom), people just escape into private Zoom calls. There are rumors of "private shows" and "dark rooms" when the clock strikes midnight, and per the founder, there is always a demand for an after-party. According to Brad, "It gets a little crazier. It's like a real after-party. If you go there you're gonna see—" "You might see a dick," completed Mingus.
It might be online, but people still remind you to "drink water," and like in many queer spaces, someone has to ask for "more dykes pls."
The lewks have also stood the test of quarantine, providing the attendees with a sense of normalcy. On Saturday night people sported bodysuits, harnesses, and club looks, but also pajamas and no clothes. Some strived for an in-between: thongs peeking out from behind sweatpants, or silk robes with dog collars. "When you trap queer people in a box for a day and they have three hours where they know they're going to be seen by like 400 people, they're going to put on a show," said Mingus. With Zoom's option to add a virtual background, this also becomes a bit of a stylistic choice. People use photos of Carole Baskin, rainbow-colored portraits of Bernie Sanders, and the Windows grassland photograph.
In a moment when everything feels uncertain, the infectious happiness of Club Q is an escape. The digitalization of the club creates a certain pleasurable voyeurism, a Gatsby-like "within and without" feeling. "Once you get in there you start to see the people and you're kind of enrapt. You're like, I wanna be at the party. Like, what's going to happen next? Who's going to show up next?" said Casey.
Some partygoers don't dance, but rather go about their lives with the club in the background, as they read or shower and lay in bed drinking rosé with their boyfriend. Others dance around in their kitchen, swinging tongs and spatulas, or swing their kittens and King Charles Spaniels around their living room instead. Someone spins from silk curtains on their ceiling, and another weaponizes some light-up Hula-Hoops. One boy rides a giant stuffed carrot, messaging the group, "My carrot is my only physical intimacy for the next few months." A hot guy dances across the screen, and someone messages everyone, "Take off ur shirt plz." Minutes later, his shirt is off. "HE TOOK HIS SHIRT OFF TYTYTYTYTY," says another horny person.
The digital club also means the environment is suddenly accessible to people who might not be able to enjoy the scene in their normal life, whether because of a disability, health concerns, or the fact that they have a few kids at home. Andrés explained, "What the virtual club has exposed is how inaccessible the club can be for a lot of people … For us as queer people, club culture is our healing. The future of nightlife is going to be a marriage of the physical and the virtual."
People are horny, confused, alone, scared, and queer, but they at least have a new place to shake it a few nights a week. As Vanessa Carlton's "A Thousand Miles" fades into "Thotiana," an anonymous user sends everyone a message, "If we could just all be in the same room together."