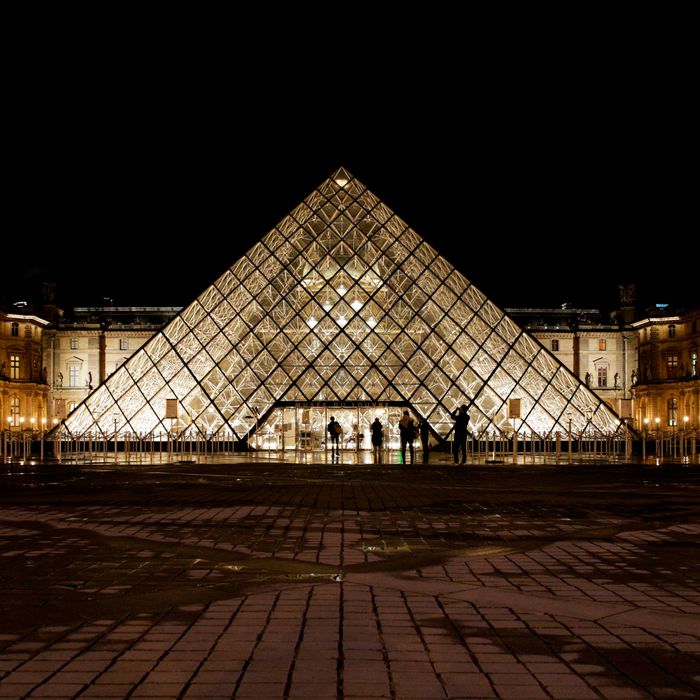 Photo: Geoffroy van der Hasselt/AFP via Getty Images
Please note the story you're reading was published more than a day ago. COVID-19 news and recommendations change fast: Read the latest here to stay up-to-date. We've lifted our paywall on all essential news and updates about the coronavirus.
Fears of the spread of novel coronavirus have shut down a major European site of cultural and Instagram capital this week. The Louvre in Paris, home to the Mona Lisa and, if you haven't been, that giant glass pyramid, did not open on Sunday, and remains closed this week because of the virus, which has infected around 100 people so far in France.
Museum staff forced the closure when they walked out after a meeting, citing health concerns. Ten million people visit the Louvre each year, and much of the museum, when filled with visitors, would count as an enclosed space — conditions that could foster the spread of coronavirus, also known as COVID-19. In a statement, the museum said, "The Louvre cannot open this Sunday, March 1. Museum staff met to discuss the health situation and the COVID-19 prevention measures taken by the museum following instructions from the competent authorities." They will reportedly meet again Monday to discuss health protocols.
The Louvre shutting its doors is one of the most high-profile closures and cancelations of major events and heritages sites around the world as governments scramble to contain COVID-19. Last week, there was widespread media speculation that the 2020 Summer Olympics in Tokyo may have to be modified or postponed, and five major football matches in Italy have been indefinitely postponed. Disneyland Shangai in China has closed down. K-pop supergroup BTS canceled their April tour dates in Seoul. France has banned public gatherings of over 5,000 people, which in effect canceled the Paris Half Marathon on Sunday. The health minister also asked people to cut down on la bise, the French custom of greeting someone with a kiss on each cheek.