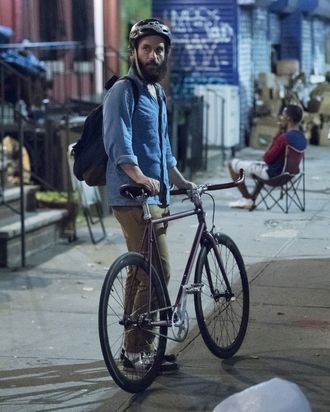 In dangerous times, spare a thought for your Guy.
Photo: HBO
Please note the story you're reading was published more than a day ago. COVID-19 news and recommendations change fast: Read the latest here to stay up-to-date. We've lifted our paywall on all essential news and updates about the coronavirus.
It is surreal to watch future High Maintenance episodes develop in real time, one of many ways it is surreal to be sitting in your apartment, quite possibly alone, in mid-March 2020. But here we are. People are on edge, anxious, cooped up, bored, and home. Across the city, the weed delivery men and women, bringing calm your way an eighth of an ounce at a time, are working in overdrive.
An informal poll of local text-for-delivery services suggests that far from social distancing, the city's marijuana couriers, and the illegal services that employ them, are making house calls. Hotline Green, one such service, was advertising trade-in-your-empties deals as recently as Monday. "We are still delivering," another said via text on Thursday. "Want us to send someone." (This particular service, or "serve" in some local slang, added that riders are being "extra sanitary" and "of course no one is working if they're feeling sick!") A third sent its clients an update with its coronavirus protocols:
UPDATE: Due to corona virus we are taking extra precautions for your safety and ours.

***please, please, if you are feeling under the weather or have a confirmed corona case in your building, have a healthy friend call or reschedule when you are feeling 💯. We see older clients and cancer patients so please think of everyone's safety.

- Please, no hugs, handshakes or handling of the products before purchase.

- Please, do us a favor and disinfect a table or countertop before we arrive.

- if the city does shut down, u might want to stock up as there may be service interruptions in the future. Thanks for reading all this.

We just want to be as thorough and safe as possible!

Thank you so much ❤️💛💚💙💜
Buyers have opened their homes to couriers in protective gloves and requests not to touch door handles they will touch. These experiences echoed on Twitter, where people shared their experiences from the bunker: a prohibition on cash transactions, a new strain of "Corona Kush."
Zach Sokol, the managing editor of Merry Jane, Snoop Dogg's online cannabis platform, is at work on a book about New York's marijuana black market and this golden age of weed delivery in New York, which he dates from 2015, around the time the NYPD began moving away from low-level marijuana arrests, to the present. "As every dealer will tell you, it's the golden age," he says. "There's more competition and more business than ever."
In the course of reporting, Sokol recently met with the proprietors of two delivery services in the city on Wednesday. "On an average day, one of them is making at least 60 deliveries, making on average $8,000–$9,000," he says. "They both said in light of corona, they're hitting holiday season type of traffic, $10,000 today." Thursday, one of them told Sokol, was a $16,000 day. "Everyone broke records," this dealer said. "Hoarder mentality." (Now is probably a good time to note that the Cut isn't able to independently verify these details and some hyperbole may obtain, so caveat smoker.)
Neither was planning to halt service during the pandemic. "They didn't even consider it," Sokol says. "I don't know if they have the option. They sell a premium product; you only have so long before it dries out and it's not worth what you're selling it for." Both said precautions were in effect. Typically, weed buyers can inspect the product; no more. Look but don't touch is the new rule. Services are mandating that riders be more stringent disinfecting their boxes, with before, after, and mid-shift Clorox-wipe cleanings of their carrying cases. Riders are also being encouraged to follow their instincts and leave situations that seem unsafe at their discretion. "At the end of the day, I think everyone is more paranoid," Sokol says. "But especially with increased business, dealers are not taking time off or locking up their bikes. For the time being, it feels relatively pandemic-proof."
We're committed to keeping our readers informed.
We've removed our paywall from essential coronavirus news stories. Become a subscriber to support our journalists. Subscribe now.