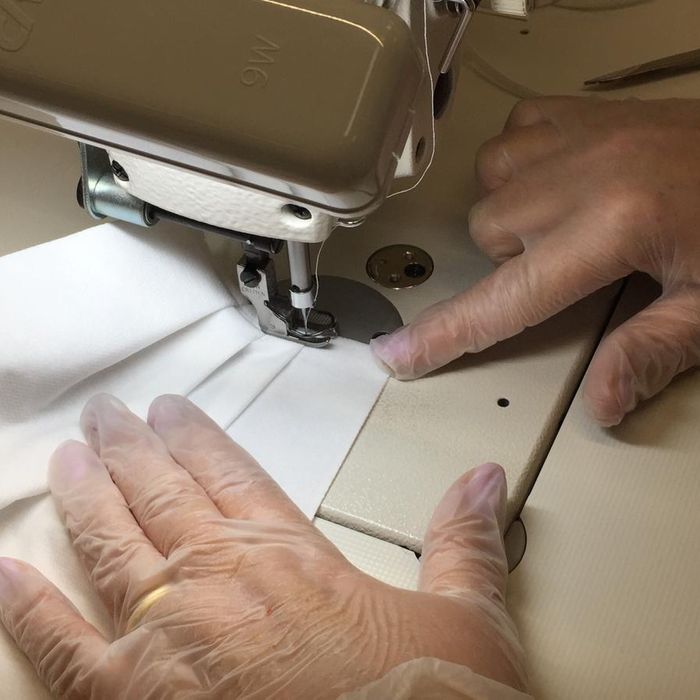 When fashion designer Christian Siriano closed his New York atelier two weeks ago, face masks were not on the work-from-home agenda. He asked his staff of ten seamstresses to bring their machines and fabric home with them if they could, as they still had some projects to finish up. But when Siriano saw Governor Andrew Cuomo speaking to the dire lack of protective gear for medial workers, he thought he might be able to redirect his efforts.
"I have a full sewing team still on staff working from home that can help," he tweeted at the governor on Friday afternoon. A few hours later, they were in touch. Siriano told the Cut that he hopes to make 100 fabric face masks a day this week, with a goal of 500 to 1,000 total.
"Who's next?" Cuomo asked.
The coronavirus pandemic has upended just about everything, including the fashion industry. With storefronts closed, production largely halted, and customers more hesitant to spend, businesses face a financial nightmare, with many in danger of closing long term. Still, industry leaders — big and small — are stepping up. On Saturday, for example, the luxury fashion conglomerate LVMH announced that it had ordered 40 million face masks from a Chinese supplier for French medical workers. This was after they pivoted to producing hand sanitizer, repurposing Dior and Givenchy soap bottles. This week, the Italian label Prada also announced that it would begin to produce face masks for health-care professionals as well.
In America, smaller businesses like Christian Siriano, as well as Brandon Maxwell, and more, have scrambled to find ways to help. Meanwhile, President Trump has made unspecified promises.
Last week, the New York–based designer Kerby Jean-Raymond of Pyer Moss shared on Instagram that that he would be converting his office to a donation center for N95 masks and latex gloves. After hearing from medical professionals, including his own sister, that they did not have adequate supplies on the front lines, he decided to communicate with hospitals and doctors directly to "avoid bureaucratic red tape." He also said he was setting aside $5,000 to buy supplies himself, plus an additional $50,000 to aid minority-and women-owned creative businesses in distress.
In a later post to his Stories, Jean-Raymond added that his studio would also specifically be making fabric mask covers, raising an important distinction: face masks are not the same as N95 respirators, which are not meant for public use. (As its name implies, the latter blocks at least 95 percent of airborne particles, whereas surgical masks and fabric face coverings are less effective, per the FDA.) None of these masks are meant to be reused, which is why mask coverings are helpful, as they buy precious time and can be washed.
Jean-Raymond's post sheds light on a general lack of communication between the federal government, local governments, medical professionals, and those who want to help. Currently, we seem to be in a "something's better than nothing" situation.
"We don't know what the fuck we're doing, let's be clear," said American Apparel founder and former CEO Dov Charney, who began making masks under his new label, Los Angeles Apparel, a few weeks ago when he sensed a need. Now, he says the federal government is supplying him fabric and guidelines. He hopes to produce 300,000 washable fabric masks and 50,000 hospital gowns a week, with prices ranging from $10 to zero for Los Angeles hospitals. (3-packs are sold online for $30.)
Siriano's masks are also not medical-grade, and he knows that. "They're not for the people giving tests, or anything like that," he said. "This is for all the other personnel in the hospital who are now required [to wear masks]." Hopefully, this will free up more effective masks for those who need them.
The designer also understands that these masks are not a fashion accessory. They will not have Christian Siriano labels in them. They are white, and therefore easy to bleach. "I don't want anyone to think we're doing this to make it look chic, because it's not," he said. "I don't need them to look cute; I just want to help."
In this moment of global crisis, collective efforts such as these are encouraging. We're all trying to figure out to do and what we can offer standing (or sitting) in place. "We don't email that much," said Siriano of how he works from home. "We make stuff all day."