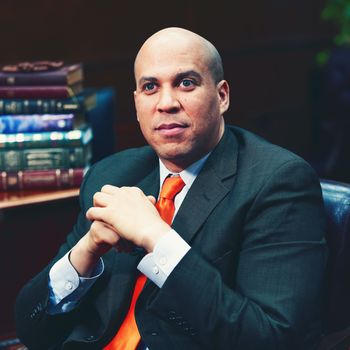 Photo: D Dipasupil/Getty Images for Extra
With nearly all nonessential excursions outside of our homes canceled for the foreseeable future, the restless and ambitious among us have begun announcing their intention to polish up a novel or pick up a new language. I'm fine with that, provided they don't start writing bad poetry for the Internet, too. Because if anyone's gonna write the King Lear of Instagram poetry during the age of coronavirus, it's Senator Cory Booker. The man has been practicing for this moment a long time.
On Sunday night, Booker got on Instagram and posted a brief poem about social distancing, accompanied by the caption, "Sharing some late night writing and one of my favorite quotes: 'In the midst of winter, I found there was, within me, an invincible summer.'" Never mind that it's spring; after all, poetry is about the metaphors. The poem itself reads like crib notes from a typical Booker speech, alive with appealing, hopeful rhetoric and vague fighting words, with some immediately recognizable Maya Angelou sprinkled in for good measure. "Weeks and weeks of isolation / But still Infinite and invincible determination," Booker writes, taking characteristically few poetic liberties with his verse.
Yet Booker's journey from presidential hopeful to pandemic bard began long before he ever quoted Camus. He's been working on his craft.
This one would be more recognizable as an Instagram poem if it were broken up into more lines and accompanied by a drawing of a beautiful woman, but you get the picture.
If, as writer Rumaan Alam recently proclaimed in The New Republic, Rupi Kaur is the most influential writer of the past decade, then I see no reason why Booker can't be the Shakespeare of the coronavirus pandemic. Or at least a Shakespeare of a coronavirus pandemic.