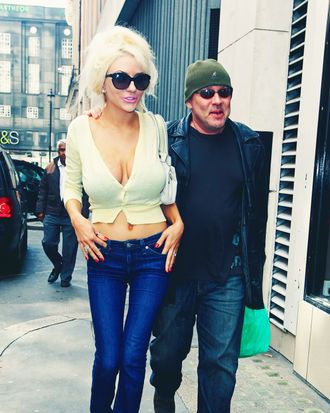 Photo: Beretta/Sims/Shutterstock
Reality-TV personality Courtney Stodden has divorced her on-again, off-again husband of nine years, actor Doug Hutchinson. A former Celebrity Big Brother contestant, Stodden was 16 when she married Hutchinson in 2011, who was 50 at the time. The controversial marriage was covered extensively by tabloids and news outlets; the two separated in 2013 and remarried in 2014. Stodden filed for divorce in 2018.
In an Instagram post on Tuesday, Stodden announced her divorce, writing that upon reflection she feels "absolutely taken advantage of." She wrote:
I've been scared to even speak up about feeling groomed or being verbally abused during the almost 10 year marriage because I was a child and he was 50 when we married but I'm a woman now and it's time for me to put my big girl pants on and speak on this matter. I've felt completely trapped, manipulated and at times abandoned by adults // growing up in such an environment — it became a lonely and dark place.
Addressing Hutchinson, Stodden, who is now 25, wrote: "You've left me — a child woman, feeling belittled and confused. These things I shall overcome. I wish you well. But please don't ever do this to another minor again. It's not right … even if the parent signs off."
Hutchinson has yet to comment publicly on the divorce, but his manager, Charles Lago, told People, "This whole business with Courtney right now is initiated by the fact that Doug has a biography out on March 10."
Last week, while doing press for the memoir titled Flushing Hollywood: Fake News, Fake Boobs, Hutchinson discussed his marriage to Stodden, telling Fox News, "I shot my career in the head for love. And in doing so, I lost my family and friends. I was suddenly on the Titanic and everyone was fleeing except for me and Courtney. Now, I have nothing to lose but to tell the truth." In her Instagram post, Stodden also noted that she has a forthcoming book.