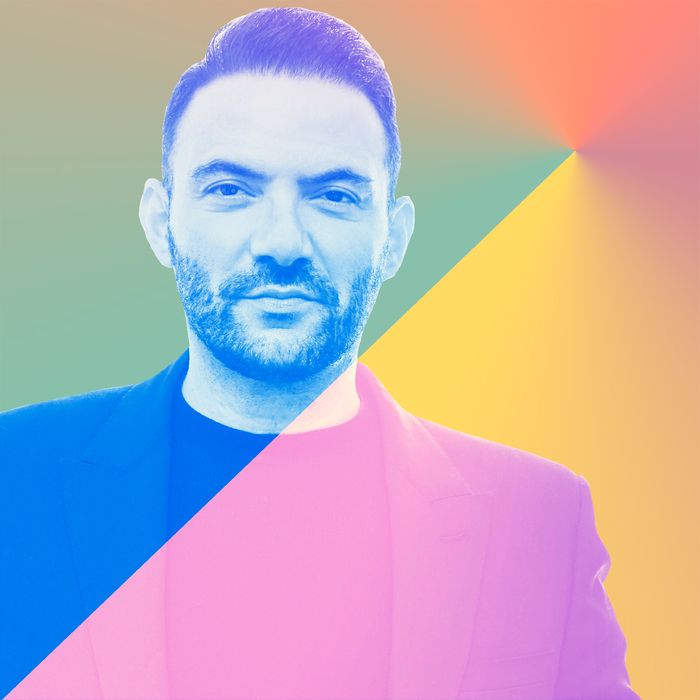 Photo: Courtesy of MATERIAE
You might not recognize David Pirrotta's name, but you probably know the brands he's helped launch or grow: Rodin, Red Flower, Cire Trudon, The Art of Shaving, The Nature of Things, David Mallett, and Dr. Loretta, to name a few.
"I'm Charlie," laughs the founder of David Pirrotta Brands, referring to the popular franchise where the title character is never seen, only heard. "My 'angels' have always been the owners. I train them in how to navigate their businesses, but I never wanted to be the guy in front."
Pirrotta fell in love with beauty when a patron of his parents' Italian restaurant in Glastonbury, Connecticut, started taking him along on her occasional jaunts to Manhattan.
"We'd get in one of her vintage cars and drive down to Barneys," he recalls. "She introduced me to three-ply cashmere, Filofax datebooks, Diptyque candles and, basically, the entire beauty department. I was hooked."
He moved to the city after college and was hired on the spot by Natura Bisse at Bergdorf Goodman, based on his engaging personality and excellent skin. Christy Turlington also noticed his talents and hired him to help launch her Ayurvedic brand Sundari. He eventually joined Jeffrey Scott, known in the early '00s as the king of indie brands, where he received a thorough and comprehensive education in wholesale business, working with brands like C.O. Bigelow, Marvis, Mason Pearson brushes and Philip B.
When his boyfriend at the time got a job offer in Los Angeles, Pirrotta went too. A friend introduced him to actor and director Melanie Mayron (of TV's Thirtysomething fame), who'd made a diaper cream but wasn't sure where to sell it. Meanwhile, back on the East Coast, fashion stylist Linda Rodin had this oil …
"My first two clients were 59-year-old women who'd funneled all their savings into their brands," he remembers. "They had no fear, so I couldn't either. Everything they taught me still resonates to this day. I don't want to work with anyone who doesn't have that same DNA. Sasha Plavsic of Ilia Beauty has it too. She drove down from Vancouver and walked into my office without an appointment. My first thought was, 'She's the Bobbi Brown of natural.'"
Last year, Pirrotta curated the beauty section at the Conservatory in Hudson Yards, called Materiae, while subsequently launching his website of the same name, which include his newest brands, Fellow Barber, Saya, Campo, and The Nature of Things.
"Give me a brand that has no money but all the right bones," says Pirrotta. "It's just like a house. If it has the right foundation, it's not going to slip."
Pirrotta spoke with the Cut about hand sanitizers, his killer Bolognese sauce, and the importance of baths.
What's your definition of beauty? Confidence is beauty. Knowing yourself and what you want out of life — that truly radiates beauty.
What do you think when you hear the term "clean beauty"? It seems vague to me. There are so many brands that market themselves as "clean" and they're just filthy! Clean beauty is about integrity. A brand that makes the right choices on their formulas, their ingredients, as well as packaging. It's so important that clean brands focus on sustainable packaging because there's so much wastefulness in that arena.
Where, if anywhere, in your beauty (or life) routine are you not quite that "clean," "green," or "sustainable"? Ever since I turned 40, it's been hard to continue using all-natural products on my face. That was when I started focusing on working with brands that incorporate nature and science. At this point in my life, I need some serious actives and science.
Please fill in the blank as it pertains to something connected to wellness or beauty: I think about ______ a lot. Hair loss. I suffered from it but was able to get a transplant before I became completely bald. It's something that many men and women suffer from but don't want to talk about. I love talking about it because it was the best thing I've ever done for myself besides getting back into shape.
What is the opposite of "beautiful"?  Unbecoming.
What is your morning grooming routine? Dr. Loretta's Gentle Hydrating Cleanser. Then twice a week, I also use Zelens Transformer Instant Renewal Mask — it revives my skin! Then Melanie Simon's Serum C and Dr. Loretta's Tightening Eye Gel.
What's the last product you use every night? Zelens Stem Complex Rejuvenating Overnight Treatment. It's a miracle cream.
Who cuts your hair? Carlos Vargas in L.A. and Raquel Fajardo, senior barber at Fellow Barber in New York.
Do you get facials? Yes, with Melanie Simon in L.A. and Diana Yerkes at Rescue Spa in N.Y.
Fragrance of choice: Cire Trudon Bruma and Escentric Molecules 01.
Hand sanitizer of choice: Jao.
Razor of choice: Gillette SkinGuard Razor for sensitive skin, with Saya Shaving Lotion.
Bath or shower?  Shower in the morning with Saya Body Wash and Coconut Body Polish. Baths at night with Nature of Things Fortifying Magnesium Soak or their Restorative Floral Bath for when I need hydration.
What was your first grooming product obsession? Old Spice, which I discovered in my grandfather's bathroom cabinet when I was about 6. I remember pretending to shave, then splashing it all over my face. I was so excited to get to the age where I could start using grooming products.
Who makes your eyeglass frames? I have so many, but the majority are Moscot.
What is your classic uniform? I'm usually all in black or blue, and usually in Prada, Acne, or Theory.
What shoe are you usually wearing? White Common Projects or Prada Sneakers.
What's your work-from-home situation like? I've been working a lot from my dining room table so I can open my French doors and get some fresh air. I've also been bouncing from working on my bed to my home office, but I usually end up back at the dinner table. There have been lots of Zoom meetings and even more calls. Seems like everyone is wanting more human interaction.
What was the most recent interesting conversation you had? It was about the benefits of plant medicines and consciousness with L.A. hair colorist Denis De Souza, who also happens to be my boyfriend.
What would the name of your autobiography be? The Tales of a Counter Queen.
Who would star as you in the film adaptation? Ben Platt, since I will, of course, break out in song and dance. And Melanie Mayron will direct it.
Favorite smell? Night-blooming jasmine.
Least favorite smell? Body odor.
What do you think Pantone's color of 2020 should have been? Neutrals and earth tones. I'm starting to get sick of color again!
Favorite CBD product: Superlative Body Balm from Nature of Things. It helps me with all my aches and pains.
What beauty treatments are you doing more now that we're all at home? I've been taking so many baths. Bath immersions and soaks are the way to go during this very weird and challenging time.
Conversely, now that we're in this isolated state, what in your own grooming routine are you less on top of? I actually haven't shaved, which feels very liberating, and I haven't washed my hair in a few days, but I'm still on top of my skin-care and body-care routine and have added more oils into my regimen.
Comfort food: French fries.
Vice snack: Justin's Organic Dark Chocolate Peanut Butter Cups.
Most impressive dish you make: I make a killer Bolognese sauce.
What product is currently your favorite (understanding that this could change all the time) Our Ziip tool! Nanocurrent heaven! I use it a few times a week as a workout for my skin, and it also helps me so much when I have my breakouts. After a long day, I poor myself a glass of wine and sip and Ziip.