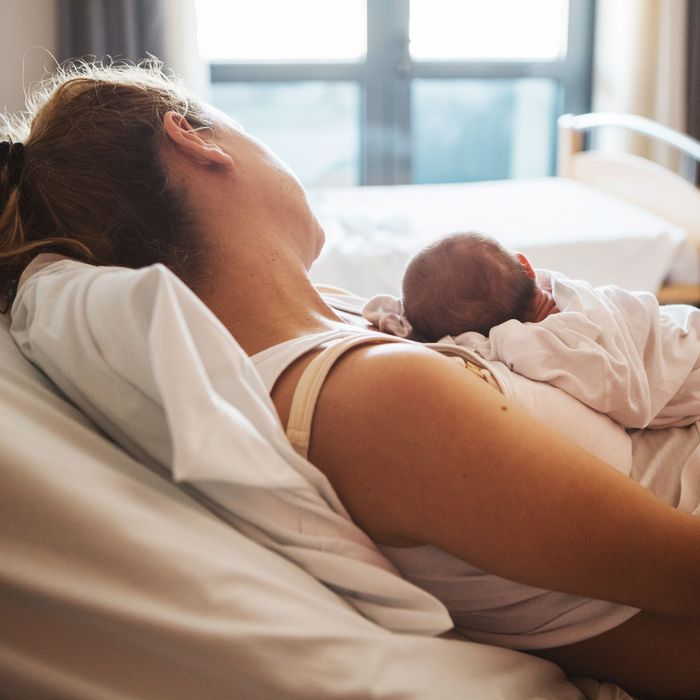 Photo: Nasos Zovoilis/Getty Images
Since hospitals operated by the NewYork-Presbyterian system banned all companions from the delivery room, confusion has spread about whether other New York City hospitals in the epicenter of the crisis would follow suit. On Monday night, Mount Sinai's hospitals announced that they too would prohibit a partner or other support person from delivery and postpartum.
"There are a lot of desperate moms-to-be who are totally on the verge of a nervous breakdown," said one pregnant woman whose due date is this week and who planned to deliver at NewYork-Presbyterian's Columbia University hospital. "I understand that they're very stressed, but it's been hard even getting updates about protocol, or what the policies are and what protections I can take to minimize my risk." She said when she finally got ahold of her doctor, she asked, "'If you're in labor and they can test you quickly, why can't they test the dads?' I never really got clarification on at that point." NewYork-Presbyterian did not respond to a request to elaborate on its new policy.
As of Monday afternoon, other major New York hospital systems were still saying publicly that a single visitor would be allowed in the delivery room. But multiple patients began hearing otherwise from obstetricians affiliated with the Mount Sinai system. According to those patients, at least four different Mount Sinai–affiliated providers — including the hospital's faculty practice — told patients that they would have to birth alone. "We cannot express enough our disappointment and disagreement about this," wrote Central Park Midwifery in an email to their patients Monday morning. (They deliver at Mount Sinai West in Manhattan.) "We don't know the timeline for this, but the hospital has assured us that it was not an easy decision and they will reverse it as soon as possible. This is for the protection of you, your baby and the staff."
A Mount Sinai spokeswoman, Lucia Lee, insisted Monday afternoon that "the policy has not changed. If it does, we will issue a statement." But by late Monday evening, the hospital had made it official: "As of March 24, due to the escalating COVID-19 emergency, we are prohibiting all visitors across the Mount Sinai Health System. This includes visitors to the emergency departments, inpatients, ambulatory sites and other facilities and includes the partners of patients in the OB."
For births involving longer hospital stays, this could mean non-birthing parents could go days without meeting their baby. The World Health Organization guidelines state that "all pregnant women, including those with confirmed or suspected COVID-19 infections, have the right to high quality care before, during and after childbirth," including "having a companion of choice present during delivery." It's a brutal trade-off — on the one hand, dealing with a fast-spreading and unprecedented pandemic during which every mask and test is precious; on the other, the fear that a lack of support could lead to negative outcomes like injuries, postpartum depression, and even infant and maternal mortality in an overburdened system.
New York City has over 12,000 COVID-19 diagnoses as of Monday, the most in the country, and at least 1,800 patients have been hospitalized. While NewYork-Presbyterian said it would test all admitted patients in labor, the city's public health department is now limiting testing to health-care providers and the critically ill, citing a need to preserve protective gear and prevent further spread. Mayor Bill de Blasio has been publicly begging for more supplies and equipment.
"It is terrifying," Jesse Pournaras, the New York–based birth and postpartum doula who started a petition against the visitor policy that has garnered over 100,000 signatures, told me Sunday. She worried that without the support of a partner or doula, marginalized patients would suffer the most, and is offering "free or pay-what-you-can virtual doula service" for those impacted by the policy. Nearly 15,000 babies were born at the network's hospitals last year. "When we lose our first pregnant person because of neglect caused by an overwhelmed system that is understaffed," Pournaras warned, "it will already be too late."
Noel Alicea, a public affairs officer at Metropolitan Hospital in East Harlem, which is part of the New York City public hospital system, confirmed to me that their policy is still to allow "a visitor of a woman in labor." NYU Langone's current policy is that "labor and delivery patients are permitted one visitor, limited to a partner, parent, or grandparent. Visitors cannot be rotated, and doulas may not visit." Northwell Health, which operates 23 New York–area hospitals including Lenox Hill and Long Island Jewish Medical Center, says, "One designated support person can accompany patients admitted for labor and may remain with the patient in the postpartum unit. There will be no return visitation once leaving the building."
On message boards, Facebook groups, and Twitter, the expectant and anxious wondered whether they should try to switch hospitals, even in the week of their due date, and whether the shared recovery rooms that are common in New York would further put them at risk. "I've been crying for hours and I can't handle the idea of doing it alone as a [first time mom]," wrote one on the New York City What to Expect message board. There were prayers for good cell service so their partners or doulas could FaceTime in. Central Park Midwifery suggested that for healthy patients, quick discharge was the answer. "As long as you and baby are healthy, there should be no red tape to going home early, as early as six hours," they wrote in a second email Monday.
This post has been updated to reflect that Mount Sinai has now prohibited all visitors.