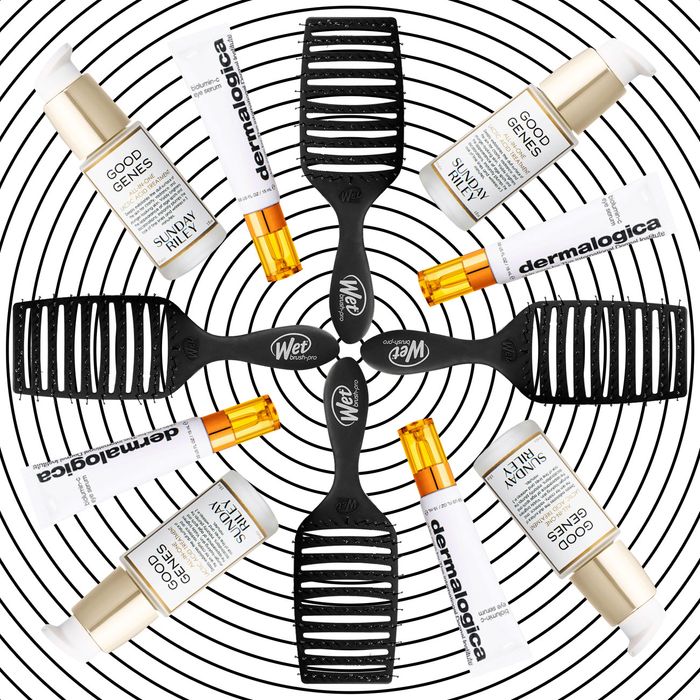 Photo: Courtesy of the Retailers
We've made it to March, which means we can finally use spring as an excuse to shop for new things. You can start right this instant with Dermstore's annual Beauty Refresh Event. From now until March 9, you can get up to 20 percent off pages and pages of professional and prestige beauty brands, making this the perfect opportunity to restock on favorites that rarely go on sale. All you need is the code REFRESH and some guidance. Here are 12 of our favorite picks to help get you started.
The Cult-Favorite Skin Brightener
When Sunday Riley is on sale, it's always a big deal. This skin-brightening serum that many, many people swear by (there are 210 five-star reviews on Dermstore alone) is now available for 20 percent off. If that doesn't do it for you, consider the brand's Tidal Water Cream, a nice gel moisturizer. When it gets warm out and you finally pull it out, you'll feel like a skin-care Girl Scout — always prepared. —Kathleen Hou, beauty director
The Chalamet-Approved Hair Cream
If you've yearned for the soft, shiny hair of Timothée Chalamet, this stuff will get you a little closer. It's the hydrating, shine-boosting styling cream stylists have actually used on Chalamet's legendary hair to get it photo-ready. This stuff also works as a luxe leave-in conditioner that transforms chronically thirsty and dull hair into something you'll actually want to touch. If you're having trouble keeping your hands off your face, this will temporarily move them to your hair. —Erica Smith, beauty writer
The Minty Fresh Shampoo
I love products that tingle my scalp, and I love anything that smells minty. Toss in some avocado oil, and who am I to argue? This shampoo provides a deep cleaning without stripping hair of moisture. If you've had a week of overzealous product usage, this not only empties out the "garbage," as it were, but also gives a nice fullness to your freshly cleansed locks. And did I mention how excellent its minty fresh scent is? —J.L.
The Under-Eye Brightener
If your eyes, like mine, don't do well with thick eye creams, may I interest you in an eye serum? Just a little of Dermalogica's silky formula goes a long way. It quickly absorbs into skin, saving you from endless ring-finger tapping and waking up with weird product pilling under your eyes. The formula is packed with protective, brightening vitamin C for the extra-delicate area, and after regular use, you'll begin to notice that you really are waking up looking bright(er)-eyed (though you're on your own for the bushy-tail part). —E.S.
The Convincing Dry Shampoo
If you actually want your hair to feel clean after using dry shampoo, I'm sorry, I know that life has been hard. I, too, have tried hundreds of dry shampoos, and found that they all left my hair looking cleaner, but feeling gritty and kind of gross. But some MIT scientists, thanks to Living Proof, created an actual "clean hair molecule" called OFPMA, which actually absorbs oil, thereby making your hair clean. I can run my fingers through my hair when I use this without coming across anything chalky. —K.H.
The Perfect Neutral Shadow
If I had to guess, I'd say I own about 20 taupe eye shadows among my various kits and compacts. Some taupes are more beigey, others more brown. Some give off strong griege vibes while others even have elements of lavender lurking within. That's all good to me, I like every version of neutral, but what's crazy is that this one, from queen of clean Rose-Marie Swift, seems to have elements of all of the above shades (do you not see a purple thing going on!?). Its powder formula contains only a tiny hint of shimmer and is easily blendable, no matter what version of taupe you happen to see. —Jane Larkworthy, beauty-editor-at-large
The Hydrating K-Beauty Essence
Everything from K-beauty old-faithful skin-care brand Cosrx is included in the sale, which means that it's all under $30. I particularly like the brand's Snail Mucin Essence. I used to think snail mucin was a sticky, icky gimmick, but this one made me a believer. I like layering on moisture, and this is a good hydrating base that makes my skin feel nourished and sated, like reaching the satisfying end of a glass of water. I can't prove it, but I also feel like this helps my other skin-care products "bind" better to my skin, making it softer and dewier. The brand's very popular Acne Stickers are also 20 percent off. —K.H.
The Dream-Inducing Duo
Sleeping is one of my favorite activities, so when it plays hard to get, I'm in no mood. I appreciate the way this set comes at me from two directions — namely, my bed linens and my temples and/or forehead— with a pillow spray and a roller-ball, both of which are infused with lavender, vetiver, and chamomile oil to help ease anxiety. I'm feeling sleepy just writing about it. —J.L.
The Color-Correcting Hair Mask
Not to be dramatic, but if you color your hair, you need (I believe in this so strongly that I'm tempted to put it in all caps) to get this mask. It has saved me many times by pulling me back from the edge of Orange Brassy Mountain. Consistent use has halved the amount of times I need to see my colorist every year. But you also get instant gratification benefits because it softens your hair and deposits a little bit of temporary color that makes it look fresher, brighter, and generally less gnarly. It comes in a few shades, but I use the variations of Brown, depending on my current color. —K.H.
The French Facial Mist
This beauty elixir is beloved by many a person with good skin, and for good reason. It's instant refreshment in a bottle and something your face will want to drink up all day long: in the morning to prep your skin, midday to revive things when your manufactured dewiness starts to wear off, in the late afternoon when you need something minty to snap you out of that 3 p.m. feeling, and right before bed when you need to inhale something soothing to drift off to sleep. —E.S.
The Helpful Hairbrush
When I attempt to blow-dry my own hair, several elements must align. If it's raining out or humid, I don't even try. However, if the weather proves agreeable, I'll black out an extra half hour in the morning for my blow-dryer and pair it with this excellent brush. It's super light, so repeated attempts at tugging my cowlick into submission won't result in an aching upper arm. Its open-vented design speeds up drying time, and the uniformity of its bristle lineup makes removing hair from the brush quick and easy. If only the weather were that reliable. —J.L.
The Refreshing Hair Rinse
If you want to feel squeaky-clean for the new season, I suggest starting at the top with your scalp. When I have my hair locked away in a protective style for months or feel like I've been going a little too hard on layering curly hair products, I turn to this cleansing conditioner. It effectively gets rid of all the gunk on your scalp without stripping or aggravating it, and it leaves hair feeling much softer than it started. —E.S.
If you buy something through our links, New York may earn an affiliate commission.