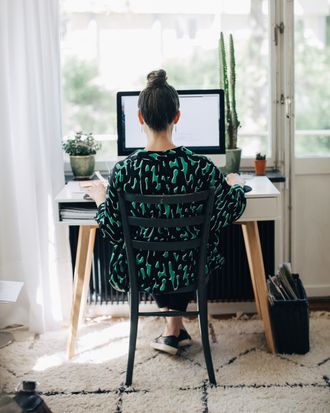 Photo: Maskot /Getty Images/
When it comes to working from home, there are some questions you don't need to ask yourself. Do I need to put on pants? No. Do I need to put on a bra? No. Should I leave the Zoom beauty filter on as a default? Obviously. But over the past few days, I've gotten texts and Slacks from friends and co-workers who have been wondering: Do you still need to put on sunscreen if you're going to be inside all day?
My gut instinct was yes, which I feel is the answer to whether you should put on sunscreen for any occasion. But just to double check, I talked to Dr. Joshua Zeichner, director of cosmetic and clinical research in dermatology at the Mount Sinai Hospital, and Dr. Dendy Engelman, consulting dermatologist at Elizabeth Arden. Here are their answers, including how to protect yourself from blue light from all those Zooms.
Must I wear sunscreen in my home?
Yes, you must.
Why?
There are two types of damaging sun rays: long-ray UVA and short-ray UVB. Most windows filter out UVB rays, so you won't get sunburnt sitting by a window. But UVA rays can penetrate through windows.
"UVA rays cause more concern, because they degrade collagen the most readily," explains Engelman. Zeichner agrees, adding that UVA rays put you at risk for skin cancer.
However, a morning full of Zoom calls also isn't great for your skin. Both dermatologists add that it doesn't hurt to protect yourself against blue light. Blue light is neither UVA or UVB light. It has a short wavelength and high energy. There are natural sources of it (like the sun), but it can also come from man-made devices like LED, smartphones, computers, and fluorescence. Your Netflix watching, your FaceTimes, all of your screen time all contribute to your blue-light exposure. Studies already show that too much blue light can affect our sleep by suppressing the secretion of melatonin.
There haven't been large enough studies done on blue light to know exactly what effect it has on skin. But early ones suggest that it can contribute hyperpigmentation and wrinkles, says Zeichner. For example, there's this very small study published in the Oxidative Medicine and Cellular Longevity that suggests blue light can help generate free radicals, unstable molecules which kill collagen and damage skin. This study, from the Journal of Biomedical Physics and Engineering, concludes that "current data show that exposure to blue light can lead to different levels of damage in human eyes and skin."
As Engelman explains, "We know it's not good for your eyes, and for skin, it's to be continued. We know that it's probably not helping. And ultimately, why are you splitting hairs with what isn't and is going to harm you? It's good to protect yourself from everything."
What should I be doing about this?
Apply a sunscreen with broad spectrum protection, which protects you for both UVA and UVB rays. Most sunscreens already proudly brag about this (and rightly so), so it won't be difficult to find on the label. If you're into Japanese or Korean sunscreens, broad spectrum is noted a little differently. The SPF number on the label will indicate the level of UVB protection. You will see the letter PA with anywhere from one to four plus signs noted after. Four notes "extremely high UVA protection," as the Paula's Choice website explains.
Since there's not enough research into how to block blue light, for now, Zeichner and Engelman suggest looking for sunscreens containing a mineral blocker ingredient, like zinc oxide, paired with an additional antioxidant serums. "It will protect you against UVA rays and may be useful in blocking blue light," says Zeichner.
"In a best-case scenario, your sunscreen might filter out 98.7 percent of UVA/UVB damage. Most people say, 'That's pretty great.' But that 1.7 percent, over a lifetime, can be meaningful," says Engelman.
5 Excellent Broad-Spectrum Sunscreens
There are close to 1,000 reviews of this universally beloved sunscreen on Sephora, and fans agree that it's the most comfortable to wear. It contains red algae, which the brands claims helps with blue light protection.
Zeichner recommends this one. He says, "With zinc oxide along with calming botanicals, the sunscreen offers broad-spectrum protection. It also completely rubs in without leaving you feeling sticky or white, the way that many mineral blocker sunscreens do."
This is Amazon's most-popular sunscreen, and a mainstay in many dermatologist offices. It contains zinc oxide and a nice dose of niacinamide, a form of vitamin B, that's known as an overall skin soother.
My personal sunscreen favorite is this Korean one, which goes on without any white cast, is broad spectrum (SPF 50 PA++++), and feels like nothing. I've gone through four bottles of it already, and have converted a ton of my friends. (It doesn't contain zinc oxide, however).
Engelman wears this one. "It's so clean, very thin, and very elegant," she says. "It feels part of my self-care, in way that doesn't make me feel like I'm wearing a ton of sunscreen while I'm inside my apartment."
If you buy something through our links, New York may earn an affiliate commission.