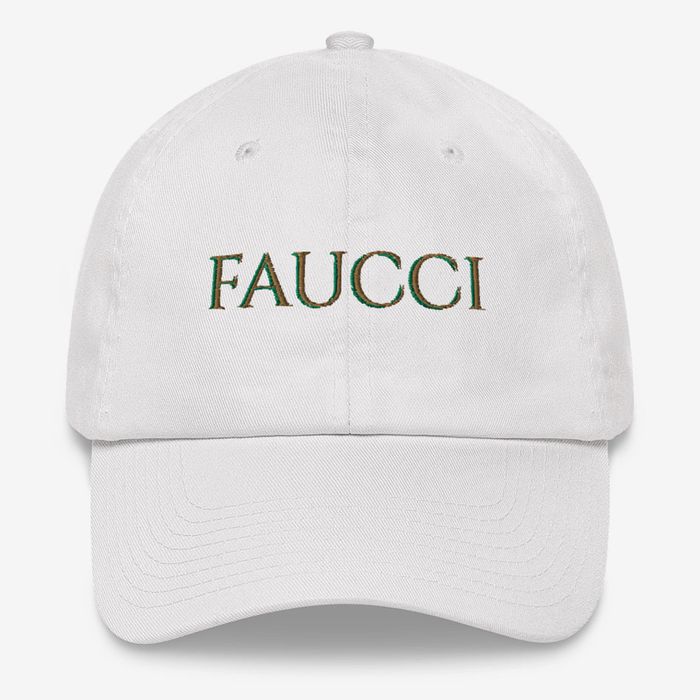 Photo: Courtesy the retailer.
It's safe to say that there are a lot of things people need right now more than merch. And yet, in this cursed month of March in these doomed United States, here it is — pandemic-inspired merch.
It was bound to happen. Merch has always served as reflection of the times — a memento of a certain moment or, now, a micromoment. It allows us to repackage big ideas in ways that are eye-catching and easily digestible and fast. For a while, we were making merch out of our own headlines. Now, everything has been merchified, including the name of Dr. Anthony Fauci, the director of the National Institute of Allergy and Infectious Diseases and our country's current face of reason.
On Friday, it was brought to our attention that baseball caps with "Faucci" written in the Gucci logo font are now being sold for $32 online by a brand called Social Distancing Caps with the description: "Fauci, but make it fashion." The good news is that all profits will be donated to Meals on Wheels, a program that delivers meals to individuals at home who are unable to purchase or prepare their own. The creator of the hats, who prefers to remain nameless, says he's raised $6,000 in a week. That said, you can also just donate to Meals on Wheels directly and spare the manufacturing and shipping involved with buying and selling merch.
"I'm a guy quarantined at my girlfriend's house who wanted to raise money for a good cause," the creator told the Cut. "I'm proud that our hats are doing something to help." It was an idea he had at his kitchen table one night, along with hats that say "Social Distancing." He thought these would be something people could send to their parents and grandparents, "who needed to remind the folks around them to keep safely away."
Of course, there's other merch out there inspired by this current moment. Some of Etsy's "best sellers" include wineglasses with quotes about drinking alone written in bridesmaid font. It's hard to justify a purchase like this under normal circumstances, but especially when many Americans are putting themselves in harm's way to deliver essentials.
It's a weird time to be alive, and to be shopping online. It's hard to know what to do, but it's probably not this.
This article has been updated to include quotes from the creator of Social Distancing Caps.