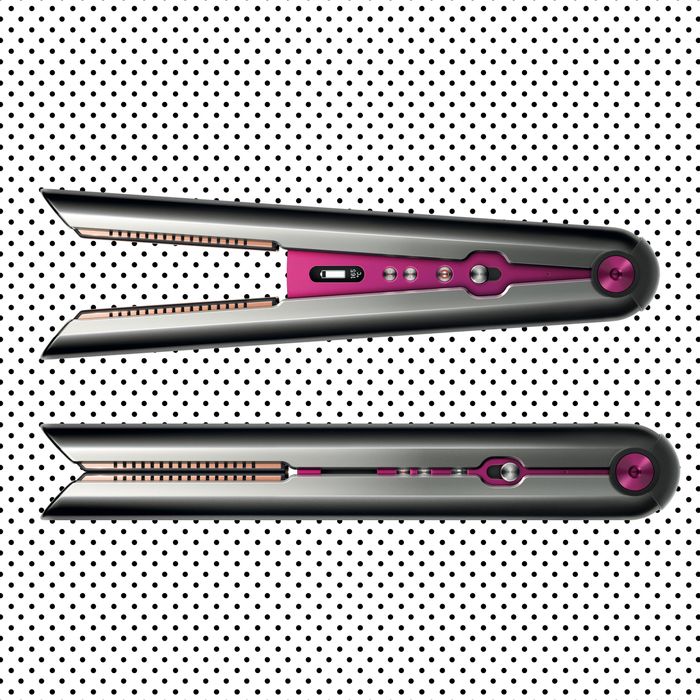 Behold: the Dyson Corrale.
Photo: Courtesy of Dyson
Remember when Dyson made sucking dirt off the floor both stylish and enjoyable? The tech company is about to do the same with another chore: ironing defiant hair into sleek obedience. Today, Sir James Dyson of spacey vacuum fame announced the brand's third hair tool: The Dyson Corrale, also known as "the first and only hair straightener with flexing plate technology that delivers an enhanced style with half the damage."
That all sounds nice and science-y, but to truly appreciate the Corrale in all its glory, you must take a step back and remember that straightening hair is kind of scary. To get that stick-straight finish, you need a combination of things: heat to break the hydrogen bonds in the hair, tension and compression to reshape those bonds, and control to make sure you're applying that heat and tension evenly.
That already sounds like way too much responsibility and like a lot could go wrong, which is why Dyson channeled seven years of research and development into a tool that makes the process easier for you and your wrists, and much easier on your hair. The Corrale's magnesium copper plates actually bend around the hair (rather than stamping it), gathering it all and applying even heat and tension to every strand with every pass, so you get straight, shiny results using way less heat and fewer passes.
Like Dyson's Supersonic and Airwrap, the Corrale also has Dyson's Intelligent Heat Control. A platinum sensor measures the temperature 100 times a second and communicates with a microprocessor that controls the heating system to deliver accurate heat. But perhaps most fun of all, the Corrale is cord-free. It's powered by a four-cell lithium-ion battery, so you can straighten your hair while dancing to Protozoa on your bed with Nebula, or even take it with you to visit your Earth-bound boyfriend, which is Alpha Major!
The slightly less fun part: It's $500, but that investment is for you and your hair to discuss in private. Just remember all that you've put it through over the years and be sure to take a look at the purple version that's exclusive to Dyson.com. It would go perfectly with that gilded Supersonic and your neon-pink bodysuit, just saying. It's also currently on sale for 25% off.
This article was originally published March 10, 2020. It has been updated throughout. 1f you buy something through our links, New York may earn an affiliate commission.