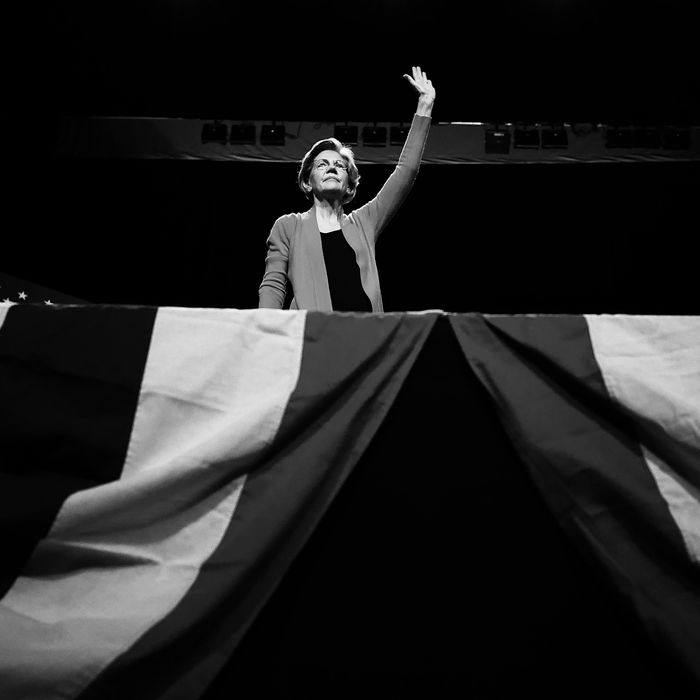 Elizabeth Warren.
Photo: Chip Somodevilla/Getty Images
Elizabeth Warren is dropping out of the presidential race.
On Thursday morning, following a disappointing finish on Super Tuesday, the New York Times reported that the Massachusetts senator has notified her campaign staff that she is ending her campaign.
"I know that when we set out, this was not what you ever wanted to hear. It is not the call I ever wanted to make," she said on a call with staff, the entirety of which her campaign shared in a Medium post. "But I refuse to let disappointment blind me — or you — to what we've accomplished. We didn't reach our goal, but what we have done together — what you have done — has made a lasting difference. It's not the scale of the difference we wanted to make, but it matters — and the changes will have ripples for years to come."
Almost immediately after announcing that she had formed an exploratory committee for the presidency in December 2018, Warren distinguished herself as a progressive candidate who seemingly had a plan for everything: student-debt relief, universal child care, the disproportionately high rates of maternal mortality for black women, and affordable housing, to name just a few. On the debate stage, she shone. Warren was masterful at clearly articulating her proposals — and at shutting down criticism that her progressive policies were "unrealistic" or too expensive. (She often cited her ultra-millionaire tax, which she said would've brought in nearly $4 trillion "to rebuild America's middle class.") She also famously eviscerated Michael Bloomberg during his first appearance on the debate stage, dismissing him as him a "an egomaniac billionaire" on par with Trump, and pointing out his history of allegedly calling women "fat broads and horse-faced lesbians."
For many women, Warren's candidacy was particularly inspiring. She embraced the symbolic significance of her run — "I'm running for president because that's what girls do" was one of her most moving refrains — but also fiercely advocated for policies that centered women's needs in a way that many other candidates didn't. She spoke about issues like pregnancy discrimination and unaffordable child care as a woman, often detailing how they had personally impacted her life. As Massachusetts representative Ayanna Pressley said in her endorsement of Warren, "Her plans are about power: who has it, who refuses to let it go, and who deserves more of it" — a message that strongly resonated with those who have historically been denied it.
But off the stage, Warren struggled to achieve meaningful progress. Her mishandling of her Native-American ancestry claims loomed over her campaign when it first launched, and her decision to accept super-PAC funding after previously vehemently rejecting it did her no favors. She also faced entrenched sexism, with media raising concerns over her "likability" and the role her gender would play in her electability, despite the fact that she was by far one of the most qualified candidates in the running. When it came to the early primaries and caucuses, Warren never finished better than third place, accruing just 36 delegates to Joe Biden's 433 and Bernie Sanders's 388 by the time she dropped out. Even in her home state of Massachusetts, which voted on Super Tuesday, she came in third behind Biden and Sanders — a finish that issued a disheartening wake-up call to her campaign and supporters, to whom her candidacy meant a great deal.
Now, the focus will be on which candidate Warren chooses to endorse — though she said that announcement won't be coming today. Many Sanders supporters are hoping that the Massachusetts senator will throw her support behind the democratic socialist to grow his progressive base, just as moderates like South Bend mayor Pete Buttigieg and Minnesota senator Amy Klobuchar did for Biden. This is certainly imaginable. On Wednesday, Sanders told his supporters that he and Warren had spoken on the phone about the future of her campaign, but that she hadn't made any decisions at that point. He continued: "It is important for all of us, certainly me, who has known Elizabeth Warren for many, many years, to respect the time and the space that she needs to make her decision."
And then there were two. Almost.
This post has been updated.