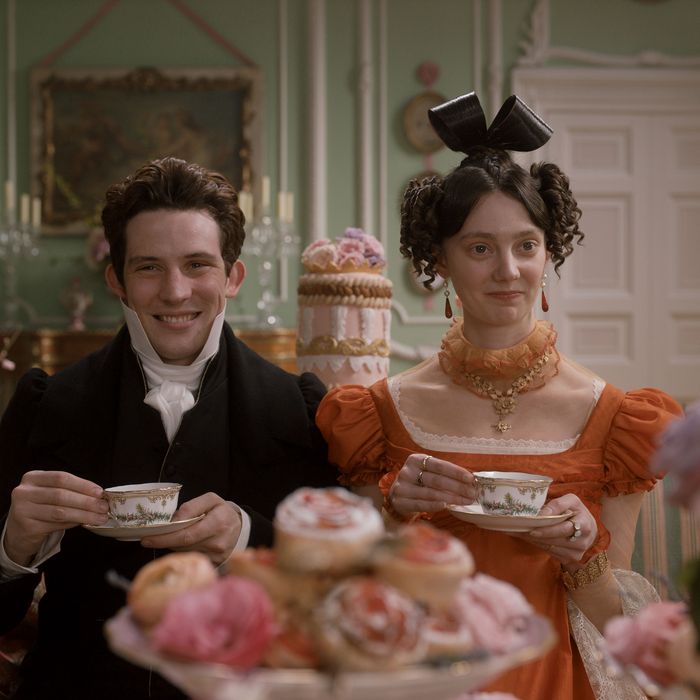 Photo: Courtesy of Focus Features
Jane Austen may not have known when she wrote Emma — her classic 1815 novel about a "handsome, clever, and rich" young woman who loves to meddle in people's relationships — that the subsequent movie adaptations of her book would serve as pure fashion fantasies. The 1996 movie starring Gwyneth Paltrow has been a staple on bridal Pinterest boards for years. And Clueless, of course, is one of the most enduringly stylish movies of all time thanks to costume designer Mona May. The new adaptation, directed by Autumn de Wilde and starring Anya Taylor-Joy, joins its predecessors in the pantheon of fabulous taste. Maybe not good taste but fabulous nonetheless.
The world of Emma pulls you in instantly — the color-coordinated hat shop, the Regency-era tufted furniture, the idyllic British countryside. I thoroughly enjoyed the movie, but my enjoyment is impossible to divorce from my absolute love for the costumes. It's like stepping inside a Ladurée macaron box. The clothes and interiors work perfectly in tandem, thanks to set designer Stella Fox and costume designer Alexandra Byrne. Byrne is known for her work on period pieces like Elizabeth: The Golden Age, Hamlet, and Mary Queen of Scots. She also worked on another Austen movie, Persuasion. Her best work in Mary Queen of Scots was the ear full of piercings, and her masterwork in Emma is the hats.
Compared to the elaborate Rococo period (think Marie Antoinette, also the subject of a great fashion movie), the dominant style in Emma's time was relatively simple, resembling contemporary undergarments and present-day prairie dresses. Nobody today would look at those clothes or the costumes in Emma and say they're simple, though. Look at the gloves! And more important, the hats. The hats and the hairstyles are really what make Emma worth seeing. They're delicious little bonbons of ribbons and feathers that you want to eat 90 of. And, really, true to the period. In the late 1700s and early 1800s, feathers and tight pin curls were all the rage. The hats weren't quite as high as a certain French monarch's, but they weren't exactly subtle either. Jewelry, ribbons, and fake flowers — anything could be added to a hat or a hairstyle. But I realized sometime during the movie's 132 minutes that I was waiting for the next hat to show up, the next costume change.
Since the movie is broken up by seasons, you can see the slight differences. In some ways, I was prepping for this since I saw the first movie poster, where Taylor-Joy as Emma is wearing a canary-yellow dress with a black-and-yellow feathered hat. Next to her is Johnny Flynn as George Knightley in a tall top hat, exaggerated collar, and ludicrously prominent sideburns. Tartan ribbons and red plumes for fall, gingham for summer, that sort of thing. In the movie, the hats keep coming. Several scenes are filmed inside a haberdashery, where, presumably, the extras are plotting their next hair accoutrement. For a wedding, Emma wears a straw hat with a delicate dusting of feathers. There's a blue hat trimmed with fur and feathers. One of my favorite visual gags of the movie (I'm not sure it was meant to be a gag) was the group of local school girls who marched in two straight lines around the town wearing straw bonnets, looking like ducks drawn by Beatrix Potter.
But arguably the best moment of the whole movie is when we meet Mr. Elton's nouveau riche wife, whom we just know as Mrs. Elton. After Elton was rejected by Emma, he married Mrs. Elton. She appears wearing a bow made out of hair, like Lady Gaga in 2008. Who cares what she's wearing (an orange dress, with one too many necklaces and a ruffled, detachable collar). It shows how the character is just one bridge too far in this obscenely luxurious, accessorized, over-the-top world. A black, brimmed straw hat with what looks like a poufy page-boy hat on top of it? Sure, that's fine. But a bow made of hair? That's just trying too hard.