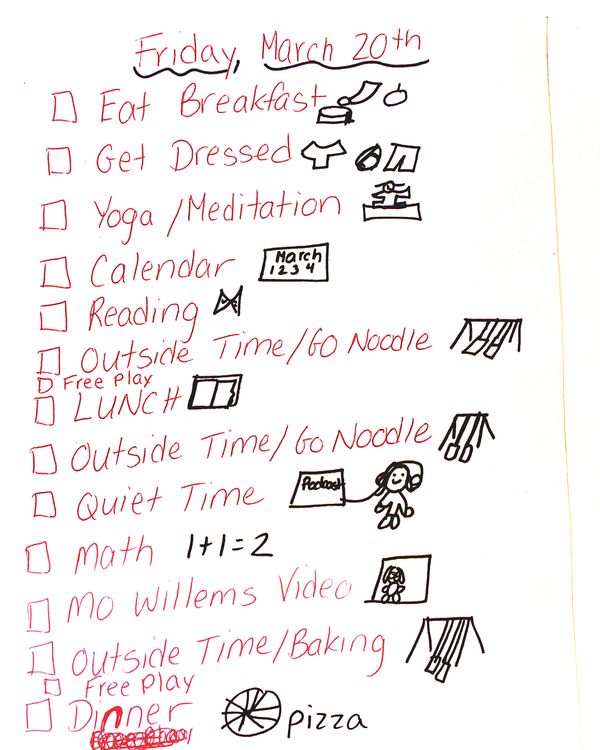 My Instagram feed used to be cluttered with color-coded lesson plans from parents determined to win at homeschooling. We are beyond that now. Still, kids thrive on routine, and there are ways to build a little flexible structure into your days. Here is some advice from teachers.
Let Your Kids Help You Make the Schedule
This can give kids a much-needed sense of control. Elizabeth Sussman, a middle-school special-education teacher, came up with a list of priorities that her family incorporated into their daily routine. "I talked to them about what they thought their day should look like, how we need to get outdoor time, how we need to make sure the dog gets walked, how we keep our apartment clean and pick up after ourselves."
Consider a "Menu"
Instead of a strict timetable, here's a strategy that Dawn Galluccio Bauer, a mom and math teacher, has adopted. "A minute-to-minute schedule would freak us out. My kids are rule followers and would focus too much on doing exactly the same thing at the same time. That just feels way too stressful right now," she says. "The menu gives them choices when they're at a loss for something to do. We're also doing things that we come up with from day to day."
Plan From Behind
"I write down at the end of the day all the learning experiences we did versus trying to script them at the beginning of the day," explains Christy Thomas, a former middle-school teacher who now homeschools her three children and runs the podcast Everyday Motherhood. "This allows me not to freak out on my kids. Kids naturally do more on different days. Some days, my 7-year-old just wants to do math and is totally engaged with it. Another day, we learn about animals. Overall, it equals out."
Stagger Your Schedules
"You do not have to cram your work and your child's learning into an eight-hour schedule," says Chrishon Sims, an 11th-grade teacher with an 8-year-old and a 4-year-old. "I have my kids get up hours after I do. That helps me be active online for work when I need to be."
Instruct in Small Bursts
"The rule of thumb is attention spans are between one and two minutes per age of your child," says Julia Hainer-Violand, an elementary-school teacher and curriculum consultant. "Teachers have a concept called a 'mini-lesson,' where you try to be as focused as possible for between five and ten minutes of instruction, then they do the practice." Instruction can be spread out in bite-size morsels over the day or week. "One lesson of the day might be talking about a story. Then the next day, we might draw our story. Then we might come up with some sentences. This can be a weeklong lesson, instead of trying to tackle an entire story all in one day."
Don't Overdo It
"If kids are getting frustrated, they're not going to be able to learn. Take a break and return to the activity later," Hainer-Violand says.
Teach What You Know
Like life skills, which provide plenty of learning opportunities. "Now is a great time for teaching them your grandma's spaghetti-sauce recipe (and in doing so, math, science, and reading from following a recipe)," says Susie Allison, who runs the popular @BusyToddler Instagram account. Or how to clean the bathroom.
Don't Forget Downtime
"Having a schedule is nice, but there has to be balance for kids and adults to breathe. If space for play and downtime is not provided for everyone," says Sims, "kids will eventually revolt."
Lindsay Powers is the author of the book You Can't F*ck Up Your Kids.
*This article appears in the March 30, 2020, issue of New York Magazine. Subscribe Now!