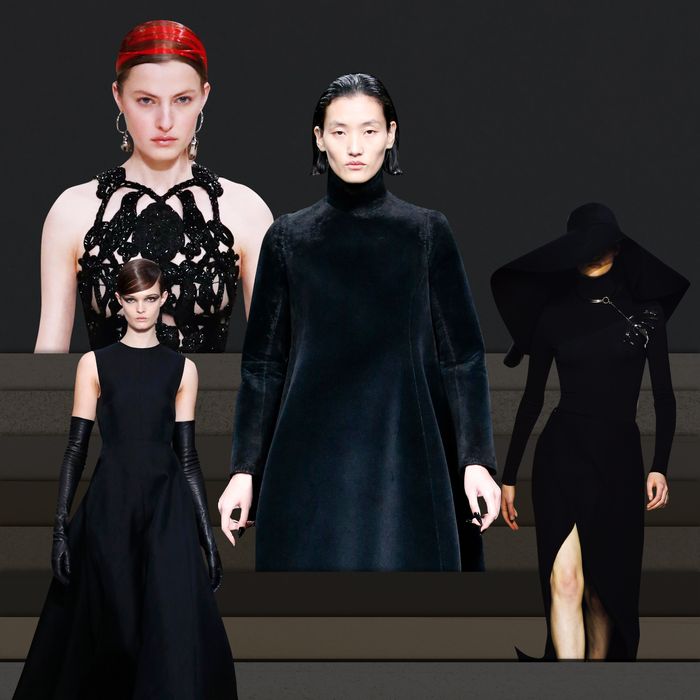 It's a well-known fact that Vogue editor-in-chief Anna Wintour hates the color black. In a "Go Ask Anna" video from last year, for example, she tells someone that the best way to "spice up" an all-black outfit is simply to not wear an all-black outfit. "It seems too gloomy, as if one's going to a funeral," she explains. Don't even think about wearing it on a job interview at the magazine.
Well, Anna, we are sorry to report that the color black was all over the fall 2020 Paris runways this season. We saw it coming after Dries Van Noten's "Nocturnal Glamour" show earlier in the week. A handful of other moody collections, like those at Saint Laurent and Paco Rabanne, confirmed our suspicions, but Balenciaga really hammered it home this weekend with a collection of mostly black looks.
The show was dark and apocalyptic, with the front row entirely submerged in water and models trudging through puddles as images of climate disaster swirled overhead. As Cathy Horyn pointed out in her review, the scene was also biblical, not just because of the whole "walking on water" thing, but because of the sartorial similarities to priests and nuns. She recalls editors being called nuns because they wore so much black, and the fact that some of Cristobal Balenciaga's earliest designs were black velvet outfits for Spanish aristocrats to wear to mass. So the color isn't just worn for funerals; it can be historical and provocative, too.
Valentino, a runway show that's normally bursting with color and joy, was also a parade of all-black outfits this season, although they were softer and more feminine than those shown at Balenciaga.
Givenchy was inspired by black-and-white French New Wave films, so there was less doom and more drama on Clare Waight Keller's runway.
At Alexander McQueen, Sarah Burton showed a happy medium, finding beauty and romance in darkness, as Lee McQueen always did so well.
If there's one brand that owns the black-and-white aesthetic, it's Chanel, and Virginie Viard kept her color scheme extra tight this season. There was a joy and playfulness to her collection that was much-needed by the end of the week. Models walked arm in arm and chit-chatted down the runway in their hot-pants and crop-tops. Anna Wintour may not like all-black looks, but she must have enjoyed this collection, as it recalled her first-ever Vogue cover from 1988.
Maybe there is a way to "spice up" an all-black outfit, after all.