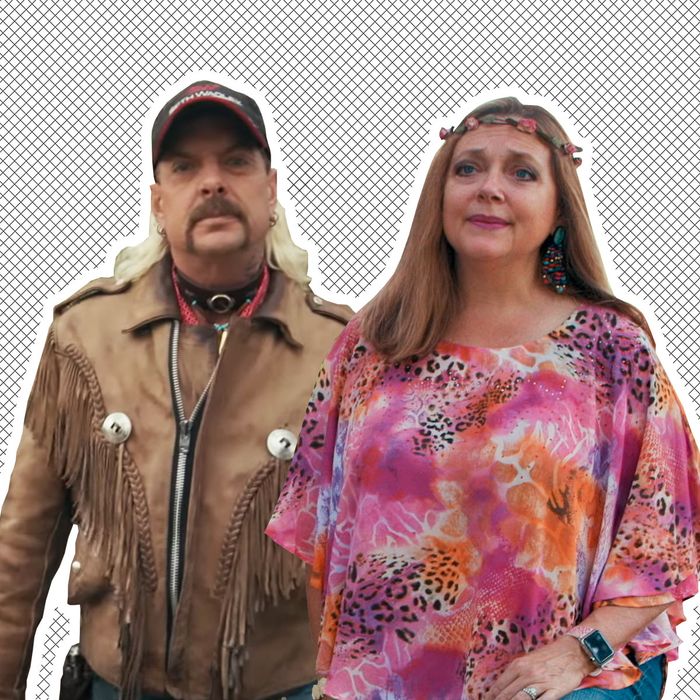 The screw continues to turn.
Photo: Courtesy of Netflix
During these trying times, the Netflix-having members of our nation have flocked to one source of solace like animals around a watering hole: Tiger King. This seven-part docuseries — chronicling the illicit operations of roadside zookeeper Joe Exotic — has everything. There is polygamy. There are drugs. There are bitter rivalries. There is aspirationally chaotic fashion. There is apparent cult activity. There are tigers, of course, and there are the crimes, like the hit Joe Exotic took out on his nemesis, Carole Baskin of Florida's Big Cat Rescue, for which he has since been imprisoned. And then there are the rumored crimes. It is this last category that appears to have piqued Florida law enforcement's interest.
Even if you have only seen the Tiger King memes, you will be aware that Joe Exotic believes Baskin fed her first husband — Jack "Don" Lewis, missing for over 20 years at this point — to members of her own menagerie. While Baskin has repeatedly denied any involvement in Lewis's disappearance, the internet discourse has prompted Hillsborough County Sheriff Chad Chronister to reconsider the case.
"Since Netflix and COVID-19 quarantine has made Tiger King all the rage," he tweeted on Monday, "I figured it was a good time to ask for new leads." Chronister also added a raft of hashtags, including #CaroleBaskin, and a post that reads "Only YOU can help solve the Jack 'Don' Lewis cold case."
Lewis has not been seen since August 1997, when he allegedly left the 40-acre animal sanctuary he shared with Baskin for Costa Rica. Authorities found his van at a local airport, but beyond that, not a trace. In the aftermath of his disappearance, Baskin took control of Lewis's millions, while one of his adult children speculated to People that investigators should've run "a DNA test on the meat grinder" Baskin reportedly had on her property, because a bunch of big cats offered "a perfect scenario to dispose of someone."
For Baskin, the documentary — which she has characterized as a pack of "unsavory lies" — is a source of consternation and ire. For the conspiracy-loving masses currently confined to their homes, however, it is a bottomless well of fascination and intrigue.