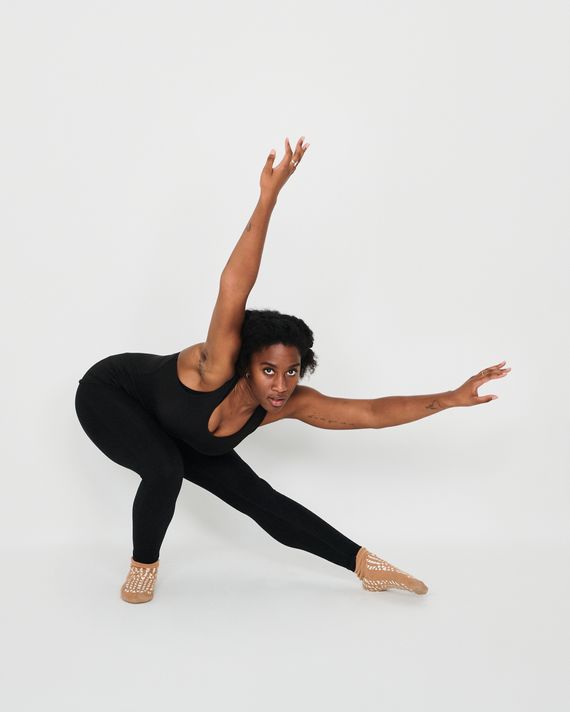 Above: Zoë Oliver, 22, Student, Crown Heights.
You're so flexible.
I'm double-jointed in my shoulders and can put both my legs behind my head. That's why I love coming to Movement class — because I can do things with my body that are almost grotesque, but it's good.
How'd you find the class?
Julia was my teacher at NYU. It can be really emotional. Once, I came in and I was in a horrible mood. I'd just had this missed connection on the subway — this handsome guy tried to start a flirty conversation with me, and I panicked and ran away, totally sabotaging myself. We were stretching, and Julia mouthed to me, "Are you okay?" I started crying and cried for two hours while I moved. Everyone was kind of emotional that day, laughing and weepy. I've been in art school since I was 7, so I can't really imagine a world where I'm not able to cry in class.
Have you been to other dance classes?
Yes, and this is not like them. Sometimes it goes toward improv. There will be random call-and-repeats, like "The dog is over here!," and everyone will be like, "The dog is over here!," and then start barking.
Nice ribbon.
I own three ribbons. Pink is for when I'm feeling more playful and girlie, blue is for a happy mood, and green means serene. Today is a serene day.
What was your last acting job?
I was a soldier recently in a World War II period-piece situation. I manifested that character here in Movement — put my energy in my chest, imagined myself as someone who is a bit naïve but ready to go. It's funny, though; generally I'm typecast as a techie nerd.
How often do you audition?
A few times a week. This is the exact opposite of what an audition room is like. In class today, there was so much babbling, screaming, noises you never hear adults make. The last time I'd heard those noises was when I used to babysit.
For more information, go to movementforeverybodycom.wordpress.com
*This article appears in the March 2, 2020, issue of New York Magazine. Subscribe Now!