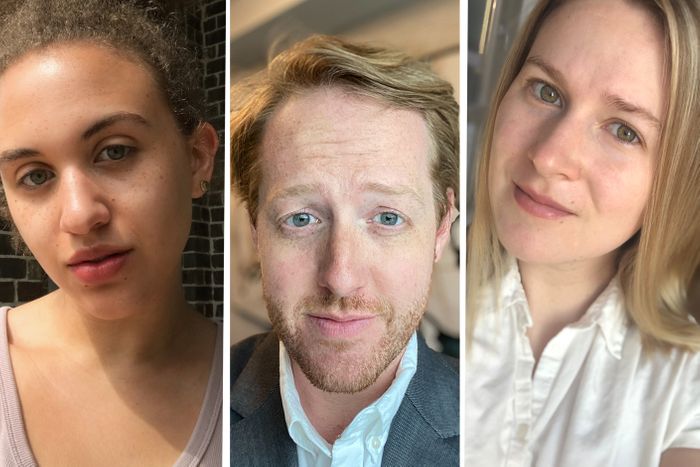 Photo: Courtesy of the talent
You're working from home. Weekend plans are canceled. And besides long, solitary walks, your world is about as big as your apartment. But with the weather warming up, it feels good to pull out your T-shirts and sandals, dress like you have somewhere to go, and get your skin glowy before a full day of video chats. In fact, it's a good time to use a few of those minutes you used to spend commuting to establish a skincare routine — if for nothing else than to have a few minutes of "normalcy."
That's one reason we love Glossier: The brand has a feel-good selection of streamlined products, and now it's making skincare even easier with a simple routine generator. It asks just three questions, including this all-important one: "How many steps are you willing to commit to?" It then lets you choose from a short routine (zero to three steps), a medium routine (four to six), and a long one (seven or more). To get a sense of the different regimens offered, three Vox Media staffers answered Glossier's questions and tested their product recos for 14 days. Here's what they had to say after two weeks.
The Short Routine: Tyler Townsend
Tyler, an account director at Vox, always knew what she should be doing for her skin. She even had a routine — face wash, serum, lotion, and eye cream at night and lotion in the morning — but sticking to it was a whole other matter. "I wouldn't follow every step every day," she says. "There was a lack of consistency." It's why she jumped at the chance to do the short, three-step routine Glossier recommended.
The products: Milky Jelly Cleanser, Priming Moisturizer, and Invisible Shield.
The routine: I wash my face and apply moisturizer morning and night. Then I use Invisible Shield sunscreen in the morning. It takes only a minute or two each time.
The results: My skin was a little red and irritated [before] I first started the process — I have a complexion that gets blotchy easily — and now it looks clear. It feels smooth and soft again like it did after I had cut sugar, dairy, and grains out of my diet for a month.
The best part: I was really impressed by all the products and surprised by the simplicity of everything, and that my skin didn't need more products! The Milky Jelly takes my makeup off so well — I'm actually shocked. I don't feel like I need makeup remover, which is very nice. The moisturizer also leaves my skin feeling so soft, and the sunscreen is so light. The products work great under makeup and don't make my skin feel greasy or oily. Love them.
The Medium Routine: Clay Vickers
Clay had a skincare regimen that consisted of one step: washing his face with a bar of soap in the shower. But when the ad ops manager committed to this two-week trial, he went all in. It's why he chose the four- to six-step routine in the skincare generator with the goal of reducing fine lines. "It was a little intimidating at first, but Glossier broke it out into helpful AM and PM steps," he says.
The products: Milky Jelly Cleanser, Priming Moisturizer Rich, Invisible Shield, Solution, Super Bounce, and Bubblewrap.
The routine: In the shower each morning, I start with Milky Jelly Cleanser. Post-shower, I use Priming Moisturizer Rich and then Invisible Shield sunscreen. Altogether, this takes no more than five minutes, but I could imagine spreading it out over 10. At night, I cleanse with Milky Jelly Cleanser again and the Solution exfoliator on my T-zone. Post-Solution, I use Super Bounce, which is a hyaluronic acid and vitamin B5 serum. Then I top everything off with Bubblewrap eye and lip-plumping cream.
The results: I've noticed a difference, especially around my eyes. More than a couple of people have commented on my skin. I think it looks fresher. More buoyant? Maybe it's just happy I'm finally paying attention to it. Also, my complexion's more balanced: I've got pretty standard combination skin, where I usually feel a little shiny at the end of the day, and this left me feeling even.
The best part: Having a spa-type experience every day in my home wasn't something I expected. Just having the routine is probably one of the best parts of the whole experience. It can be a little hypnotic. I'm not staring at my phone or my computer screen. I'm doing something that acknowledges this is the one body I get, so I might as well treat it well.
The Long Routine: Tori Young
One thing Tori, a Vox Creative editor, avoids is a complicated beauty regimen. Her old skincare routine consisted of two drugstore products in the morning — face wash and SPF — along with some Glossier makeup, specifically Boy Brow + Brow Flick combo and Generation G lipstick. But because she loves how high-impact and low-effort those Glossier products are, she agreed to the brand's most involved routine. "I've never really given my skin that kind of attention before," says Tori. "I wanted to see if my lack of multiple steps was hurting my chances for a 'true glow.'"
The products: Milky Jelly Cleanser, Super Glow, Priming Moisturizer Rich, Invisible Shield, Futuredew, Soothing Face Mist, Super Bounce, Moisturizing Moon Mask, Bubblewrap, Solution, and Balm Dot Com in Rose.
The routine: In the morning, I use Milky Jelly Cleanser, Super Glow vitamin C and magnesium serum, Priming Moisturizer Rich, Invisible Shield SPF, and Futuredew oil-serum hybrid, and it probably takes me a good five to seven minutes, including waiting for some products to soak in. My PM steps take about three minutes. I use Milky Jelly again followed by Soothing Face Mist, Super Bounce serum, Moisturizing Moon Mask, and Bubblewrap eye and lip cream. Then I use the Solution exfoliator and Balm Dot Com lip balm throughout the week.
The results: I documented my progress on social media, taking a selfie every day, writing out things I noticed, and responding to DM'ed questions. It took the experience to a whole new level because I was literally forced to look at my face in a really close-up way and let the world look at me in the same way.
After two weeks, my dry skin is brighter, especially around my eyes and cheeks. It looks healthier, feels smoother, and is absolutely more moisturized than it's ever been. (Before, I was used to my skin feeling tight and thirsty most days.) I still have some issues with dark spots and the occasional stress zit, but in general, I felt hella moist and glowing. This gave me a level of confidence I didn't really have with my skin before.
The best part: I love that I took the time to really take care of myself, and I honestly think it makes a difference not only to my skin but also to my mental state. Even if I hadn't yet noticed a difference, other people have. Friends and coworkers who had no idea I started this process complimented me almost immediately.
Also, the Invisible Shield is dope, y'all. It smells like the beach and leaves no streaks! It's actually clear rather than white like typical SPF products. I also really liked the thick, gooey texture of the Milky Jelly Cleanser. It's next-level relaxing, and it woke me up every morning and helped me wind down every night. And Futuredew is a great top coat no matter what other products you use before it. It gave me that natural dewy look without seeming too oily.
Want your own new routine? Try Glossier's skincare generator here.
This advertising content was produced in collaboration between Vox Creative and our sponsor, without involvement from Vox Media editorial staff.