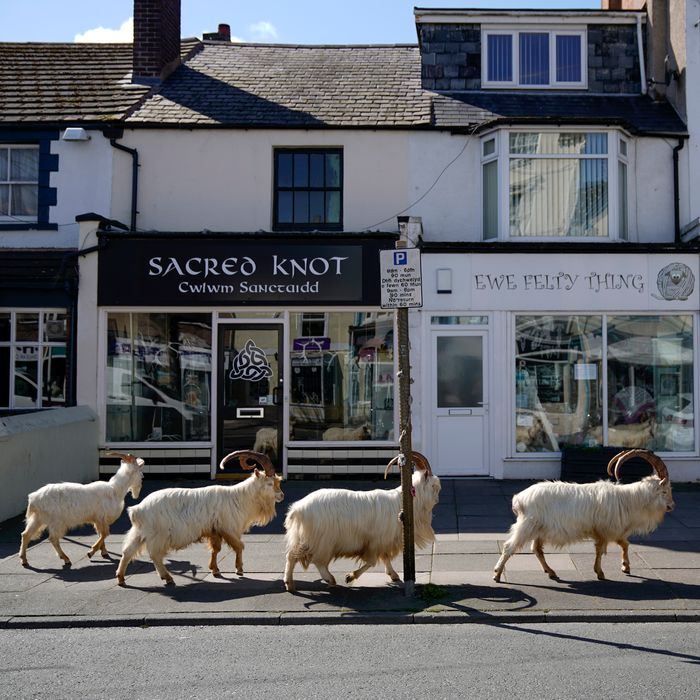 Join them!!
Photo: Christopher Furlong/Getty Images
What dost thou want? Wouldst thou like to live deliciously? Wouldst thou like to see the world?
Well, right now, there's a good chance you can't, as many of us have been corralled indoors indefinitely in order to mitigate the spread of coronavirus. So, instead: Wouldst thou like to live vicariously through a tribe of roving goats currently running roughshod over a small Welsh town?
According to the Guardian, Great Orme goats have laid siege to the deserted streets of Llandudno in Wales, population approximately 15,000. Due to its "splendid Victorian architecture and gorgeous beaches," Llandudno ranks as "the queen of the Welsh resorts," according to the paper and also these goats. They have descended from the North Wales mountains to reclaim their dominion.
While other reports of wild animals reclaiming shuttered communities amid coronavirus lockdowns have been debunked — that herd of elephants did not drunkenly rampage through China's Yunnan province, for instance — this one is wonderfully real. Andrew Stuart, who does video for the Manchester Evening News, has been filming the goats live in Llandudno since last week. On March 26, he captured the opportunistic rascals night-feasting on some hedges:
Stuart called the police (!!!) to shoo the goats away, but the interruption only seems to have steeled their topiary-munching resolve. When they returned on March 28, they did so in broad daylight, looking utterly remorseless:
According to Stuart, the goats "run Llandudno now, and we just have to accept that as fact." I am happy to do so. I could use a good visual distraction, and fortunately Getty has been stockpiling photos. Here is one of our hornèd overlords supporting local businesses, both sandwich …
… and retail:
Behold her comrades, maintaining an acceptable distance while resting in a sunny churchyard, as is their right:
These goats look responsibly spaced to me. I see no problems here:
I covet these goats' relaxing lifestyle. I respect their disregard for man-made boundaries. I am prepared to write my name in their book so that I may join them. Black Phillip, guide my hand.