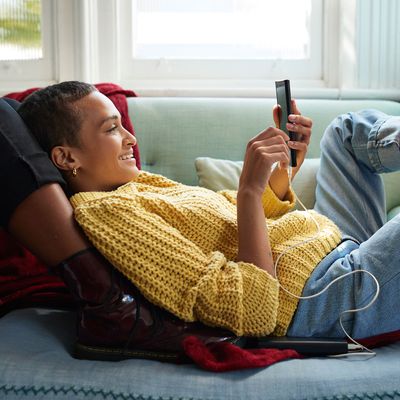 Photo: Klaus Vedfelt/Getty Images
As we all settle into our new, social-distancing-compliant lifestyles, our tech overlords are increasingly providing us tools to help us adjust to life without meaningful, IRL interactions: We now have an extension that makes group movie nights possible, as well as an app that gives you personalized TV recommendations across streaming services. But no tool is quite as thrilling as Instagram's brand-new feature, which makes gossiping about your faux enemies and tragic exes easier than ever.
The feature, called Co-Watching, is pretty self-explanatory: It gives you the ability to view Instagram posts with your friends while you're video chatting. To try it out, per Instagram's website, "start a video chat by tapping the video chat icon in the Direct inbox or in an existing Direct thread, then view saved, liked and suggested photos/videos by tapping the photo icon in the bottom left corner in an ongoing video chat." (So, if you're looking to chat with your three best friends to ask them if they think you ex's new girlfriend looks disconcertingly like you, you'll probably want to save one of the new woman's selfies on Instagram. Sorry.)
Admittedly, the Instagram feature doesn't seem all that revolutionary. Presumably, you could accomplish the same undertaking by Zooming your friends and directing them toward whatever gossip material you find fruitful. But I imagine that the new feature will inspire calls dedicated solely to gossiping about one poster or one post — perhaps not ideal if you're currently suffering from a video-call hangover, but great if you're starved for pettiness.