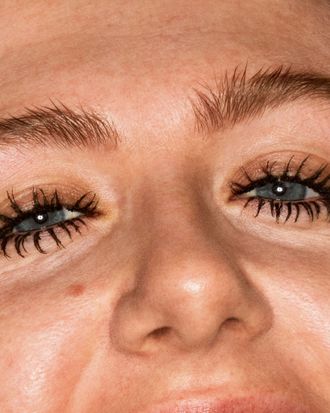 Dani Miller's lashes, coated in Mascara L'Obscur.
Photo: Gucci
Gucci's new buildable mascara, Mascara L'Obscur, just got here and it's already broken a bunch of rules. It created runny, Lauren Conrad tears at Milan Fashion Week, stained a bunch of expensive-looking pillows, and had the audacity to clump in its official ad campaign.
Apparently, people have a lot of feelings about a mascara being messy, but Gucci's global makeup artist, Thomas de Kluyver, only has positive ones. "Alessandro [Michele] has talked about beauty within imperfections and I think that's such a nice way of looking at the whole of Gucci Beauty," he told the Cut. "From the people we cast for the campaigns to the way that we apply the makeup — those sort of imperfections become what is so beautiful and special about them."
You may recall such "imperfections" from the toothy lipstick ad that launched 58 lipsticks, featuring the now famous mouth of Surfbort front-woman Dani Miller. Miller also lended her lashes and smize for Mascara L'Obscur's campaign. De Kluyver says her "messcara," as one commenter called it, wasn't about shock value or dictating a trend meant to trickle down to the masses; it was all about identity and individuality.
"We're following what someone actually does themselves, rather than telling someone else what to do. Dani gets her mascara before she does a gig and clumps on layers and layers. She lets it dry and layers more and more up. So it was so much about her. Her onstage persona and power comes from within that makeup — it gives her a confidence and it allows her to emotionally connect with the product in her own way."
De Kluyver hopes you emotionally connect with your makeup, too. "We're trying to inspire everyone to use makeup as a form of self-expression; to be yourself, and not feel like you need to cover up with makeup because that's something that society expects of you." In short, Gucci Beauty products are meant to make makeup feel positive, fun, and playful — kind of like de Kluyver's informative mascara tutorials, which come with instructions for a complimentary DIY activity. (They're perfect for those who are social-distancing or working from home.)
Like the mascara wand above, the word "beauty" is very loaded these days. What exactly is the "beauty" in Gucci Beauty? A replica of your own decapitated head? A Horcrux bag? Harry Styles in general? Under de Kluyver's definition, all technically qualify. "It's the things that make you take a second glance when you're walking down the street. It could be a person, it could be the color of their eyes, it could be a piece of clothing, or maybe it's the smallest thing, like a flower, or a sunset. Whatever it is that makes you emotionally connect with it, that's what beauty is to me. Beauty is quite subjective, and so personal, so it should be about what you find is beautiful. Just because someone else thinks that something is cool, it doesn't change what you feel."
So go ahead and continue emotionally connecting with traditionally smooth, clump-free lashes if that's what you feel. There's a fun tutorial for that look, too.
If you buy something through our links, New York may earn an affiliate commission.