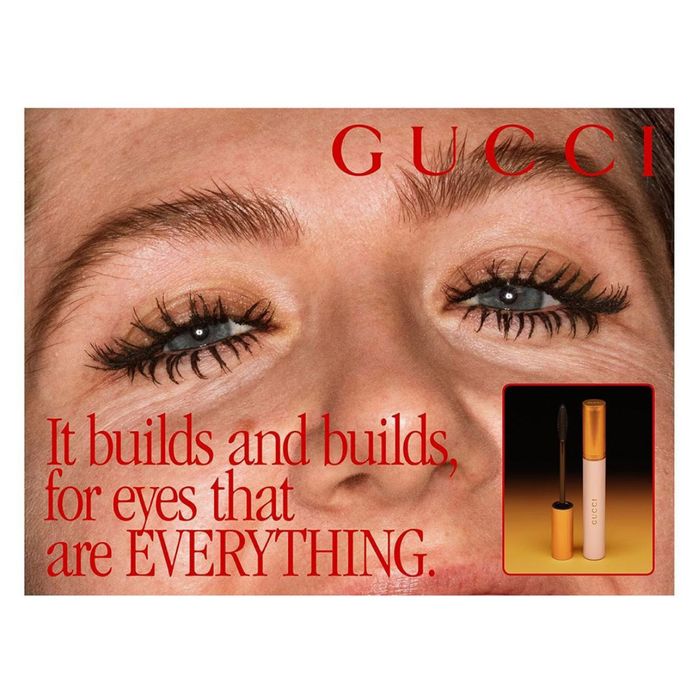 Gucci Beauty's campaign for its new mascara is, as they say, "extra." It contains a close-up of eye crinkles, smile expression lines, very bushy eyebrows, and a set of lashes that, without being mean, can be accurately described as clumpy. "It builds and builds for eyes that are EVERYTHING," reads the ad copy.
"Nice messcara," an Instagram commenter instantly sniped. "Not sure about anyone else but the clumpy look does not make want to try this," said another. "She needs a nice set of lash extensions," a third advised.
This isn't the first time Gucci Beauty has polarized fans with its vision of "imperfect beauty." Back in May, the brand released a lipstick campaign featuring a close-up of a grinning mouth visibly missing a few teeth.
In a press statement, Gucci creative designer Alessandro Michele says, "I designed Mascara L'Obscur for an authentic person who uses makeup to tell their story of freedom, in their way. When we asked the talents to do the campaign, we looked for somewhat eccentric personalities who really wear their makeup in this way. We called it L'Obscur because this word balances charm and mystery."
It's true that the ad has a lot going on. But it also doesn't include a lot of things: excessive airbrushing, improbably flawless skin, elaborate claims proclaiming to increase lash volume by 1,944 percent, or false lashes being passed off as real lashes. So how much is too much, really?