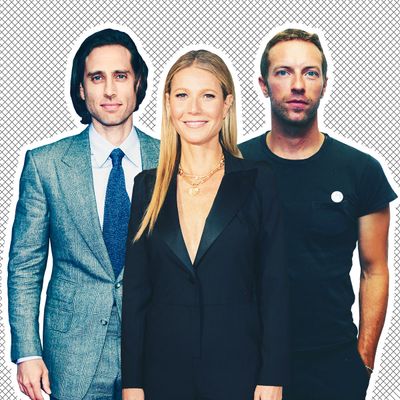 Happy Pisces season to Gwyneth.
Photo: Getty Images
Some people — maybe you! — have clear romantic types: long hair; long bodies; into dogs; obvious lack of emotional availability; cheeky and British; crayon-smelling; any number of small, unifying themes that explain our attraction to a string of similar-but-different people. It can be quite jarring to identify these patterns in new partners, this overwhelming feeling of "ah shit here I go again, learning nothing from my chaotic past." Which may explain why, when I look at Gwyneth Paltrow's jaunty Instagram tributes to her husbands, two Pisces born one day apart, my mind alarms start screaming. Gwyneth, per usual, seems unbothered.
On Monday, the Goop boss logged on to wish a happy birthday to a "hilarious, joy seeking, musical genius" — her ex-husband, Chris Martin, who is 43 years old today. This is fairly regular Gwyneth behavior. Since they "consciously uncoupled" in 2014, she and the Coldplay front man have remained on conspicuously friendly terms. They even go on double dates together! So, on its own, the below birthday post does not surprise or offend.
What I find haunting about this situation is that, a mere 24 hours earlier, Gwyneth social media celebrated the 49th anniversary of her current husband's birth. "A man of infinite kindness, integrity, and love. Of true rationality and patience," she captioned a woodsy portrait of TV writer, director, and producer Brad Falchuk. "I have never met anyone with his level of curiosity (especially about WWII) and interest in the world and others. I love him more today than I ever have, but not as much as I will love him tomorrow."
How sweet! And how strangely stressful for me, a person who is not now nor has never been married to either of these men, to discover that they came so close to sharing a birthday. Imagine learning such a thing about your new love interest, and the immediate mental callback to your ex this knowledge would surely inspire. In a word, gah!! But then again, for Gwyneth (a Libra), things did not work out with Ben Affleck, a Leo, nor Brad Pitt, a Sagittarius, so maybe there is something to selecting partners based on their birth proximity. Pisces and Libra happen to be very compatible.
Anyway. I hope she got them both vagina candles.