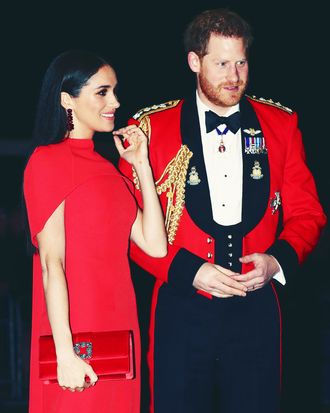 Photo: SIMON DAWSON/POOL/AFP via Getty Images
This Wednesday, April 1, Meghan Markle and Prince Harry will officially step down as senior members of the royal family, and they've wasted no time taking steps toward their exit. They wrapped up their final royal events last month, and have reportedly moved from Canada to Los Angeles, where they're staying in a private compound with baby Archie. Meghan has even begun work already, narrating the forthcoming Disneynature documentary Elephants.
And today, the couple made things Instagram official with what appears to be their final post, shared from their joint account @SussexRoyal: "As we can all feel, the world at this moment seems extraordinarily fragile," the caption begins. "Yet we are confident that every human being has the potential and opportunity to make a difference … together we can lift each other up to realise the fullness of that promise." It continues, encouraging health and well-being during this time, and closes by thanking their community of followers. It also assured readers that "while you may not see us [on this Instagram account], the work continues."
As part of their separation, it was agreed (apparently at the queen's prompting) that the couple will no longer use the name "Sussex Royal" for their charitable organizations, Instagram, or website, and the post seems to be the first step toward that rebrand. That said, a spokesperson told People that "both the Instagram account and website will remain in existence online for the foreseeable future."
It's unclear what will happen to the account and its over 11 million followers. It's possible that the couple will parlay it into a new brand, now that Sussex Royal is off-limits. Personally, I'm hoping Meghan's old lifestyle blog, the Tig, will be rebooted; I could really use a Meghan-approved guide to socially isolating for the foreseeable future.