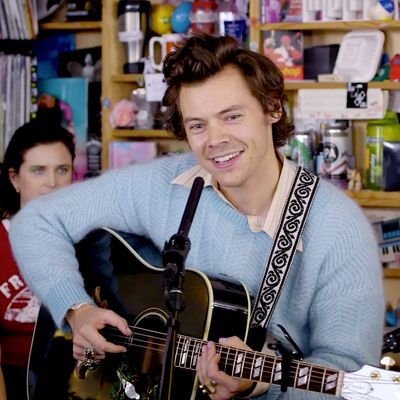 Good afternoon and welcome to another day of work in the midst of a pandemic. Whether you're out at your job or working from home in quarantine, it's likely your life is looking a little different, and if you are in the latter group, a tad bit lonely. That's totally normal, but there are some things you can do to make sure you're staying optimistic; for instance, doing some light indoor aerobics, putting on a bra, and not texting your ex. And because it's a Monday for everyone, I'd also recommend watching Harry Styles's intimate Tiny Desk Concert, which took place at NPR HQ a few weeks back:
Backed by his touring band, Styles performed songs from his newest solo album, Fine Line. He looked very soft and sweet, wearing a baby-blue sweater with a chicken hatchling on it paired with a candy-floss pink manicure. The band opened their set with "Cherry," after which Styles shouts out a group of what sounds like giggling women: "I have to come into NPR more often," he said. "It's nice here."
Throughout the show, twirling in his swivel chair, Styles discussed the inspiration behind several songs. "Watermelon Sugar," he explained, was written on a day off in Nashville in 2017. "It's probably the longest it's ever taken me to finish a song," he told the audience. "It's kind of about that initial euphoria when you start seeing someone, you start sleeping with someone. You have that kind of excitement about being around them. You know," he said, smiling rakishly to more giggles. The song's name, he explained, came from the Richard Brautigan novel, a copy of which was in the studio that day and Styles said he thought sounded "cool."
So take a break and check it out; watching the whole show is basically the equivalent of getting 20 minutes of fresh air and sunlight. And for even more well-being, follow it up with Lizzo's "Tiny-Ass Desk" concert from last summer.