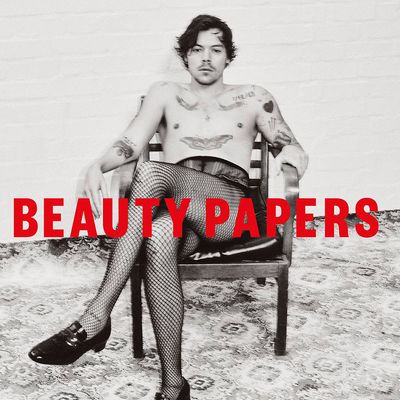 Harry Styles is a wonderful source of joy and beauty in these troubled times. His Tiny Desk concert, released by NPR yesterday, was a perfect Monday morning pick-me-up, and today, a series of photos of him wearing fishnets (!!!) and lots of eyeshadow served as an excellent follow-up:
The photos are by Casper Wackerhausen Sejersen (he did those famous Nymphomaniac orgasm portraits) and capture Harry in peak eclectic glamour. Fashioned by his longtime stylist, Harry Lambert, he's outfitted in custom Gucci with makeup by Gucci Beauty (including this delicious, dusty-rose lippy). The most striking image shows him in just a pair of fishnets and patent loafers, which is definitely the first outfit I will wear upon being released from quarantine:
In another photo from the shoot, he's in a classic Harry look: a three-piece, wide-legged suit, paired with patent gloves to match the loafers. All we're missing is his standard set of pearls:
The images are published in Beauty Papers, a London-based biannual magazine. According to its Facebook (its website crashed after the Harry photos were published, but you can order the issue — with a full-size poster — when it's back to working) it "aims to liberate beauty." If Harry Styles in fishnets doesn't achieve that and more, I don't know what does.