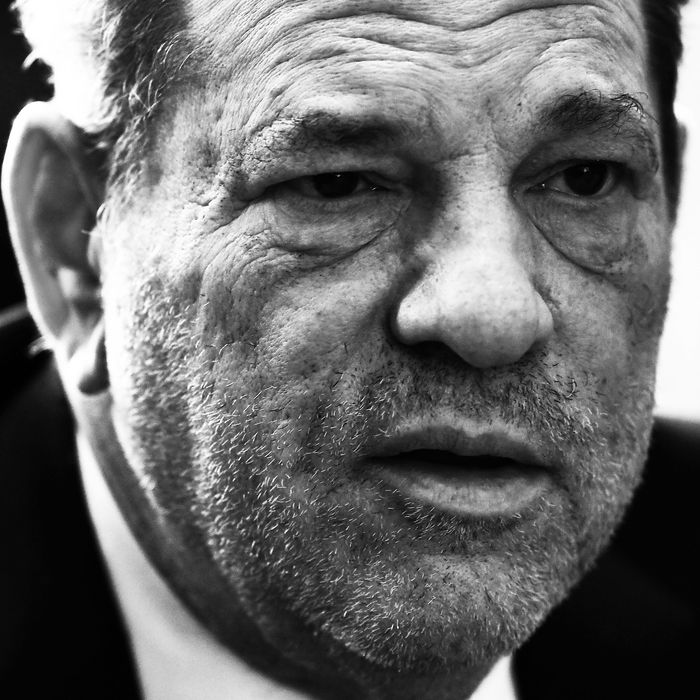 Harvey Weinstein.
Photo: JOHANNES EISELE/AFP via Getty Images
Following his high-profile rape and sexual-assault trial in Manhattan, disgraced Hollywood mogul Harvey Weinstein has been sentenced to 23 years in prison, CBS News reports. He was facing a minimum of five years and a maximum of 29 years.
The sentencing comes two and a half weeks after Weinstein was found guilty of committing a criminal sexual act in the first degree and rape in the third degree, but not guilty on charges of predatory sexual assault and first-degree rape. (Weinstein had pleaded not guilty to all five charges against him.) Following his conviction, he underwent a heart procedure at Bellevue Hospital, and was later transferred to Rikers Island.
Over 100 women have publicly accused Weinstein of sexual misconduct ranging from unwanted touching to rape, and six women testified against him at his New York trial. Weinstein faced charges stemming from the accusations of two women, former Project Runway assistant Miriam Haleyi and former actress Jessica Mann. In court, Haleyi testified that Weinstein forcibly performed oral sex on her in 2006, while Mann alleged that she entered into an abusive relationship with Weinstein, whom she claims raped her in 2013. The charges against Weinstein also took into account the allegations of actress Annabella Sciorra, who testified during the trial that Weinstein raped her in 1993. Three other accusers took the stand as well, testifying that they had endured or witnessed similar abuse from Weinstein.
In an 11-page letter sent to Justice James Burke last week, prosecutors argued that Weinstein had lived a "lifetime of abuse towards others, sexual and otherwise," and asked the court to "impose a sentence that reflects the seriousness of defendant's offenses, his total lack of remorse for the harm he has caused, and the need to deter him and others from engaging in further criminal conduct." Meanwhile, Weinstein's legal team requested the minimum sentence, characterizing their client as an accomplished, unfairly maligned man who has already suffered enough. "Weinstein's life has been destroyed," their statement read. "His wife divorced him, he was fired from The Weinstein Company, and in short, he lost everything."
Weinstein is still facing rape and sexual-assault charges in Los Angeles.