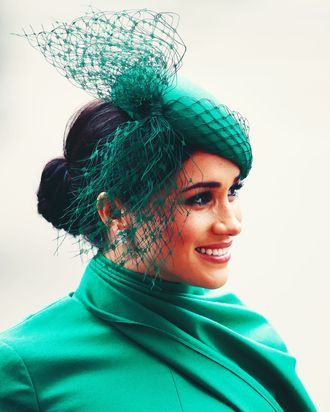 Photo: Max Mumby/Indigo/Getty Images
A fun way to feel light existential despair is to wonder whether you've done certain things for the last time, ever. Was that birthday party a few years ago the last time you'll ever see that friend from college? Was move-out day the last time you'll ever walk down the street in front of your old apartment? Was the 2020 Commonwealth Day service the last time you'll ever curtsy to Prince Charles and the queen in your official capacity as a senior royal?
According to a recent story from Hello! magazine, this year's Commonwealth Day service, an annual event in which the royal family celebrates the 54 countries in the Commonwealth of Nations, marked Meghan Markle's final curtsy to Prince Charles and the queen. This at least seems to be true in terms of her last curtsy with her official Her Royal Highness (HRH) title; the event was she and Prince Harry's final official engagement before they step down as royals on March 31.
But why would this be her final curtsy ever, as Hello! seems to imply? I had the same question.
"If an American meets the Queen, they technically do not have to curtsy or bow because as Americans that is not a custom of ours, and instead they could choose to simply shake hands to show respect to her," etiquette expert Myka Meier told People in January. "If you go that route, just wait until the Queen extends her hand and then follow suit."
As a royal, Markle had an implied pressure to curtsy; as an American nonroyal, she might feel less. (Though it is worth pointing out, as it was by Meier in People, that, though unnecessary, Americans do still tend to curtsy in deference to the customs of the queen.) So it could possibly have been her final curtsy ever, if she chooses it to be.
It was her final curtsy, ever, with an HRH title at an official engagement, though. And, man … doesn't that just trip you out?