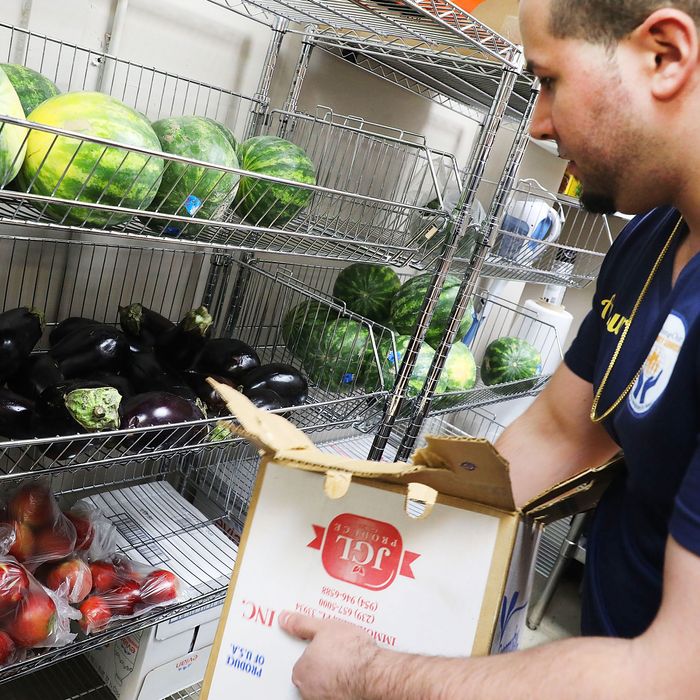 Donate money, not food items.
Photo: Spencer Platt/Getty Images
Please note the story you're reading was published more than a day ago. COVID-19 news and recommendations change fast: Read the latest here to stay up-to-date. We've lifted our paywall on all essential news and updates about the coronavirus.
The possibility of a shelter-in-place order looms large in New York City, with Mayor de Blasio and Governor Cuomo publicly contradicting one another as the local case count rises. Bars, gyms, and nightclubs have already been shuttered. Restaurants have scaled back operations to takeout and delivery only. Many people have sealed themselves indoors after completing frenzied supermarket bean sweeps and raids on the household-cleaning aisle.
Meanwhile, groups most vulnerable to the virus — the elderly, people with preexisting conditions that suppress their immune systems and/or affect their respiratory systems — are strongly advised to remain indoors. And now, especially with extra strain from public-school closures and uncertainty about the daily meals the public-education system provides, low-income New Yorkers face an added financial hurdle.
"This is a really big city, and people can feel disconnected," Beth Shapiro, executive director of Citymeals on Wheels, tells the Cut. "Even while keeping distance, it's very important that this big city can also be a very small town and that we care for each other."
Below, we've listed four organizations that are working to feed New York City amid the coronavirus pandemic, all of which are in need of financial donations.
God's Love We Deliver
God's Love We Deliver prepares and delivers meals for people with HIV/AIDS, cancer, and other serious illnesses that prevent them from shopping and cooking for themselves — and put them at particularly high risk during this pandemic. "Our operations are full speed ahead," vice-president and chief development officer David Ludwigson told the Cut in a call this past Friday. "We are planning for the worst and hoping for the best."
Last week, GLWD dispatched a week's worth of nonperishable food to clients as a precaution against the possibility of a citywide quarantine, Ludwigson said. The emergency maneuver, quite possibly the first of many, cost an unbudgeted $250,000. Money you give will go toward covering those efforts.
Follow these links for information on volunteering for and donating to God's Love We Deliver.
Citymeals on Wheels
Citymeals on Wheels brings meals to senior centers and housebound elderly New Yorkers — the majority of whom live alone — in advance of holidays and emergency events (e.g., winter weather, heat waves) and on weekends. The coronavirus has ratcheted up Citymeal's operations to unprecedented levels: As of Friday, executive director Beth Shapiro told the Cut that the team had delivered and was preparing a total of roughly 250,000 emergency meals for clients across the five boroughs. That's about half the number the group usually delivers in a year and way beyond the number delivered around Hurricane Sandy, formerly the record-holder for disruptive events at 64,000 meals.
"Even though we budget for emergencies, something of this scale and scope is not a part of our projections," Shapiro told the Cut, emphasizing that 100 percent of public donations go directly to meal preparation and delivery. "About $8 delivers a meal."
Follow these links for information on volunteering for and donating to Citymeals on Wheels.
City Harvest
City Harvest picks up excess food from restaurants, supermarkets, and farms up and down the Eastern Seaboard, redistributing it to food pantries, soup kitchens, and direct to consumers throughout NYC. Facing the reported possibility of a citywide quarantine, it, too, has run into a budgeting problem.
"Of the 66 million pounds we'll bring in this year, about 60 percent of that is fresh produce," Jen McLean, City Harvest's chief operating officer, told the Cut on Monday. But of course, "the best food to give people during times like this are shelf-stable products that they can bring home to their kitchens and fortify their families," she continued. "City Harvest has some of that, but … we're going to invest in bringing in shelf-stable items," all of which will come with an added cost.
Donations to City Harvest now will help fund some of those purchases, and they'll also help keep delivery trucks on the roads. McLean said the organization plans to hire five to ten extra staff members, "to make sure that we can backfill for outages."
Follow these links for more information on volunteering for, donating to, and finding food from City Harvest.
Food Bank for New York City
Food Bank NYC supplies more than 1,000 food pantries, soup kitchens, shelters, and schools across the city with nonperishables and fresh produce. The organization did not return the Cut's requests for an interview, but according to its website, the coronavirus protocol involves implementing both CDC and New York Health Department recommendations for preventing the spread of infection. As with any food bank, the most helpful way to make donations during an emergency is not by dropping off canned goods but by making a financial donation.
Follow these links for information on volunteering for, donating to, and finding food through Food Bank NYC.
We're committed to keeping our readers informed.
We've removed our paywall from essential coronavirus news stories. Become a subscriber to support our journalists. Subscribe now.