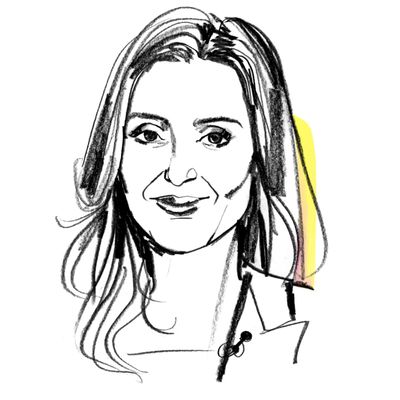 Margaret Brennan is the moderator on CBS's Sunday morning public affairs show Face the Nation, where she interviews top government officials and other policymakers each week, from President Trump and former president Obama to Nancy Pelosi and Bernie Sanders. Before becoming the show's second female anchor two years ago, Brennan worked as a senior correspondent covering national security, foreign affairs, domestic policy, and business, a cluster of beats that has proven vital to understanding the Trump administration. This year, she's led reporting on the Senate impeachment trial, foreign relations with Iran, and the 2020 presidential race. Most recently, she moderated the Democratic debate in Charleston, South Carolina. Brennan lives in Washington, D.C., with her husband and 16-month-old son. Here's how she gets it done.
On a typical morning: 
If it's Sunday, I'm up at 5 a.m., in the car by 5:30, and doing television hits by 7:45. These days, it's a juggle of handling my 16-month-old son and the news flow — the constant barrage of incoming news in the political world and on my foreign-affairs beat. That means pretty much always having multiple phones right next to the bed, and a pretty awful Twitter habit.
My phone is [always] dinging, either because the baby camera is detecting my son moving in his crib, or there's a tweet with breaking news, or someone calling me to that effect. I'm constantly in contact with my executive producer about reshuffling the deck as news happens and trying to figure out where we're going to end up by Sunday morning.
On hosting a live news show:  
I'm a firm believer that being prepared is essential to doing this job well, so I constantly feel like there's something I need to be doing homework on. It's hard to ever feel like you get ahead of this news cycle. I don't think it's possible for anyone to.
We're doing [the show] live, in real time, in a crazy news environment. So, you just try to do the best each time you go out there, but you're never going to make everyone happy. You're constantly making choices in the moment. You can get pulled down rabbit holes. One of the things I try to [think about] constantly is: What is important for the American people to understand in terms of why this matters to them? It is hard for anyone in this role in terms of fact checking in real time. And also in terms of [the right time to] interrupt and interject, while not turning off the audience. I take the role of moderator seriously. I'm not there to pound my chest and to make a point of my voice in this story. So I try to listen and follow up. We're there as journalists and not activists, so I also keep that in mind.
On her unusual work schedule: 
Wednesdays are [essentially] Mondays for the Face the Nation team. But when your weekends are Mondays and Tuesdays, it's hard to totally unplug. [The team] is constantly in contact, and I'm constantly hearing from sources and people that I talk to on beats that I regularly monitor. I try to take Tuesdays off, but often I end up working six days a week.
My husband is with our son Saturday and Sunday while I work. We have a great childcare routine during the week, too. Handing off our son is part of the daily morning routine. I take my son to story time on Mondays. That's my big event with him. If I'm lucky enough to be able to go home at night and not be on the road, doing bath time and a nightly dance party with my son is the best part of my day. He loves '80s music — Billy Joel's "Uptown Girl," Phil Collins, but then he'll request the occasional James Brown.
On balancing new motherhood: 
I stepped into my role [at Face the Nation] at the same time that I did the biggest thing I'd ever done in my life, which was have a child. America watched me adjust to this job and go through my entire pregnancy, host on my due date, and then leave to go on a short maternity leave (two months), and  come back.
Every single person who tries to juggle a family and their life knows all those things that pull at you. Trying to adjust to coming back from maternity leave while on camera and trying to stay on the news were all added complexities. If you had asked me any of these questions before I had my son, I would have probably tried to not talk about it. I think it's wrong to focus on someone's gender as the only unique defining thing, because it risks overshadowing the other things. But having had my son and coming back and going through this, I find that it is important to acknowledge. Because you look around at these women who are juggling so much and you're like, how could this be spun as a deficit or a defect, when it's like a superpower?
On learning to be assertive: 
I went to an all-girls school in Connecticut, which particularly in high school is a really formative time. This one nun would eviscerate you for raising your hands and adding some disqualifying statement — "I could be wrong but," or "I don't know I might be wrong but this is what I'm thinking" — as young women often do. If it happened in a class she'd cut it off and say, "If you don't have the conviction of your own option, why are you raising your hand?" Which wasn't to say don't raise your hand, it was just to say that if you're going to borrow our time with your explanation, clearly articulate it and have some conviction behind your thoughts. I always think of that going into a [big] moment: "If this is your five minutes, use it the best way you possibly can."
On dealing with criticism: 
In the social-media environment that we're living in, everyone's got an opinion whether you want it or not. There's an extra layer to that as a female questioner. I try to tune it out to the degree that I can — I'd be lying to you if I said you can completely tune it out. But seeking out counsel from the people you look up to or the people you think are weighing the same factors that you find important [helps]. These days so much stuff is put through a partisan lens. You're going to get hit from one side or the other no matter what you do. It's important to be aware of that, but not to let that influence the kind of journalism you're doing.