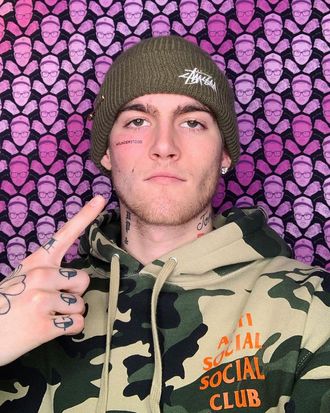 Photo: @jonboytattoo/Instagram
Now is a good time to practice social distancing and impeccable hygiene. It's a time to enact solidarity and check out e-books from your local library. It's also a good time to shut up about your face tattoo.
On Wednesday, Cindy Crawford's 20-year-old son Presley Gerber, who is also a model, responded to a perceived backlash against his face tattoo of the word MISUNDERSTOOD. Yes, it is in all caps and technically it is on his right cheekbone. Anyway, Presley wrote a message on Instagram that reads, "Most and a lot of people can get a face lifts, change genders, lip injections, etc and it's offensive to say anything in today's age but I get a little face tattoo and now people love to hate me."
Gerber has been claiming to be misunderstood ever since he got the tattoo, a self-fulfilling prophecy in permanent ink. Last month, Presley also responded to his purported critics on Instagram Live, saying, "If anyone has shit to say to me about this, or anything else, or my family, or how I grew up … I will give you my address — I promise — and you can come say it to my face." He added, "I don't feel very understood, I guess."
In fact, Presley might be the most understood man on the planet. I, for one, comprehend him perfectly. Every choice he makes, from the color of his beanie to the word tattooed on his face and which bands are unacceptable to listen to, reflects something precious and true about himself. He's got nothing to hide.