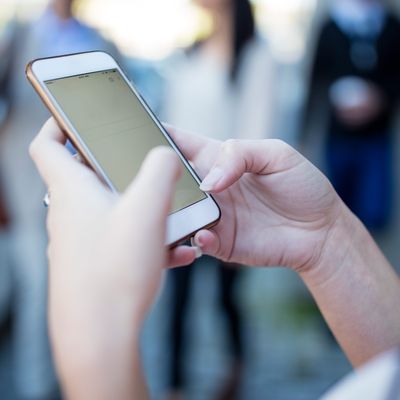 Photo: Zero Creatives GmbH/Getty Images
Please note the story you're reading was published more than a day ago. COVID-19 news and recommendations change fast: Read the latest here to stay up-to-date. We've lifted our paywall on all essential news and updates about the coronavirus.
Like many people, I've spent the past week washing my hands with much more vigilance than usual after reading that it's the most effective way to prevent the spread of coronavirus.
However, my heightened awareness of the importance of washing my hands has led to my heightened awareness of all the filthy surfaces I am touching all the time. For example: door handles, elevator buttons, subway poles, my keyboard, and, especially, my phone.
Experts believe that the new coronavirus spreads through tiny droplets produced when an infected person coughs or sneezes. Research also suggests that the virus can be transmitted through surface contact, which means that if an infected person touches something, like a door handle, and leaves behind droplets of the virus, another person who touches the surface and then touches their eyes, nose, or mouth could end up infected.
As Dr. William P. Sawyer told the New York Times, "Your hands are only clean until the next surface you touch. When you reach for a doorknob or a handrailing, you've recontaminated your hand with something." The Times also notes that "in general, a virus will survive the longest on nonporous surfaces made of metal and plastics — including doorknobs, counters, and railings."
Another nonporous surface that you probably touch constantly: your phone. The average American checks their phone every 12 minutes. If you're like me, your phone is probably one of the last things you touch before washing your hands, and one of the first things you touch after washing your hands. Even without the threat of coronavirus, phones are known to be huge repositories for germs, and experts generally recommend that you clean them daily.
So, how should you disinfect your phone? This morning, I wiped mine down with a Clorox wipe and a paper towel, which seemed to do the trick. However, I have since learned that this is not the recommended way to clean an iPhone, since the screen apparently has an oil-resistant coating that can be damaged by harsh cleaning products, especially those containing bleach. If you use a plastic screen protector, this probably isn't an issue. But if you want to be more prudent, a number of sources I read recommend making a 1:1 solution of water and rubbing alcohol and wiping your phone down with a lint-free microfiber cloth. (It's suggested that you turn your phone off first and avoid spraying it directly or getting it too wet).
While you're at it, you might as well get in the habit of wiping down your keyboard.