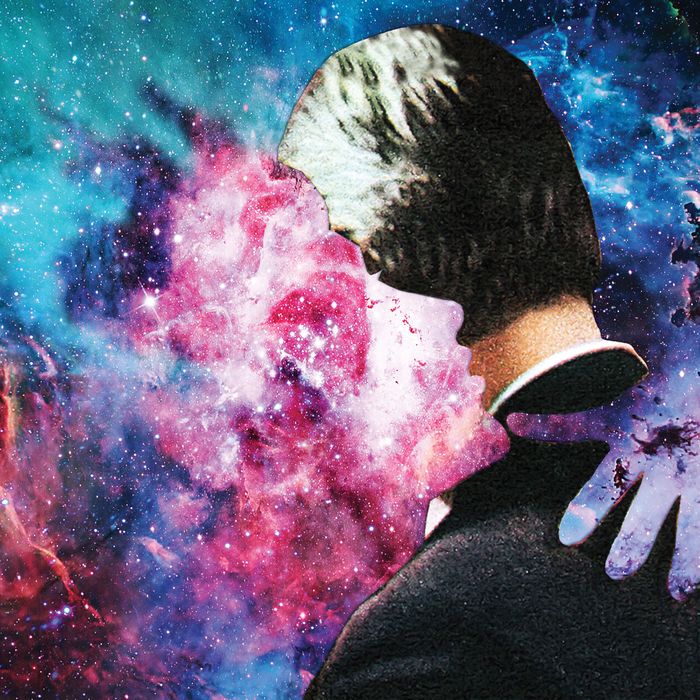 Some things about the human spirit persist, even in crisis: namely, our hunger for one another. Lauren, an editor in Austin, started seeing someone a month ago, and by date three, they'd declared their exclusivity — dating only each other and hanging out in close quarters only with each other — largely expedited by the desire to keep their coronavirus-exposure pool small. "My criteria has totally changed," Lauren explains of dating in the time of COVID-19. "All the bullshit you kind of go for usually — none of that fuckboy stuff is going to cut it."
It's a different sort of contract now. "It's like, can he play cards (yes), can he bake bread (yes), does he take social distancing seriously?," she explains. Already, they have settled into the worn-in part of a relationship. They go on walks and hikes and drive to each other's houses while they still can. "I don't know how it would work necessarily in New York," she tells me, sad for me here in the city. "There's this jokey but real undertone now, like, 'Oh yeah, better wash your hands after you go to the grocery store. You'll compromise this union.' But I'm actually pretty serious, I guess. He sent me a picture from the grocery store, and it was clear he wasn't six feet from someone. And I actually felt, like, momentarily betrayed. I was like, Hmm, if he's doing that, like, what else isn't he doing?"
COVID-19 is like the trip-to-Ikea litmus test for relationships: Some fizzle at the prospect; some, like Lauren's, are successfully put on a fast track; and some just cement their digital-fuck-buddy status. The dating app Hinge found that 70 percent of its members would be happy to start digitally dating, while Tinder is making its Passport function free — now you can swipe all around the world, because, if we're all stuck at home, it doesn't matter where the digi-dick is coming from. And if it's just about sex from a distance, the cam site Imlive.com reports an uptick in both visitors and model sign-ups. Sex-party organizers have started using Zoom to replicate orgies, and I've gotten more than one invitation to Zoom-based masturbate-a-thons.
Friends have their own anecdotes about figuring out FaceTime sex while quarantined at their parents' house, about which vibrators they're buying (the Lelo Sona Clitoral Massager), and about how they're discovering new things their sex partners are into. (One was surprised by her younger boyfriend's preference for butt play, a conversation that ended with him shaving his asshole for her over FaceTime.)
Feeld, a nonmonogamous dating app, created three virtual locations where self-isolating members can meet virtually. That was barely a week ago, and already they are the app's most popular locations — ahead of New York and London. I'm now a Sext Bunker citizen. One recent morning, I woke up to messages from a man asking me to watch him blow his load via FaceTime. I wasn't opposed; I just prefer some more finesse at 9 a.m. But at least he was being safe.
You can't fault anyone for trying. The libido isn't just persevering in quarantine; it's loudly insisting. Even our health officials know that in times of trouble people stay horny, and the question "But can I still have sex?" is top of mind. On March 21, the New York Department of Health released guidelines for sex during the COVID-19 crisis. Rimming and kissing are two ways the disease could be transmitted, the pamphlet instructs. It grants permission to have sex with someone you live with but otherwise suggests taking a break from in-person dates and even launches a poster-worthy slogan reminding us that "YOU are your safest sex partner." Following the guidelines, I considered a new dildo, but Amazon deems it a nonessential item. It wouldn't arrive until May. I did download the audio-erotica app Dipsea.
The prohibition is inarguably felt most by single people like me. Just when connecting feels the most urgent, when all the other life things that used to pull so much of my focus and keep me too busy to forge those connections have been silenced — the City has been put on pause, the news is too awful to pay close attention to — we're forced to keep away. A woman I spoke to, Alexandra, had vowed celibacy for the year 2020 — she wanted to focus on her career, until, all of a sudden, she no longer had a career to focus on. Now she's seeking romantic (well, sexual) connections via Lex, a dating app for queer women.
Like Alexandra and countless others, I've also taken to FaceTime dating. I redownloaded all the apps; I now have Hinge and Tinder and Bumble and Feeld on my phone. I changed my bio to indicate I was looking for distance connections and messaged a man I'd once met via Tinder who had moved to Paris before we could meet in real life. We started sharing photos of our lives in our apartments, and I'm certain I know where this is headed — his photos have become increasingly shirtless. I earnestly signed up for virtual speed dating through a service called Here/Now, and I look forward to the reason to put on hoops. When San Francisco announced a citywide shutdown, I took the opportunity to DM an ex-boyfriend. What else was he doing? Maybe now we'd reconnect and, when everything was over, get back together and — "Girl, it's been like three days," a concerned friend said. "Are we really at the DM-your-ex stage?
The apps aren't as fruitful as you'd think, though. Rarely do conversations get past a few "What should we sync-watch on our date?" jokes before one or both parties wonder what the point is. And yet, it feels like a strangely fertile time to explore new ways of having relationships. Maybe, in this period of darkness, we'll stumble upon an improvement on the way we dated before. Maybe the way we communicate about sex will be clearer and better than ever. Maybe every relationship will have the hazy-dusk glow of a summer-camp romance, when none of the rules or timelines of real life apply.
Around the time the DOH sex guidelines were released, I received a message from a man begging me to let him come over. He said he would walk from his apartment in Bushwick to mine in Fort Greene. "No cabs or subway," he vowed. He promised to "wash his hands so good" if only I would just let him in the house for sex. I guess the guidelines were absolutely necessary.
Dating now requires a new set of skills. Phone sex necessitates a convincing auditory repartee, and video sex has its own mood-killing challenges. After days of building up anticipation via sexting with a potential partner, one friend ran into all sorts of hiccups when it was time for the big video-sex meeting. She struggled to get the angle of her iPad right, while he struggled to be quiet enough not to wake his kids. They gave up and just talked. Another friend shares a truly cautionary tale of a failed effort to spice up a flirty yet chaste chat: "I'd done the move that allowed the sweater to drop, exposing my bra. Things started to get hot and heavy. Clothes came off. I was pinching my own nipple, telling him all the ways I was gonna make up for lost time post-plague, head tilted back in ecstasy as he touches himself and the Wi-Fi flits in and out the faster he goes," she says. "He's about to come, and I ask him to come closer to the screen so I can watch … as my mom walks in asking if I want to finish a puzzle."
Even relationships that were previously successfully virtual can be turned on their heads in the time of corona. Kelly didn't have any misconceptions about her fling with a man in an open relationship she'd been sexting regularly. They'd met when she was on a solo trip around Canada and often met up for hotel hookups. When they couldn't, they exchanged tons of hot, satisfying sexts to completion. When it became clear she wasn't leaving her house anytime soon, she reached out to him.
"The coronavirus is making me super-horny, like during wartime," he wrote.
"Yeah," Kelly wrote back. "It's definitely made me relieved to know that we have this arrangement in place."
"And that's when he broke it to me," she said. Now that he was home, and not traveling, he was overextended, managing sexting relationships with several other women internationally, all isolated and looking to tap into his services.
"My girlfriend is struggling to handle the load," he texted her. To which Kelly replied, "Pun intended?"
But then there are stories like Mabel's, ones that feel like a Halley's comet fairy tale of pandemic dating. Mabel met Kevin on Tinder the second week of March, and by the time they were supposed to go on their first date, neither of them was leaving the house for work, so no way was it ethical to do so for a date. They agreed to FaceTime. She put on pants — actual outside-the-home pants — and did her hair and makeup. They FaceTimed for four hours over drinks (he, tequila with lime and strawberry; she, a black-cherry White Claw).
At some point, Kevin told Mabel, "You know, this is the part of the date where I'd normally ask if you want to make out." The sexual tension was so intense they pondered their second date: Could they meet in the park if they stayed six feet apart? No, they'd probably mount each other immediately. Instead, they had a Saturday-night dinner. They shared their addresses, and each ordered food to be delivered to the other's apartment at 6:30 p.m. She got him a Thai feast (appetizers, drinks, a main. "I liked him," she says, a shrug in her voice). He sent her Mediterranean. They had another four-hour date. Again they talked about meeting each other; again they decided they couldn't.
Kevin told Mabel about his roommate, who was still going out to hook up with people he met on the apps — willing to risk it all just to get laid during the pandemic. It was frustrating, so they talked about their frustrations, which led to an open conversation about their past sex lives. One day, during a spontaneous call before their third date, things got hotter. They spoke for a long time, then switched to text. Mabel noticed Kevin was making a lot of typos. "Don't worry, I realize it's hard to type with one hand if the other's busy," she joked. The joke turned into sexting, which quickly moved to phone sex, which abruptly had to transition back to sexting because Mabel has roommates. Even still, she assures me, they both got theirs and are exploring a healthy sext routine as part of their … whatever this is.
The other day, Kevin asked her for something truly wild. Not video sex. Instead, he said, "What if in order to be socially responsible but still see each other, we just move in together for two weeks and quarantine ourselves together?"
Mabel hadn't watched Love Is Blind, but it's wild to think that the show came out pre-pandemic. Its creators somehow seemed to know we'd all soon be considering love in a pod, as a reasonable way for two (or more) people to create something emotionally long-lasting (by reality-TV standards, anyhow). Though, in some ways, the millennial demographic was primed long before that. I spent hours of my life, from ages 12 through 17, on AIM, and in chat rooms, and doing weird sex stuff in chat rooms. Some of my first sexual experiences were purely digital. Hell, the first song I recognized as a fuck-track was 'N Sync's "Digital Get Down," which no bat-mitzvah DJ would play when I requested.
Mabel is deliberating Kevin's offer. "The good thing is I like him," she muses. "There's a deeper connection. We have a more emotional base before we dive into the more physical stuff. But what if I've built him up in my head? What if this is a fantasy? What if he's actually a bad kisser?
"Maybe after a few more FaceTime dates," she continues. "I mean, it'd be kind of fun to just move in with him for two weeks and have a lot of sex and be in the honeymoon phase."
A few days days after our call, I got an email from Mabel. "Kevin and I decided to go for it," she wrote. "There are so many reasons why we shouldn't do this, but amidst all the uncertainty, fear, I want to lean into the things I know to be good. Extraordinary circumstances, you know?"
*A version of this article appears in the March 30, 2020, issue of New York Magazine. Subscribe Now!